CRUISE DESTINATION, PORT & EXCURSION GUIDES
A little pre-planning can save you money and have you cruising like a pro. We try and list tours and some videos of ship excursions.
CRUISE DORIS VISITS has put up the complete menu which is now slowly being filled in a way that will soon have a uniform look. There are so many ports we may try and simplify it. Scroll down to your Island or country.
ABC Islands – Oranjestad, Aruba Kralendijk, Bonaire Willemstad, Curacao
ALASKA (USA) – Anchorage Dutch Harbor Glacier Bay Haines Homer Hubbard Glacier Icy Strait Point Juneau Ketchikan Kodiak Metlakatla Nome Sand Point Seward Sitka Skagway Tracy Arm Fjord Valdez Whittier Wrangell
Algeria – Algiers, Oran
ANGOLA – Luanda
Anguilla – Anguilla Gustavia Tender Pier, St Barthelemy (France) (Anguila)
Antigua Falmouth, St Johns
ANTILLES – Kralendijk, Bonaire Saba, Netherlands Antilles
ARGENTINA – Buenos Aires, Argentina Elephant Island, Argentina Mar del Plata, Argentina Paradise Bay, Antarctica Puerto Madryn, Argentina Ushuaia, Argentina
AUSTRALIA – Adelaide Airlie Beach Albany Batemans Bay Beauty Point (Tas) Brisbane Broome Bunbury Burnie (Tas) Cairns Cooktown Darwin Eden Esperance Exmouth Flinders Island (T) Fraser Island Fremantle Geelong Geraldton Gladstone Great Barrier Reef Hamilton Island Hobart Hunter River Kangaroo Island Kuri Bay Lizard Island Margaret River Melbourne Mooloolaba Moreton Island Newcastle Norfolk Island Percy Islands Phillip Island Port Arthur (T) Port Douglas Port Hedland Port Kembla Port Lincoln Portland Sydney Thursday Island Townsville Willis Island Yirrkala Yorky's
BAHAMAS – Bimini Islands, Castaway Cay, Coco Cay, Bahamas Freeport, Great Inagua, Great Stirrup Cay, Half Moon Cay Nassau, Ocean Cay, Princess Cays
BAHRAIN Manama Port Mina Sulman
BARBUDA – Barbuda (Can be accessed from Antigua)
BELGIUM – Antwerp, Belgium Gent, Belgium Ostend, Belgium Zeebrugge (Bruges), Belgium
BELIZE – Belize City, Belize Harvest Caye, Belize
BERMUDA – Hamilton, Bermuda Kings Wharf, St George
BRAZIL – Angra Dos Reis, Brazil Belem, Brazil Boca da Valeria, Brazil Buzios, Brazil Cabo Frio, Brazil Camboriu, Brazil Fortaleza, Brazil Ilha Grande, Brazil Ilhabela, Brazil Ilheus, Brazil Itajai, Brazil Macapa, Brazil Maceio, Brazil Manaus, Brazil Natal, Brazil Paraty, Brazil Parintins, Brazil Portobelo, Brazil Recife, Brazil Rio De Janeiro, Brazil Rio Grande, Brazil Salvador De Bahia, Brazil Santarem, Brazil Santos (Sao Paulo), Brazil Sao Francisco Do Sul, Brazil Ubatuba, Brazil Vitoria, Brazil
British Isles see England, Scotland, Wales, Ireland, and Ireland (North)
BVI BRITSH VIRGIN ISLANDS – Jost Van Dyke, British Virgin Islands Norman Island, British Virgin Islands Tortola, British Virgin Islands Virgin Gorda, British Virgin Islands
BRUNEI – Bandar Seri Begawan, Brunei
BULGARIA – Nessebur, BulgariaVarna, Bulgaria
CAMBODIA – Sihanoukville, Cambodia
CAMEROON – Victoria, Cameroon
CANADA – Akpatok Island, Nunavut Alert Bay, British Columbia Baie-Comeau, Quebec Bonne Bay, Newfoundland Charlottetown, Prince Edward Island Corner Brook, Newfoundland Gaspe, Quebec Halifax, Nova Scotia Happy Valley Goose Bay, Labrador Havre St Pierre, Quebec Iles de la Madeleine, Quebec Iqaluit, Nunavut Klemtu, British Columbia L'Anse Aux Meadows, Canada Lady Franklin Island, Canada Montreal, Quebec Monumental Island, Canada Nanaimo, British Columbia Port Alberni, British Columbia Prince Rupert, British Columbia Quebec City, Quebec Red Bay, Labrador Saguenay, Quebec Saint John, New Brunswick Sept-Iles, Quebec Shelburne, Nova Scotia St Anthony, Newfoundland St Johns, Newfoundland Sydney, Nova Scotia Tadoussac, Quebec Trois Rivieres, Quebec Vancouver, Canada Victoria, British Columbia
CANARY ISLANDS – Lanzarote Gran Canaria Fuerteventura La Gomera Tenerife La Palma (see Madeira Islands under 'M')
CAYMAN ISLANDS – Cayman Brac George Town, Grand Cayman
CHANNEL ISLANDS (C.I.) – Guernsey, C.I. Jersey, C.I. Sark, C.I.
CHILE – Antofagasta, Chile Arica, Chile Cape Horn, Chile Castro, Chiloe Island Coquimbo (La Serena), Chile Easter Island, Chile Iquique, ChileIsla Pan de Azucar, Chile Isla Robinson Crusoe, ChileLaguna San Rafael, Chile Puerto Chacabuco, Chile Puerto Montt, Chile Puerto Williams, Chile Punta Arenas, Chile San Antonio, Chile Valparaiso, Chile
CHINA – Dalian, China Haikou, China Hong Kong, China Nansha, China Qingdao, China Sanya, China Shanghai, China Tianjin, China Xiamen, China Yantai, China Zhoushan, China
COLUMBIA – Cartagena, Colombia Islas de San Bernardo, Colombia Santa Marta, Colombia
COOK ISLANDS – Aitutaki, Cook Islands Rarotonga, Cook Islands
CORSICA (France) – Ajaccio, Corsica Bastia, Corsica Bonifacio, Corsica Calvi, Corsica L'ile Rousse, Corsica Plage D'Arone, Corsica Plage D'Arone, Corsica Porto Vecchio, Corsica Propriano, Corsica Saint-Florent, Corsica
COSTA RICA – Bahia Drake, Costa Rica Golfito, Costa Rica Herradura, Costa Rica Playa Flamingo, Costa RicaPlayas Del Coco, Costa Rica Puerto Caldera, Costa Rica Puerto Limon, Costa Rica Puntarenas, Costa Rica Quepos, Costa Rica
CROATIA (in East Mediterranean routes) Cres Dubrovnik Hvar, Komiza, Korcula, Mali Losinj, Mljet, Opatija, Pula, Rab, Rijeka, Rovinj, Sibenik, Split Zadar
CUBA – Antilla, Cuba Casilda, Cuba Cayo Largo del Sur, Cuba Cienfuegos, Cuba Havana, Cuba Isla de la Juventud, Cuba Maria la Gorda, Cuba Santiago de Cuba, Cuba
CURACAO – Curacao Willemstad
CYPRUS – Larnaca, Cyprus Limassol, Cyprus Paphos, Cyprus
DENMARK – Aabenraa, Denmark Aalborg, Denmark Aarhus, Denmark Aeroskobing, Aero Copenhagen, Denmark Esbjerg, Denmark Faaborg, Denmark Fredericia, Denmark Helsingor, Denmark Hundested, Denmark Kalundborg, Denmark Ronne, Bornholm Skagen, Denmark Sonderborg, Denmark
DOMINICA – Portsmouth Roseau
DOM REP – Amber Cove, Dominican Republic Catalina Island, Dominican Republic La Romana, Dominican Republic Punta Cana, Dominican Republic Samana, Dominican Republic Santo Domingo, Dominican Republic
EGYPT – Alexandria, Egypt Port Said, Egypt Port Suez, Egypt Safaga, Egypt Sharm El Sheikh, Egypt Suez Canal
EL SALVADOR – Acajutia, El Salvador
ENGLAND – Bristol, England Cowes, Isle Of Wight Dartmouth, England Douglas, Isle Of Man Dover, England Falmouth, England Fowey, England Great Yarmouth, England Greenwich, London Harwich, England Hull, England Ilfracombe, England Isles of Scilly Liverpool, England London (Tower Bridge) Newcastle, England Penzance, England Plymouth, England Poole, England Portland, Dorset Portsmouth, England Southampton, England Tilbury, London Torbay, England
ESTONIA – Parnu, Estonia Saaremaa, Estonia Tallinn, Estonia
FALKLAND ISLANDS – Port Stanley, Falkland Islands West Falkland, Falkland Islands
FAROE ISLANDS – Klaksvik, Faroe Islands Kollafjordur, Faroe Islands Thorshavn, Faroe Islands
FIJI – Beqa Island, Fiji Dravuni, Fiji Kabara, Fiji Lautoka, Fiji Leleuvia, Fiji Port Denarau, Fiji Savusavu, Fiji Suva, Fiji Taveuni, Fiji
FINLAND – Helsinki, Finland Kemi, Finland Kotka, Finland Mariehamn, Finland Oulu, Finland Pori, Finland Rauma, Finland Turku, Finland Vaasa, Finland
FRANCE North, West – Bordeaux, Fr Boulogne Sur Mer, Fr Brest, Fr Cherbourg, Fr Dunkirk, Fr Hendaye, Fr Honfleur, Fr La Rochelle, Fr Le Havre (for Paris), Fr Le Verdon, Fr Lorient, Fr Nantes, Fr Rouen, Fr St Jean de Luz, Fr St Malo, Fr
FRANCE South – Antibes, Fr Bandol, Fr Cannes, Fr Cassis, Fr Le Lavandou, Fr Marseille, Fr Porquerolles, Fr Port Vendres, Fr Port-la-Nouvelle, Fr Saint Raphael, Fr Sanary sur Mer, Fr Sete, France St Tropez, Fr Toulon, Fr Villefranche (for Nice), Fr
FRANCE TERRITORIES – see Corsica above, see Polynesia (French Polynesia) below, see Martinique below, see Reunion below. Here Belle Ile, France les Du Salut, French Guiana Mayotte, Comoros Gustavia Tender Pier, St Barthelemy (Anguila) St Pierre et Miquelon (French Canada)
GALAPAGOS ISLANDS – (Ecuador) 18 Islands, all tender by small craft.
GAMBIA – Banjul, Gambia
GEORGIA – Batumi, Georgia
GERMANY – Binz, Germany Bremen, Germany Bremerhaven, Germany Eckernforde, Germany Flensburg, Germany Hamburg, Germany Heligoland, Germany Heringsdorf, Germany Kiel Canal Kiel, Germany List, Germany Rostock, Germany Travemunde, Germany Warnemunde, Germany Wilhelmshaven, Germany Wismar, Germany
GHANA – Takoradi, Ghana Tema, Ghana
GREECE – Agios Nikolaos, Crete Amorgos, Greece Argostoli (Kefallinia), Greece Athens (Via Piraeus), Greece Chania, Crete Chios, Greece Corfu, Greece Corinth Canal (Cruising Canal) Delos, Greece Elafonisos Island, Greece Fiskardo, Cephalonia Gythion, Greece Hydra, Greece Igoumenitsa, Greece Iraklion, Greece Itea, Greece Kalamata, Greece Kamares, Nisos Sifnos Karpathos, Greece Katakolon (Olympia), Greece Kavala, Greece Kos, Greece Milos, Greece Monemvasia, Greece Mykonos, Greece Myrina, Nisos Limnos Mytilene, Greece Nafplion, Greece Naxos, Nikos Naxos Nisos Megisti, Greece Nisos Symi, Greece Nisyros, Greece Nydri, Greece Parga, Greece Paros, Greece Patmos, Greece Patra, Greece Piraeus (Athens), Greece Poros, Greece Pylos, Greece Rethymnon, Greece Rhodes, Greece Sami, Cephalonia Samos, Nisos Samos Samothraki, Greece Santorini, Greece Skiathos, Nisos Skiathos Skopelos, Greece Spetses, Greece Syros, Greece Thessaloniki, Greece Tinos, Greece Volos, Greece Zakinthos, Greece
GREENLAND – Alluitsup Paa, Greenland Igaliku, Greenland Ilulissat, Greenland Kangerlussuaq, Greenland Kangilinnguit, Greenland Manitsoq, Greenland Nanortalik, Greenland Narsarsuaq, Greenland Nuuk, Greenland Paamiut, Greenland Qaqortoq, Greenland Qeqertarsuaq, Greenland Sisimiut, Greenland Skjoldungen, Greenland Tasiilaq, Greenland Uummannaq, Greenland
GUADELOUPE (French EU) – Basse-Terre, Guadeloupe Deshaies, Guadeloupe Iles Des Saintes, Guadeloupe Pointe A Pitre, Guadeloupe
GUAM (USA) – Guam, Mariana Islands
GUATEMALA – Puerto Quetzal, Guatemala Santo Tomas De Castilla, Guatemala
HAITI – Labadee, Haiti
HOLLAND – Amsterdam, Holland Harlingen, Holland Ijmuiden, Holland Oudeschild, Netherlands Rotterdam (Amsterdam), Holland Villssingen, Netherlands
HONDURAS– Puerto Cortes, Honduras Roatan, Honduras Trujillo, Honduras
ICELAND – Akureyri, Iceland Djupivogur, Iceland Eskifjordur, Iceland Grundarfjordur, Iceland Heimaey, Westman Islands Husavik, Iceland Isafjord, Iceland Patreksfjordur, Iceland Reykjavik, Iceland Seydisfjordur, Iceland Siglufjorour, Iceland Stykkisholmur, Iceland Vopnafjordur, Iceland
INDIA – Andaman Islands, IndiaChennai, India Cochin, India Karaikal, India Mangalore, India Mormugao (Goa), India Mumbai, India Porbandar, India Vizhinjam, India
INDONESIA – Ambon, Indonesia Bali, Indonesia Bangka Island, Indonesia Bitung, Indonesia Celukan Bawang, BaliGili Bidera, LombokGili Kondo, LombokGili Sudak, LombokGili Trawangan, IndonesiaJakarta, IndonesiaJayapura, IndonesiaKepulauan Seribu, IndonesiaKomodo Island, IndonesiaLombok, IndonesiaLovina Beach, BaliMoyo Island, IndonesiaNongsa Point, IndonesiaPadang Bay, BaliPare Pare, IndonesiaProbolinggo, IndonesiaPulau Bawean, IndonesiaPulau Belitung, IndonesiaPulau Giligenting, IndonesiaPulau Menyawakan, IndonesiaPulau Nasi, IndonesiaPulau We, IndonesiaSemarang, IndonesiaSenggigi, LombokSumba, IndonesiaSumbawa, IndonesiaSurabaya, IndonesiaUjung Pandang, Indonesia
IRELAND (Southern) – Cork, Ireland Dublin, Ireland Foynes, Ireland Galway, Ireland Glengariff, Ireland Killybegs, Ireland Knight's Town, Ireland Waterford, Ireland
IRELAND (north) – Belfast, N. Ireland Londonderry, N. Ireland Portrush, N. Ireland
Israel – Ashdod, Israel Eilat, Israel Haifa, Israel
Italy – Alghero, Sardinia Amalfi, Italy Ancona, Italy Bari, Italy Brindisi, Italy Cagliari, Sardinia Capri, Italy Catania, Sicily Chioggia, Italy Civitavecchia (Rome), Italy Corigliano Calabro, Italy Crotone, Italy Gaeta, Italy Gallipoli, Italy Genoa, Italy Giardini-Naxos, Sicily Golfo Aranci, Sardinia La Spezia, (for Pisa/Florence) Italy Lipari, Italy Livorno (Florence/Pisa), Italy Marina di Carrara, Italy Messina, Sicily Monopoli, Italy Naples, Italy Olbia, Sardinia Otranto, Italy Palermo, Sicily Palmarola, Italy Piombino, Italy Ponza, Italy Porto Cervo, Sardinia Porto Empedocle, Sicily Porto Ercole, Italy Porto Santo Stefano, Italy Porto Torres, Sardinia Portoferraio, Italy Portofino, Italy Positano, Italy Rapallo, Italy Ravenna, Italy Reggio Calabria, Italy Salerno, Italy San Remo, Italy Santa Margherita, Italy Savona, Italy Siracusa, Sicily Sorrento, Italy Stromboli, Italy Taranto, Italy Trapani, Italy Trieste, Italy Venice, Italy
Ivory Coast – Abidjan, Ivory Coast
JAMAICA – Falmouth, Jamaica Montego Bay, Jamaica Ocho Rios, Jamaica Port Antonio, Jamaica
Japan – Aburatsu, Japan Akita, Japan Amami, Amami Island Aomori, Japan Beppu, Japan Fukuoka, Japan Hakodate, Japan Hamada, Japan Himeji, Japan Hiroshima, Japan Hitachinaka, Japan Ishigaki, Japan Ishinomaki, Japan Iwakuni, Japan Kagoshima, Japan Kanazawa, Japan Karatsu, Japan Kitakyushu, Japan Kobe, Japan Kochi, Japan Kumamoto, Japan Kumano, Japan Kushiro, Japan Maizuru, Japan Matsuyama, Japan Miyako, Japan Miyakojima, Japan Miyazaki, Japan Muroran, Japan Nagasaki, Japan Nagoya, Japan Naha, Japan Niigata, Japan Oarai, Japan Otaru, Japan Sakaiminato, Japan Sakata, Japan Sasebo, Japan Sendai, Japan Shimizu, Japan Shimonoseki, Japan Shingu, Japan Takamatsu, Japan Tamano, Japan Toba, Japan Tokushima, Japan Tokyo, Japan Tsuruga, Japan Wakayama, Japan Yatsushiro, Japan Yokkaichi, Japan Yokohama, Japan
Jordan – Aqaba, Jordan
Kenya – Mombasa, Kenya
Kiribati – Christmas Island, Kiribati Fanning Island, Kiribati Kanton Island, Kiribati
LATVIA – Riga, Latvia Ventspils, Latvia
Madagascar – Diego Suarez, Madagascar Fort Dauphin, Madagascar Ile Sainte Marie, Madagascar Nosy Be, Madagascar Tamatave, Madagascar
Majorca, Minorca, Ibiza (Spain) – Palma De Mallorca, Spain
Malaysia – Bintulu, SarawakKlang (Kuala Lumpur), Malaysia Kotakinabulu, Malaysia Kuantan, Malaysia Kuching, Malaysia Langkawi, Malaysia Malacca, Malaysia Miri, Malaysia Penang, Malaysia Pulau Tiga, Malaysia Sandakan, Sabah Tioman Island, Malaysia
Maldives – Kuda Bandos, Maldives Male, Maldives Uligamu, Maldives
Marshall Islands – Marshall Islands
MARTINIQUE – Fort de France, Martinique Le Marin, Martinique Les Anses d'Arlet, Martinique
Mauritius – Port Louis, Mauritius
MEXICO – Acapulco, Mexico Cabo San Lucas, Mexico Costa Maya, Mexico Cozumel, Mexico Ensenada, Mexico Guaymas, Mexico Huatulco, Mexico La Paz, Mexico Loreto, Mexico Manzanillo, Mexico Mazatlan, Mexico Progreso, Mexico Puerto Chiapas, Mexico Puerto Vallarta, Mexico Topolobampo, Mexico Zihuatanejo (Ixtapa), Mexico
Micronesia – Pohnpei, Micronesia
Montenegro – Bar, Montenegro Kotor, Montenegro
Montserrat – Little Bay, Montserrat
Mozambique – Ilha de Mozambique, Mozambique Maputo, Mozambique Pomene, Mozambique Portuguese Island, Mozambique
Myanmar – Yangon, Myanmar
Namibia – Luderitz, Namibia Walvis Bay, Namibia
NETHERLANDS – Amsterdam Harlingen, Ijmuiden, Oudeschild Rotterdam Villssingen
Netherlands Antilles – Kralendijk, Bonaire Willemstad, Curacao Saba, Netherlands Antilles
NEW CALEDONIA – Isle of Pines, New Caledonia Lifou, New Caledonia Mare, New Caledonia Noumea, New Caledonia
New Zealand – Akaroa, NZ Alofi, Niue Auckland, NZ Bay of Islands, NZ Bluff, NZ Christchurch, NZ Dunedin, NZ Fjordland National Park, NZ Gisborne, NZ Kaikoura, NZ Kaiteriteri, NZ Matiatia Bay, NZ Napier, NZ Nelson, NZ New Plymouth, NZ Oban, Stewart Island Picton, NZ Tauranga, NZ Timaru, NZ Wellington, NZ
Nicaragua – Corinto, Nicaragua San Juan del Sur, Nicaragua
Northern Mariana Islands – Saipan, Mariana Islands
NORWAY West (Fjords) – Alesund, Norway Alta, Norway Andalsnes, Norway Arendal, Norway Barentsburg, Spitzbergen Bergen, Norway Bodo, Norway Bronnoysund, Norway Eidfjord, Norway Eresfjord, Norway Farsund, Norway Flam, Norway Flekkefjord, Norway Fredrikstad, Norway Geiranger, Norway Gravdal, Norway Gudvangen, Norway Hammerfest, Norway Harstad, Norway Haugesund, Norway Hellesylt, Norway Honningsvag, Norway Jondal, Norway Kalvag, Norway Kirkenes, Norway Kragero, Norway Kristiansand, Norway Kristiansund, Norway Leirvik, Norway Lofoten Islands, Norway Longyearbyen, Spitsbergen Isl, Norway Lyngseidet, Norway Lysebotn, Norway Mandal, Norway Molde, Norway Namsos, Norway Narvik, Norway Ny Alesund, Spitzbergen Olden, Norway Pyramiden, Spitzbergen Rorvik, Norway Rosendal, Norway Rosfjord, Norway Sandane, Norway Sandefjord, Norway Skarsvag, Norway Skjolden, Norway Sorfjord, Norway Sortland, Norway Stavanger, Norway Stokmarknes, Norway Svartisen, Norway Svolvaer, Norway Tromso, Norway Trondheim, Norway Ulvik, Norway Vik, Norway
NORWAY East – Arendal, Norway Barentsburg, Spitzbergen Bronnoysund, Norway Farsund, Norway Flekkefjord, Norway Fredrikstad, Norway Gravdal, Norway Gudvangen, Norway Hammerfest, Norway Harstad, Norway Jondal, Norway Kalvag, Norway Kirkenes, Norway Kragero, Norway Leirvik, Norway Longyearbyen, Spitzbergen Lyngseidet, Norway Lysebotn, Norway Mandal, Norway Molde, Norway Namsos, Norway Narvik, Norway Ny Alesund, Spitzbergen Oslo, Norway Oslofjord, Norway Pyramiden, Spitzbergen Rorvik, Norway Rosendal, Norway Rosfjord, Norway Sandane, Norway Sandefjord, Norway Skarsvag, Norway Sorfjord, Norway Sortland, Norway Stokmarknes, Norway Svartisen, Norway Svolvaer, Norway Trondheim, Norway Ulvik, Norway Vik, Norway
Oman – Khasab, Oman – Muscat, Oman – Salalah, Oman – Sur, Oman
PACIFIC OCEAN – Honolulu (Oahu), Hawaii (see USA), Bora Bora Papeete, Tahiti, Fr Polynesia (see French Polynesia), Apia (see Samoa), Lautoka, Fiji (See Fiji) Port Vila, Vanuatu (See Vanuatu), Noumea, New Caledonia (See New Caledonia)
Palau – Koror, Palau
PANAMA – Bocas Del Toro, Panama Colon, Panama Isla Contadora, Panama Isla Gamez, Panama East & Canal (Cruising Canal) Panama City San Blas Islands
Papua New Guinea – Alotau, Papua New Guinea Conflict Islands, Papua New Guinea Kiriwina Island, Papua New Guinea Kitava, Papua New Guinea Madang, Papua New Guinea Port Moresby, Papua New Guinea Rabaul, Papua New Guinea Samarai Island, Papua New Guinea Wewak, Papua New Guinea
Peru – Callao (Lima), PeruIlo, Peru Islas Guanape, Peru Matarani, Peru Pisco, Peru Salaverry (Trujillo), Peru
Philippines – Bohol, Philippines Boracay, Philippines Busuanga Island, Philippines Calangaman Island, Philippines Culion Island, Philippines El Nido, Guam, Mariana IslandsPhilippines Hundred Islands, Philippines Manila, Philippines Puerto Princesa, Philippines Romblon, Philippines Salomague, Philippines Subic Bay, Philippines
Pitcairn Islands – Pitcairn Island
POLAND – Gdansk, Poland Gdynia, Poland Swinoujscie, Poland Szczecin, Poland
POLYNESIA (French) – Atuona, Polynesia Bora Bora, Fr Polynesia Fakarava, French Polynesia Fatu Hiva, French Polynesia Huahine, French Polynesia Moorea, French Polynesia Nuku Hiva, French Polynesia Papeete, Tahiti, Fr Polynesia Raiatea, French Polynesia Rangiroa, French Polynesia Tahaa, French Polynesia Tahuata, French PolynesiaUa Pou, French Polynesia Vairao, Tahiti Iti
Portuguese Territories – Funchal, Madeira – Horta, Azores – Ponta Delgada, Azores Praia Da Vitoria, Azores – Porto Santo, (Nr Madeira) Portugal
PUERTO RICA – Culebrita Island, Esperanza, Ponce, San Juan
QATAR – Doha, Qatar
REUNION (Indian Ocean, French) – Saint-Denis, Reunion
ROMANIA – Constanza, Romania
RUSSIA west (Baltic) – Archangel, Russia Baltiysk, Russia Korsakov, Russia Murmansk, Russia Petropavlovsk, Russia Sochi, Russia Solovki, Russia St Petersburg, Russia Vladivostok, Russia
RUSSIA east – Archangel, Russia Baltiysk, Russia Korsakov, Russia Murmansk, Russia Petropavlovsk, Russia Sochi, Russia Solovki, Russia Vladivostok, Russia
Saint Helena, Ascension and Tristan da Cunha – Ascension Island Saint Helena
SARDINIA Italy – Alghero, Sardinia Cagliari, Sardinia Golfo Aranci, Sardinia Olbia, Sardinia Porto Cervo, Sardinia Porto Torres, Sardinia
SAMOA Apia, Fagamalo
SAMOA (American) Pago
Sao Tome and Principe – Principe, Sao Tome and Principe
SCOTLAND – Aberdeen Campbeltown Dundee Edinburgh Fort William Greenock (Glasgow) Invergordon Kirkwall Lerwick, Shetland Isles Oba Portree Portree, Isle of Skye Rothesay, Isle of Bute Scrabster St Kild Stornoway, Isle of Lewis Tobermory, Isle of Mull Ullapool Skara Brae, Orkney Island Orkney Islands
Senegal – Dakar, Senegal
Seychelles – Curieuse Island, Seychelles Desroches Island, Seychelles La Digue, Seychelles Mahe, Seychelles Praslin Island, Seychelles
Singapore – Singapore
SICILY Italy – Catania, Sicily Giardini-Naxos, Sicily Messina, Sicily Palermo, Sicily Porto Empedocle, Sicily Siracusa, Sicily
Slovenia – Koper, Slovenia Piran, Slovenia
Solomon Islands – Gizo, Solomon IslandsGuadalcanal, Solomon Islands
SOUTH AFRICA – Cape Town, South Africa Durban, South Africa East London, South Africa Mossel Bay, South Africa Port Elizabeth, South Africa Richard's Bay, South Africa
South Georgia and the South Sandwich Islands – Grytviken, South Georgia
South Korea – Busan, South KoreaCheju, South KoreaIncheon, South KoreaYeosu, South Korea
SPAIN (South East) – Alicante Almeria Banus Barcelona Benidorm, Cadiz Cartagena Castellon Ceuta, Spanish Morocco Denia, Huelva Malaga, Spain Melilla, Spanish Morocco Motril Palamos Palma De Mallorca, Spain Puerto Banus Roquetas de Mar Roses Seville Tarragona Valencia
SPAIN (North, west coast) – Aviles, Bilbao, Ferrol, Gijon, La Coruna La Savina, San Sebastian, Santander, Vigo, Vilagarcia de Arousa
SPAIN the ISLANDS. Alcudia, Mallorca, Minorca Ibiza, Spain Palma De Mallorca, Spain La Savina, Ibiza. Formentera (off Ibiza), Port Mahon, Minorca,
Sri Lanka – Colombo, Sri Lanka Galle, Sri Lanka Hambantota, Sri Lanka Trincomalee, Sri Lanka
ST KITTS & NEVIS – Basseterre, St. Kitts Nevis, St Kitts and Nevis
ST LUCIA – Castries, St Lucia Pigeon Island, St Lucia Soufriere, St Lucia
ST VINCENT & Grenadines – Bequia, Grenadines Canouan Island, Grenadines Mayreau, Grenadines St Vincent, St Vincent Union Island, Grenadines
SWEDEN – Goteborg, Sweden Helsingborg, Sweden Karlskrona, Sweden Lulea, Sweden Lysekil, Sweden Malmo, Sweden Nynashamn, Sweden Stockholm, Sweden Sundsvall, Sweden Trelleborg, Sweden Umea, Sweden Vastervik, Sweden Visby, Sweden
Taiwan – Hualien, Taiwan Kaohsiung, Taiwan Keelung, Taiwan Magong, Penghu Islands
Tanzania – Dar Es Salaam, Tanzania Zanzibar, Tanzania
Thailand – Ko A Dang, Thailand Ko Hong, Thailand Ko Kood, Thailand Ko Kradan, Thailand Ko Lanta, Thailand Ko Phi Phi Island, Thailand Ko Rok Nok, Thailand Ko Samui, Thailand Ko Surin, Thailand Laem Chabang (Bangkok), Thailand Phang Nga Bay, Thailand Phuket, Thailand Similan Islands, Thailand
The Netherlands – Amsterdam, Holland Harlingen, Holland Ijmuiden, Holland Oudeschild, Netherlands Rotterdam (Amsterdam), Holland Villssingen, Netherlands
Timor-Leste – Dili, Timor-Leste
Togo – Lome, Togo
Tonga – Nukualofa, TongaVava'u, Tonga
Trinidad and Tobago – Charlotteville, Tobago Scarborough, Tobago Trinidad, Trinidad and Tobago
Tunisia – Tunis, Tunisia
Turkey – Bodrum, Turkey Bozcaada Canakkale, Turkey Dalyan, Turkey Dikili, Turkey Istanbul, Turkey Kusadasi (Ephesus), Turkey Marmaris, Turkey Trabzon, Turkey
Turks and Caicos – Grand Turk, Turks and Caicos
Ukraine – Odessa, Ukraine
United Arab Emirates – Abu Dhabi, U.A.E Dubai, U.A.E Fujairah, U.A.E. Khor Fakkan, Sharjah U.A.E. Ras Al-Khaimah, U.A.E. Sir Bani Yas, U.A.E.
United Kingdom see England, Scotland, Wales, Ireland, and Ireland (North)
United States (Alaska) – Anchorage Dutch Harbor Glacier Bay Haines Homer Hubbard Glacier Icy Strait Point Juneau Ketchikan Kodiak Metlakatla Nome Sand Point Seward Sitka Skagway Tracy Arm Fjord Valdez Whittier Wrangell
UNITED STATES AMERICA (East) – Baltimore, Maryland Bar Harbor, Maine Boston, Massachusetts Cape Cod Canal, Massachusetts Charleston, South Carolina Fort Lauderdale, Florida Galveston, Texas Gloucester, Massachusetts Key West, Florida Miami, Florida New Orleans, Louisiana New York City, New York Newport, Rhode Island Nome, Alaska Norfolk, Virginia Oak Bluffs, Massachusetts Palm Beach, Florida Port Canaveral, Florida Portland, Maine Portland, Oregon Provincetown, Massachusetts Rockland, Maine Salem, Massachusetts Tampa, Florida
UNITED STATES AMERICA (West) – Astoria, Oregon Catalina Island, California Hilo, Hawaii Honolulu (Oahu), Hawaii Hulopoe Beach (Lanai), Hawaii Kahului (Maui), Hawaii Kailua Kona, Hawaii Key West, Florida Lahaina (Maui), Hawaii Los Angeles, California Miami, Florida Monterey, California Nawiliwili (Kauai), Hawaii New Orleans, Louisiana Newport, Rhode Island Nome, Alaska Norfolk, Virginia Portland, Oregon San Diego, California San Francisco, California Santa Barbara, California Sausalito, California Seattle, Washington
Uruguay – Montevideo, Uruguay Punta Del Este, Uruguay
US Virgin Islands – St Croix, USVI St John, USVI St Thomas, USVI
VANUATU – Champagne Bay, Espiritu Santo Luganville, Vanuatu Mystery Island, Vanuatu Pentecost Island, Vanuatu Ureparapara, Vanuatu Port Vila, Vanuatu
Venezuela – Blanquilla Island, VenezuelaIsla Margarita, Venezuela
Vietnam Da Nang, Halong Bay, Ho Chi Minh City, Nha Trang, Phu Quoc, Qui Nhon
WALES – Cardiff, Wales Fishguard, Wales Holyhead, Wales Milford Haven, Wales
WORLD CRUISE PORT GUIDES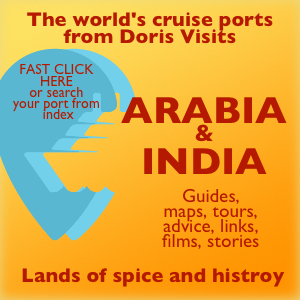 Fast click pictures, or use index box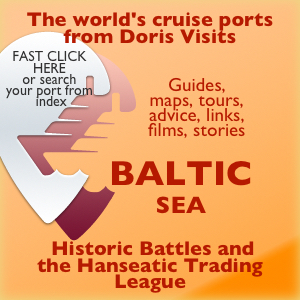 Fast click pictures, or use index box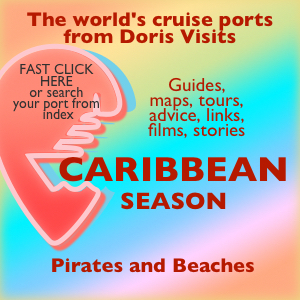 Fast click pictures, or use index box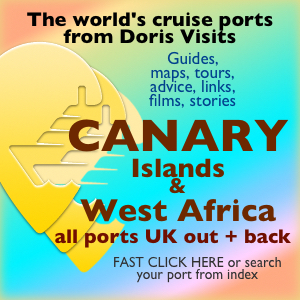 Fast click pictures, or use index box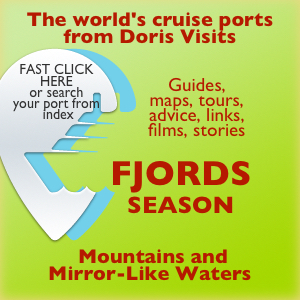 Fast click pictures, or use index box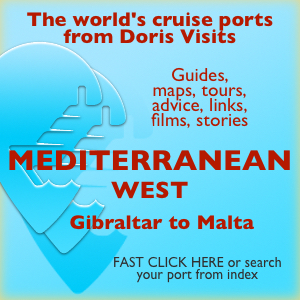 Fast click pictures, or use index box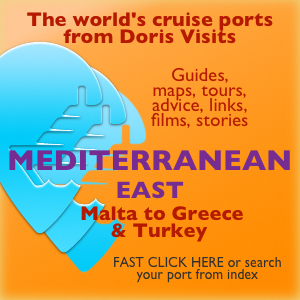 Fast click pictures, or use index box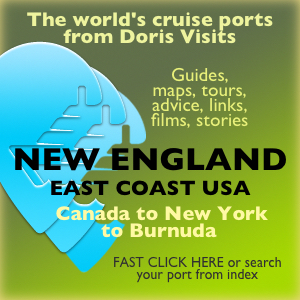 Fast click pictures, or use index box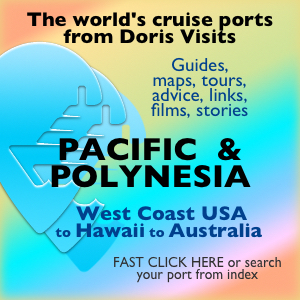 Fast click pictures, or use index box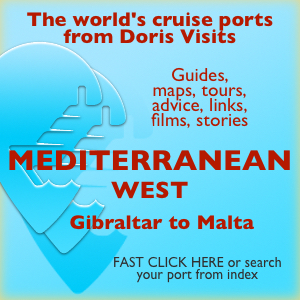 Fast click pictures, or use index box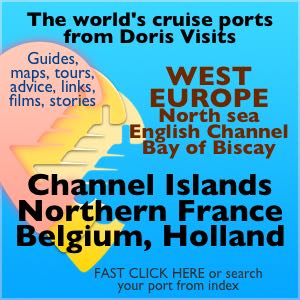 Fast click pictures, or use index box