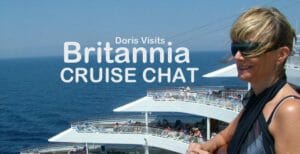 A magnificent, accurate and emotional link to Morecambe & Wise that is nostalgic and entertaining. People rock with laughter whether at festivals, in the huge West End theatres or on board ship in the Limelight club. Ian and Jonty are keen members of the Stage Golf Society, as are we and many other acts like Marty Kristian of The New Seekers also a regular on the ships. When the ships dock they are rushing off somewhere to play golf! Eric and Ern have now also started to play Cunard ships. Have you seen them on the Britannia. Chat Britannia by clicking the picture.
Here is a complete list of all future Britannia cruises – like a one page brochure!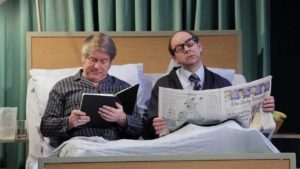 2016 saw them on a Christmas TV special with Eric Idle and professor Brian Cox who was recently in a show in the Canary Islands with Stephen Hawkin and Manuel Martinez. Now Ian and Jonty, who first met at drama school in Birmingham in 1983, where they became firm friends are the double act everyone has always told them they should be.
Search for the great cruise novel Cruise Ship Heist
Their portrayal of some of the best know gags of Morecambe and Wise (also known as Eric and Ernie), is uncanny. With the full permission of the family and the owners of the work, this new tribute act has been built into something quite special to repeat the genius that history had thought it had lost. The original British comic double act, Morecambe and Wise worked in variety, radio, film and most successfully in television. They ran from 1941 until Morecambe's death in 1984. They have been described as "the most illustrious, and the best-loved, double-act that Britain has ever produced". If you liked them, then Eric and Little Ern will be the treat that will bring back so many memories.click here for the New Canary Island cruise menu including West Africa & Cape Verde Ian and Jonty's success with Martin Clarkson has taken them from the golf clubs to the Edinburgh Fringe to London's West End Vaudeville Theatre and now cherry picked by P&O especially for the very unusual and special Limelight Club on the Britannia. Doris now rarely sees Ian and Jonty on the golf course but does meet up with them when their schedules cross somewhere at sea.
Cruise Doris Visits Subscribe. Thank you
To look at the Britannia see this link.
The Limelight club normally rotates four menus, it is a three course menu because you are there to watch an act, it is like a speakeasy. As we are official affiliates of P&O, you can book your holiday here now or if you have booked already and have your details which will all come via the internet and you will be sent tickets and plans, you can book a table at the Limelight Club as well as excursions via you cruise planner below. The internet is a wonderful thing!
P&O EARLY DEALS Menu 1 Menu 2 Menu 3 Menu 4 P&O LATE DEALS
BOOK A TABLE – GO TO YOUR PERSONAL P&O CRUISE PLANNER HERE
Find out more about the entertainers and show cast you see at sea & share with friends.
CRUISE INSURANCE THAT EVEN THE CRUISE SHIPS SELL, AND WE ADD NOTHING ON, JUST CLICK HOLIDAY EXTRAS – OR OUR BLOG


Check out some of the great Cruise Routes, our concise films of what a ship offers when it takes a specific route. These are typical routes but we do have films to help cruisers on every popular cruise destination in the world.
Want to look around the ships, take a look at our ship tours.
If you are new to Doris Visits Cruise TV then welcome, we invite you to comment at the end of our blogs, and ask you for follow us on here on www.DorisVisits.com and like us on Facebook and follow us on Twitter and subscribe to our YouTube Channel to get the best from us. We are always looking for presenters and social media activists to help us expand so drop us a line anytime with ideas at [email protected] PLEASE SHARE
SEE THE CRUISE BEFORE YOU CRUISE THE SEA. Worldwide destination films for cruisers; New York to Barbados, Rome to Stavanger, Bora Bora to Tallinn, Tenerife to Cork.
READ THE CRUISE BEFORE YOU CRUISE THE SEA. In the book charts!Sally Katz used the films on Doris Visits to peg her books on! With permission. Each book takes place over a cruise and has incredible inside news and information on cruise lines and shipping. She told of the same sex marriage at sea (book2) plans a year before they were released!! Book 1 is a Canary Islands cruise, Book 2 is in the Baltic, Book 3 is in the Caribbean. Adult romance, Bridget meets 50 Shades on a ship!
How to access these deals – use the click here and when on the page, click the brown bar 'see all cruises' just above the pictures of the ships. That will take you to the deals we have.