Is a 55-part series of the cruise novel Cruise Ship Heist read in 8-to-12-minute segments on YouTube with just one or two at the most very short sponsor messages. The book is read nightly from October 24th, 2022. If you find it after this date you may have some catching up to do. The reading plays out to film clips of ship tours and cruise destinations. For example, the first segment which is chapters 1 & 2, plays out to a mute tour of the only Ocean Liner left at sea, the wonderful Queen Mary 2. Sleep well.
In this novel, Cruise Ship Heist, Commander Kieron Philips's first civilian job is to commentate on the Panama Canal transit by a cruise ship. He lands in Costa Rica after his dates have been changed and his route has been altered.
His sponsored refugee 'daughter' is working as a dancer on this ship and it is her first professional engagement. She wants him to find romance, but he is not easy with women. Also, his highly tuned instincts uncover a serious crime. He can't avoid being involved as money appears and people go missing.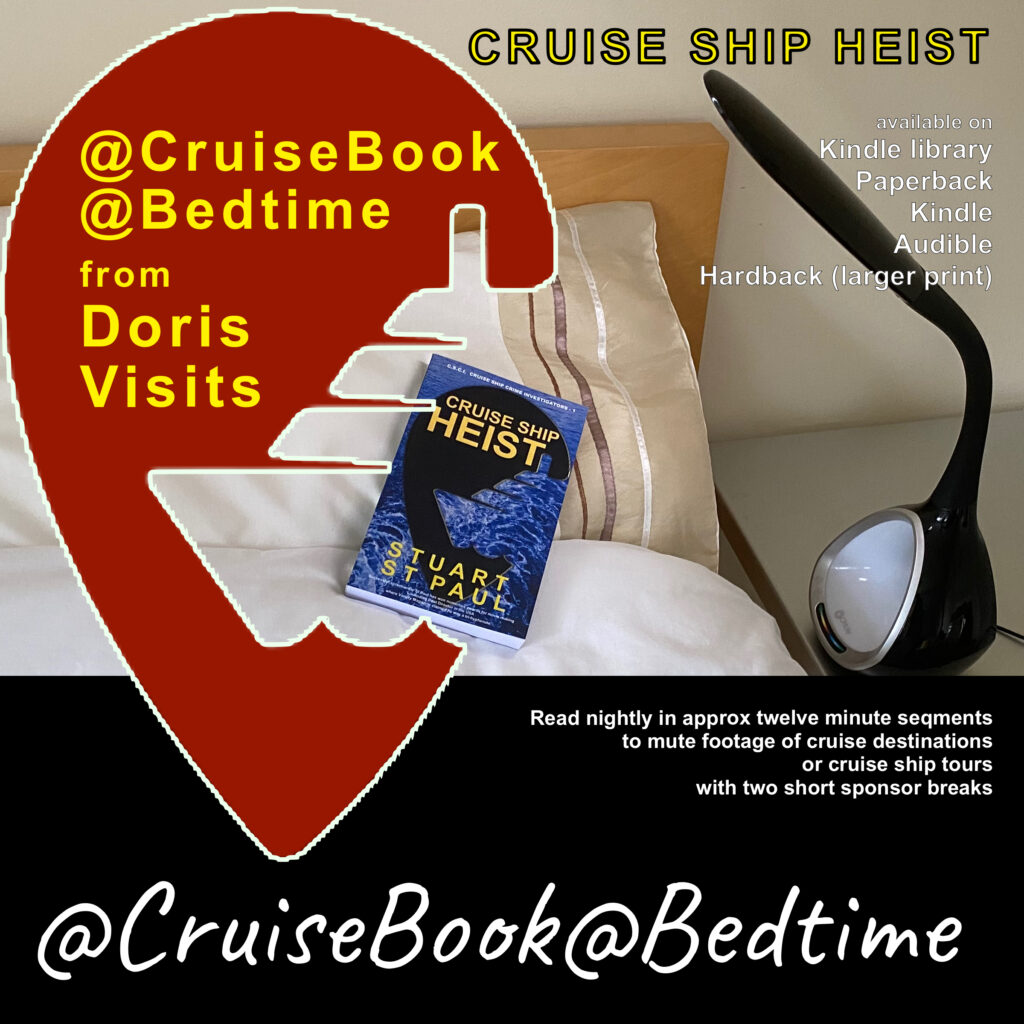 Kieron was for many years a deep behind-the-lines special forces operative. He has more than five senses. They are all firing as he starts to question whether he is working with people he can trust. Is he on the right side? Is he being played? This was meant to be a holiday.
With no idea whom to trust and no protective kit, he finds himself in a battle to keep millions of dollars safe on the ship. But, after a career serving his country with no family to make him vulnerable, he now has skin in the game: Auli'i, who calls him dad. Nothing should put her at risk.
However, as the deathly game escalates, he begins to suspect his presence on the ship is not just a coincidence. How can that be? Auli'i arranged his visit.

Get to know Kieron Philips. We had Tom Hanks in mind when we started writing, but there is a list of great British actors now kicked around as suggestions for the role.
Cruise Ship Heist is the first in a series of six novels and is available as a series read on YouTube, listed here. As an Audiobook, in the Kindle Library or as a paperback via Amazon.