MS Ambience is the name of the first ship for Ambassador Cruise Lines, now at sea.
Ambassador is a new British cruise operator. Primarily aimed at the 50-plus market, however, they will run a number of multi-generation cruises over the summer holidays. These will be authentic cruise experiences. The new group is up and running, and has retained a few experienced CMV staff to share their experience with the new team. They will still be based in Purfleet, Essex, and sail out of Tilbury.
| | |
| --- | --- |
| Cruise Line | Ambassador Cruise Line |
| Gross Tonnage | 70,285grt |
| Registry | Bahamas, British Commonwealth |
| Classification Society | Lloyds Register of London |
| Passenger Capacity | 789 cabins (1400 guests) |
| Guest Ratio | 50.2 |
| Crew to Guest Ratio | 2.15 |
| Built | 1991 (latest refit 2017) |
| Cruising Speed | 16.50 knots |
| Guest Decks | 11 |
| Lifts | 9 |
| Stabilised & Air Conditioned | Yes |
| Officers & Crew | British & International |
| Cruise Staff & Entertainers | British & International |
| | |
| --- | --- |
| Length | 245m (811ft) |
| Beam | 32.25m (105ft) |
| Draft | 8.22m (27ft) |
They aim at being the friendliest, and most diverse staff in the industry, looking to make long-lasting friendships both with fellow guests and crew. They are looking to make a loyal community at sea. We know two things do this, price, and experience.
Cruise Doris Visits Subscribe. Thank you
Saved from the ship-breakers Alang, in India, after the Bitcoin group that bought her failed to establish their new eutopia, she has many expired certificates like a car has an MOT. These will all need to be passed and re-issued and some sea trials have already taken place. In October 2021 it entered Viktor Lenac shipyard in Croatia. Under the name of Satoshi, it began the extensive refurbishment. Now sailing, she is getting good press and reviews. Please message us if you have a film to be added to the collection.
The work continues, but completed work includes but is in no way limited to the installation of new technical equipment, scrubbers, a new water purification system and wastewater treatment system. This classic ship, built for Princess Cruises as Regal Princess, also sailed for P&O Australia as Pacific Dawn. She is still a stunning ship, and once again popular in her new colours.
Cruise Doris Visits Subscribe. Thank you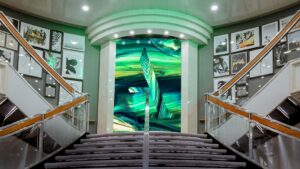 Ambassador Cruises have the know-how. The Chair of the Board of Directors is Gordon Wilson who has over 30 years of experience in the global travel industry. Ambassador Cruise Line is based in Purfleet, Essex.
Ambassador Cruise Line's first ship, Ambience, will sail from Tilbury in Spring 2022. After completing its inaugural season in Spring 2023, the cruise line plans to extend sailings from additional regional ports including Liverpool and Newcastle on an ex-UK no-fly range of voyages. A carefully curated no-fly programme of 33 inaugural year sailings will visit a total of 88 different ports.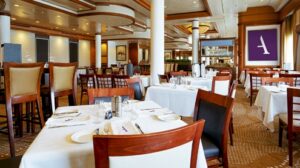 Ambassador will deliver distinguished cuisine, and fascinating voyages working closely with all destinations to adhere to local health guidelines and requirements.
In accordance with The Package Travel and Linked Travel Arrangements Regulations 2018, Ambassador has insurance cover in place to financially protect all guests booking with Ambassador Cruise Line, for all monies paid either directly or via their travel agent. In addition, they will operate a fully compliant independent Trust Account where guests' funds are deposited and only released when the cruise departs. Their offer also includes a booking guarantee in the event we are forced to cancel a cruise.
Cruise Doris Visits Subscribe. Thank you
CRUISE MYSTERY NOVELS & GOOD READS
a full list of all authors here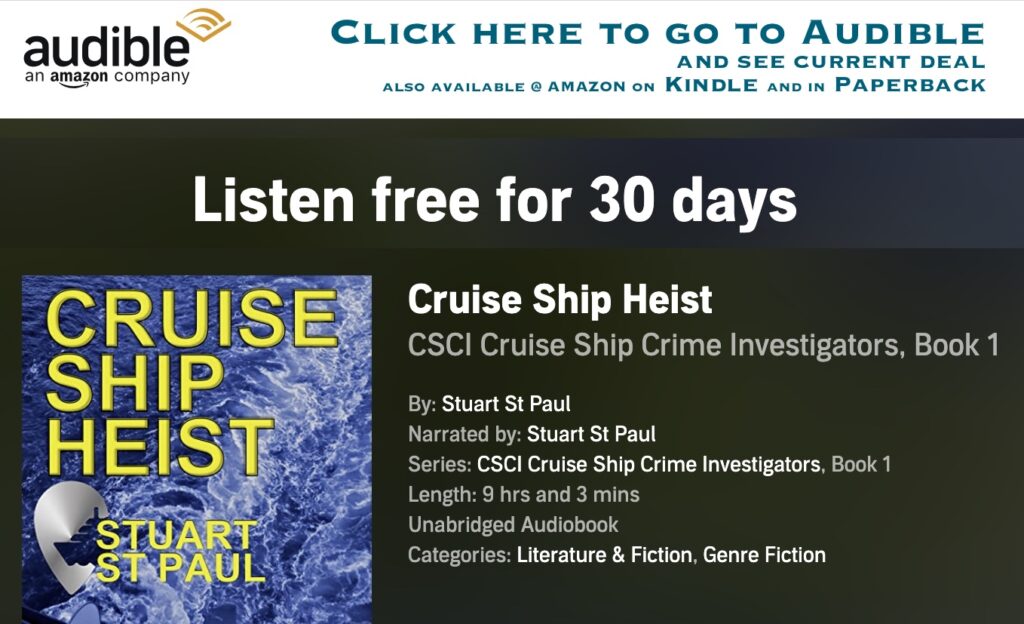 mystery thrillers in paperback and eBook We list all cruise authors from Dawn Brooks, to Hope Callaghan, to Stuart St Paul and many more. Some thrillers, some cozy. Start with Cruise Ship Heist.