The Aurora's very last cruise as a family ship saw it covered in snow with many guests staying inside.
The sea got rough but it ploughed through it gracefully with few changes, the Headliners stage shows were cancelled as they could not dance as the ship moved about, but Elektra, the violin duo played (not in heels!). Roy Locke managed to sing his West End classics and our own Stuart St Paul went on and all moved with the ship. The Captain said the ship had encountered 97 mph winds and force 10 gales and some guest slept through it all. Others dived for the sea sickness bands. Click the picture for an explanation of how they work.
If you have never seen a cruise ship sail to the show, covered in snow, then here it is.
Cruise Doris Visits Subscribe. Thank you
The Viking Sky, a much smaller ship, was left a day behind the Aurora in Alta, where we did glimpse the #borealisalta. The #VikingSky found it hard to manage as the storm increased even further. We have films on #Alta, Narvik and Haugesund as well as Fjord films much further south. Please share.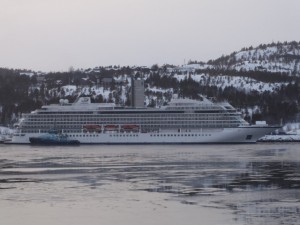 The Viking Sky seen here in Alta from the deck of the P&O ship Aurora. The Aurora left first and started to encounter harsh winds. The Viking Sky left later.
#Vikingsky in #Alta followed the #Aurora out back home. #borealisalta
SHIPS & CHAT – Research other ships – passenger area tours, info & chat sites – Our Ships menu has every ship from every fleet – Find your ship's chat site + share your pictures + experiences to help others – click
The cruise size luggage labels are a hot recommendation, the other items are fun.
Cruise Heist has more than rough seas to deal with. Most crew and guests are totally unaware of the goings on in this great fiction thriller where South American money is smuggled aboard and the ship gets very rocky.
Out now on Kindle only. Paperback out later this year.