The excitement has been boiling up for some time, will there be a change in dancers, will you get your favourite. And yes there is a change !!! AJ, Pasha and Oti all jump on board !! Never done an official Strictly Come Dancing Cruise? Want to know what happens and why it is one of the most important set of events in the SCD calendar? We will explain it all after we list the new dancers on board, and with the best rumours we have heard for new TV stars being Holly Willoughby and Graham Cole OBE, we do have new faces in the shows on the ships.
VENTURA N809 11th May – click here for room availability and to book Spain, France, Italy. (Med) , and the dancers and team are – Dianne Buswell, Gorka Marquez, Neil Jones, Katya Jones, Giovanni Pernice, AJ Pritchard, Chloe Hewitt and Judge: Craig Revel Horwood
VENTURA N809 – CLICK TO CHECK AVAILABILITY – LOOK AND BOOK !
BRITANNIA B816 3rd June – click here for room availability and to book Spain, France, Italy. (Med), and the dancers and team are – Janette Manrara, Aljaz Skorjanec, Pasha Kovalev, Anya Garnis and Judge: Craig Revel Horwood plus you can expect great stars in the Limelight Club and other names to be added.
BRITANNIA B816 – CLICK TO CHECK AVAILABILITY – LOOK AND BOOK !
AZURA A819 21st July – click here for room availability and to book Spain, Monaco, Italy. (Med) and the dancers and team are – Janette Manrara, Aljaz Skorjanec, Giovanni Bernice, Oti Mabuse and Judge: Craig Revel Horwood
AZURA A808 – CLICK HERE TO CHECK AVAILABILITY – LOOK AND BOOK !
B909 7 Apr 2019 BRITANNIA 13 nights of STRICTLY COME DANCING ENTERTAINMENT – 6 ports focussed round the Canary Islands
And if you are going, or not, join the chat and get excited. AZURA CHAT. VENTURA CHAT. BRITANNIA CHAT.
There are those who just know SCD as a TV show. It is not, it is a whole year round world wide phenomena. From the USA to the UK and at sea the producers and staff work all year and in more places than you can imagine. The show is best seen on ship for many reasons, not least not just because you do get to be with the stars up close and personal, and hear more about their lives and what goes on from their own lips, but Elstree holds 600 audience of which many are friends family and stars and the ships hold 3000. Now we will start to detail, day by day, what happens on a SCD CRUISE. The ships leave Southampton for the Mediterranean and as we have done this cruise, best cruise ever, we can explain what is involved from meeting Darren Day in the Limelight in the Britannia to me learning the cha cha with Janette. Barcelona to Rome and other great destinations, and we can tell you the best view of the Trevi Fountain as well as what you see on stage. This is a cruise you will remember for a long time and will be the envy of your friends.
As the main presenter for the online and Opera TV cruise show Doris Visits I get to cruise a lot, but the Strictly Come Dancing cruise is the best treat ever. You may wonder why they are all on a similar route and all on the Med, I can only suggest, knowing the routine and how timed to the minute the crammed entertainment programme on board ship is, that the access to airports on the days the stars change over is well worked on this route. So, what happens? What can you expect? They suggested the SCD Cruise show will be bigger this year, as if there wasn't more than enough last year. I have never been on a cruise with so much on offer! If you have never cruised then take a look at the ten-minute film of our blow by blow of ports, the ship and what was on. Here is last SCD Med cruise on the Britannia. Actually, as this blog is content heavy you might want to read it then come back to the links. This is a day by day or what happens.
ADRIATIC CRUISE OUR ANGELS & DEMONS TAKE ON ROME P&O LATE DEALS
2017 – Day one, a Sunday the Britannia left Southampton and quite a few of the three and a half thousand passengers were finding their way round the ship for the first time. The tone of the cruise was set as we found costumes from Strictly, soon to be known as SCD on mannequins around the ship. SCD is now very organised on board, so if you are worried that such an event filled cruise might be a battle to see things I cannot stress enough that is not the case. Britannia holds 3600 passengers and the Headliners Theatre holds 950. Each special SCD act performs four times and they are ticketed to ensure that everyone gets to see the show, almost always when they want. Now it is down to you, the passenger to plan how you will get round the event filled day and find time to eat! With choir, other entertainers and port visits the list of events looked daunting.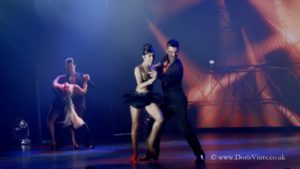 Monday 26th morning it started early with the opportunity to book private lessons with Janette Manrara and Aljaz Skorjanec in the Atrium where passengers were also encouraged to book to compete for the final grand passenger dance off. There was an SCD help desk set up in the Atrium. At 2pm there was a Masterclass with Janette Manrara and Aljaz Skorjanec in the Crystal Ballroom, this was busy but people were in good spirits. Then at 4pm Janette and Aljaz were in the packed 950 seat Headliners theatre. The charming couple were introduced by Tracy Clegg and Aljaz told the story of how the last question two years ago on the same cruise was 'when are you going to propose?' He said he went straight to the on board jewellers and bought the ring, he told how he proposed and they then revealed their wedding plans which are to take place just a couple of weeks after they disembark the ship. Three weddings, London, Cuba and Slovenia. They also announced that they have both been confirmed back on this year's Strictly with three new female dancers and a new female judge. We were off to a great start. Black Tie evening I was spoilt with an early treat at Michelin star chef Atul Kochhar's Sindhu Restaurant.
10am on Tuesday 27th there was the first of a hosted wardrobe tour of the SCD costumes. On board at midday Janette ran a Master Class in the Crystal room. Later in the Limelight Janette and Aljaz ran a dance class for youths in the more private area of the Limelight Club. Everything worked like a well-oiled machine with Eric Lanlard doing both a Master Cookery Class in the morning and an 'Audience with' in the Headliners in the afternoon. Because some of the events are ticketed, there was a Strictly help desk established in the Atrium from 9am to 10.45 daily.
CRUISE INSURANCE MED CRUISE MOVIES MADE AT CRUISE DESTINATIONS
Wednesday 28th June the costume tours repeated but there was the additional live fashion show at 4pm from the resident ship's show cast. Janette and Aljaz did a 'meet and greet' session, signing and having photographs with guests at midday. Film director Stuart St Paul who did many of the 1980's pop videos like Wild Boys with Arlene Phillips, revealed the secrets to filming on location and spilt the beans on how little of Angels and Demons was shot in Rome. (that is a fun way to see Rome, see the blog) (He also reveals the best way to shoot the Trevi Fountains in the Rome blog)
The black tie evening was quite special and very full so we ate early. I had the lobster main course and the two of us shared the suggested wine. Delicious! Janette and Aljax did the first of their evening shows and we were there. This was a ticketed event, not because there was a cost, but because everyone wanted to see them and it was the perfect way to ensure everyone did. There were two shows that night in the Headliners, 8.30 and 10.30, then two more to follow tomorrow. That meant four chances to see the show. The Headliners theatre is bigger than most West End theatres, it has an LED back wall for effects and backdrops but that was not used. The whole stage was a dance area and they performed. It was a joy to watch such master talent close up and personal and I have not seen such great dancing since Patrick Swayze danced with his wife at the Oscars. The specialist dance instructors on board for the two weeks were also in the show. They were also magnificent dancers, but, the sheer excellence of the stars was obvious. The show was funny and engaging and mixed clips with anecdotes as well as dances including the Russian Tango, the American Smooth and a Jive. The 'Evening With' event at the Headliners felt like a longer very full show and one can see why the dancers need to eat well because the energy they must use twice a night plus their day time training, as well as dance classes must burn huge amounts of calories. Opposite them in the live lounge at the other end of the ship Kai McKenzie was Michael Bublé, a tribute act even Michael says is the best. We left the theatre having been spoilt with a great show and managed to find seats to watch another hugely talented individual.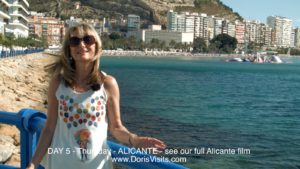 Thursday 29th June was our first stop in Alicante and I was off filming one of our usual films for Doris Visits. In the evening were the next two shows for Janette and Aljax to ensure the whole ship had seen them.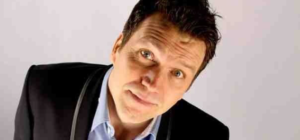 Later the same evening we went to see the very funny comedian Tucker, who we have seen many times before but he had new material and even the ones we had heard before made us laugh out loud.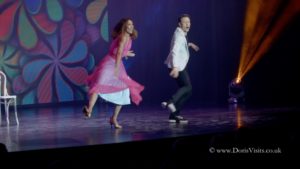 Friday we were in Barcelona. Janette and Aljaz left the ship and Karen and Kevin Clifton got on. Eric and Ern, the Eric Morecambe and Ernie Wise tribute who we also play golf with back home in The Stage Association, the next small world phenomenon happened. Another of the golfer's partners was on board to sing. This was a real treat because we have heard about her for a long time as one of the top female West End stars but had never seen her, Jenna Lee-James. She had just finished playing the lead in Mamma Mia and had previously been in We Will Rock you for nearly six years. She sang everything from Streisand to Freddie Mercury and we were in the presence of greatness once again.
Cruise Doris Visits Subscribe. Thank you
MED CRUISE CRUISE INSURANCE IBERIA CRUISE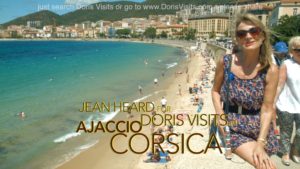 Saturday 1st July. A cruise ship does make the world a small place because although it was too windy for the Britannia to pull into Cannes, plans were made for us to detour to Corsica. Having missed Cannes, film director and Cannes veteran Stuart St Paul was on board to explain the Cannes Film Festival and what goes on there. In the evening Tucker held a late night comedy session. The entertainment kept coming day and night and it was exhausting reporting on all of them. Tucker was a treat.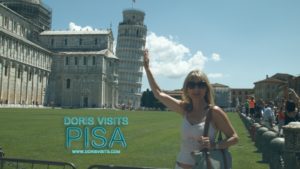 Sunday was La Spezia and we took the train to Pisa and filmed the leaning tower, cathedral and town for Doris Visits. On the way back we did a short film on La Spezia for the many who like to see the local town and never venture further. Back on board was an audience with Karen and Kevin.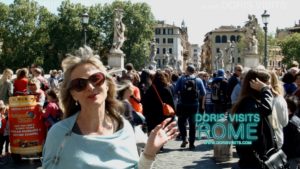 Monday 3rd we arrived in Civitavecchia and we travelled into Rome where I presented an Angels and Demons film made for Doris Visits. Kevin and Karen performed the first two of their shows in the evening. Or there was a cookery club dinner at the chef's table in the Cookery Club on deck 17. Bucks Fizz star Cheryl Baker started her four nights in the Limelight.
Tue 4th July Black Tie – Peter Andre performed the first of his four shows and in the live lounge was Rieta Austin one of the Strictly singers performing her show. Film and action director Stuart St Paul was in the Headliners theatre in the afternoon talking about his years of Pop Videos like Wild Boys with Strictly's Arlene Phillips and Elton John Videos with Strictly's Bruno adding the action, the fire and the somersaulting gymnasts into the routines.
Wed 5th July we stopped at Cartagena, a regular stop but I had not been there since a very early Britannia cruise and noted that since then they have hidden the entrance to the amphitheatre that was accidently found in 1980. Now you have to accidently find it again, though the best views of it are still from above it, the castle and the park.
OUR GAME OF THRONES TAKE ON DUBROVNIK ON BOARD ENTERTAINMENT
Peter Andre did the last two of his four shows and Jayne Middleton was in the Live Lounge as Annie Lennox.
Thur 6th saw Craig Revel Horwood start the first of his four shows in the headliners and soul legend Jimmy James played in the Live Lounge. Darren Day started his run in the Limelight.
Friday 7th was a Black Tie night, and Strictly's Natalie Lowe hosted a chat session at midday then judged the passenger dance finals with Craig and Executive producer Richard Curwen. Lven Johnson played the live lounge as Whitney Houston while we watched Darren Day in the Limelight perform an incredible show.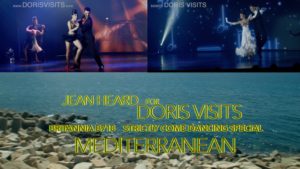 Saturday 8th, the last sea day saw things wind down with Exec Producer Richard Curwen talk about the 'behind the scenes'. Natalie Lowe did a signing session and then the ships company of inhouse entertainers did the second of the Strictly fashion shows. Director Stuart St Paul did his final talk about directing on Petra and the Wadi Rum as an introduction to the Arcadia's 99 day circumnavigation next year. That night I had dinner in the Sindhu, feeling totally spoilt and exhausted and needing a holiday to get over the busiest and most entertainment filled cruise I have ever been on. Even Richard Curwen said it was the biggest Strictly Cruise show ever and that talks were ongoing for next year to be even bigger. It is a good job I am boarding the Azura for the Fjords in two weeks time as I need a break! Click the picture or here to get to the ten minute fast cut blow by blow film of the cruise.
SHIP & CABIN TOUR VIDEOS IBERIA CRUISE ROMANTIC CRUISE BOOKS
Doris Visits is a cruise travel Channel now with over 500 films up and many informative blogs. If you had told me when we were shooting the 60 episodes of the web series Shades Of Bad, that it would turn into this I would have laughed. Now I look at the next twelve months in the diary, and have 6 cruises lined up for 2018 already – but they are hard work, see the films. Note from the editor, Jean never even mentioned the stop in Gibraltar – too exhausted to leave the ship! Book early if you want to ensure a good cabin. Once again here are the links.
Atul Kochhar + Strictly Come Dancing – click for details, availability & booking direct @ P&O
WHAT TO PACK CRUISE DEALS MARRIAGE AT SEA P&O LATE DEALS.
The Strictly Come Dancing themed cruise as explained in the 2017 SCD day by day, step by step description above. You do get close to the stars and even if not a fan you cannot but wonder in their skill and ability to entertain.
P&O suggest each cruise is subject to change, however this route is well worked for swapping stars at airports and ports. More names will be added.
Atul Kochhar on board this cruise – click picture for details – There are normally two-hour masterclass with twice Michelin-starred Atul Kochhar. He prepares some of his favourite mouthwatering dishes and you learn about the art of spice and flavour, and how to prepare and present dishes that look as good as they taste.