Regular cruise ship guests, author Stuart St Paul appeared in three James Bond movies as a stuntman.
He can now be found at sea on ships talking about his star-studded career from Aliens to Mrs Brown's Boys' and now his active retirement as a cruise crime author.
To coincide with the release of the new James Bond movie, the Doris Visits Chat Groups own British secret agent is on another mission, Blood Diamonds. Commander Kieron Philips is no longer at the service of his country, but seeking an easier life is working in solving major cruise crimes from his office in Miami. Life is about to get seriously rough as he is called to a diamond theft on a cruise ship moored in the waters of the Bahamas.
Like Ian Fleming who wrote in his favourite place in the sun, his home on Oracabessa Bay in Jamaica, Stuart writes in the lounge of a cruise ship looking out at a similar horizon where the sea meets the sky. Parallels end there, for Fleming's house was on a cliff overlooking a private bay and Stuart enjoys being interrupted by guests in his very public ship's lounge where he writes each day.
Blood Diamond is out on Kindle, paperback and for the first time, one of his cruise thrillers is in large print as a hardback. Click the picture to go to details.
Stuart's experience in fast-paced storytelling amidst action and romance has hit a new high in this book which has several shocking turns.
Stuart who was nearly burned to death on a film set a few years back intends to be back at sea in 2022 following brain surgery earlier this year. "I feel healthy and raring to go again, though the next novel in the series might not be quite as easy as the first six cruise thrillers as there are negotiations on possibly turning them into movie-like long-form TV series."
Stuart's first booking is in the diary, he is to guest on the QM2 going to Bruges in August next. However, he expects to be back and writing in a ship's lounge before then. Blood Diamonds is on Kindle now. Books next week.
A gem safe on the cruise ship MS Aerwyna is found open and a whistleblower reports it on a tip line. It is the third out-off-service ship, anchored in international waters off the Bahamas, to be refitted. If the heist is three ships, it is well organised and the purse large enough to kill for.
By the afternoon, Cruise Ship Crime Investigators CSCI are onboard under a cover of system testers. The mastermind and digital expert required to break into the cruise operator's main system, produce movement orders, and open doors, may be remotely working from anywhere. However, at least one from the gang must be on board ship to open the mechanical lock and physically carry the bounty away. Whilst false COVID test results are used to immediately lock the ship down, CCI know time is limited before the trapped bandits realise the crime has been discovered and they become desperate to escape.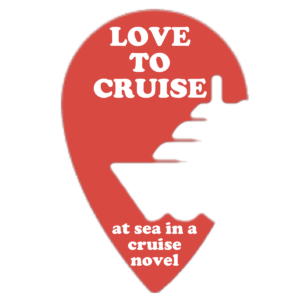 Continue your cruise anywhere – on the train, on the plane. Load your kindle now. Cruise thrillers are a whole new experience. You may not have been to the ports used in the novels, you certainly won't have been to the parts of the ship they employ. All the cruise crime novels will make you feel like you are in the adventure and on the ship – dodge the bullets and stay out of the romance (same thing!). Ship and cruise accurate, the novels are a great way for new cruisers to discover a ship too. Please share the Amazon link with other cruisers.
CRUISE THRILLERS
We have a chat site of books about ports and cities ships visit, where guests can share and talk with authors.
CRUISE READING CHAT GROUP
You may have seen the author on a ship giving an after-dinner talk or perhaps in the theatre during the day. His page is
here
.
Stuart St Paul – click here
CHAT GROUPS
CHAT GROUPS – FAMILY CRUISING
CHAT GROUPS – ADULT ONLY
SAGA Ocean cruise chat group – over 40's if travelling with someone over 50. Both ships SPIRIT of DISCOVER, SPIRIT of ADVENTURE
Azamara chat – Radiance Class ships – Journey, Pursuit, Quest (previously the P&O Adonia) 700 guests
CREW, JOBS and ENTERTAINERS
LECTURERS, DANCE HOSTS & BRIDGE INSTRUCTERS
Please read the GUIDELINES