Boston has a lot to offer, but if you are on a cruise this could be your day. Dropped off at Quincy Market by the shuttle bus, then catching the Freedom Trail. We start by taking you to the visitor's centre in Faneuil Hall run by The National Park Service. Behind that building is the trail in mid stream. The Freedom Trail is a 2.5-mile-long walk that passes by 16 locations marked out largely with a winding brick line. It was conceived by local journalist William Schofield in 1951 and by 1953, 40,000 people were walking the trail annually. If you are going to walk it yourself, then let Wiki be your guide by getting the information first and then seeing our film which gets to 6 of the places.BROOKLYN CRUISE TERMINAL ACCESS ROCKEFELLER CENTER
Cruise Doris Visits Subscribe. Thank you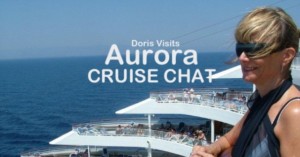 Aurora loves this route. Click picture for Aurora chat. If you are on a New England Cruise we have many films that might help you plan, or excite you about your forthcoming trip, or if you are undecided they might just sway you to this route. They include,
Boston Cheers
, Boston Harbour Walk,
Boston Clough House
,
New York Statue of Liberty
and Island trip,
NY Ellis Island
,
NY Empire State Building
by Night, NY
Big Bus Blue
Route, NY
Big Bus Purple
Route, NY
Big Bus Red
Route,
New York Library
, New York
Grand Central Station
,
Brooklyn Cruise Terminal
,
Baltimore Guide
,
Charleston Guide
and
Bermuda
.
Clicking the DORIS VISITS COMPARE CRUISE DEALS BOX takes you to a variety of deals and explains how they are all found.
CHAT and share your love of small ships, and answer other peoples questions. Join the Fred Olsen Cruise Chat Facebook Group
Disaster in the Caribbean! The book series has been in the charts for months. Book 3 sees Violet with a new job on board and a new boss in the USA and Caribbean. It does not go well. Adult action romance on a cruise. Follow author Sally Katz by clicking her name and then on the author page on Amazon, click follow. Then as she releases a new book your are informed.
Marella Cruises to USA / Central America – click here to view Marella Cruise's own web site page for – Central America Cruise deals pageBOOK A SHIP ARRANGED CRUISE HERE – GO TO YOUR PERSONAL P&O CRUISE PLANNER HERE
CRUISE INSURANCE THAT EVEN THE CRUISE SHIPS SELL, AND WE ADD NOTHING ON, JUST CLICK HOLIDAY EXTRAS – OR OUR BLOG