Our Christmas special to our cruisers – all 6 novels in a Kindle Box set at a deal price. Cruise mysteries are based on crimes that are too big for ship security to handle. Crime is rare on any ship, but these are big crimes; murder, drug smuggling, people smuggling, and a diamond raid. All 6 books in one box set deal.
CRUISE SHIP HEIST
Commander Kieron Philips's first civilian job is to commentate on the Panama Canal transit. It was arranged by his adopted refugee daughter, who has her first job as a dancer on the ship. She wants him to find romance but what he finds is trouble.
Money appears and people go missing as the ship sails between South American ports. Unarmed, with no protective kit, and no backup, he is sure there must be a gang onboard who will want the money back. Suspicious and protective, he realises that for the first time he is vulnerable; he has skin in the game. Nothing is worth putting Auli'i, who now calls him dad, in any risk as the deathly game escalates.
Search for the great cruise novel Cruise Ship Heist
Kindle. Hardback. Paperback. Audible. And serialised on YouTube in 55 10 to 14-minute sections to listen to completely free.
PART 1 – FREE AUDIO BOOK on YouTube – Click here
START AN AUDIO BOOK SUBSCRIPTION – OR GIVE ONE AS A PRESENT WITH THIS COZY CRUISE MYSTERY WHERE THE ROMANCE IS ALWAYS DOOMED
CRUISE SHIP SERIA KILLER
Hunter and Witowski have just started their Miami-based cruise crime investigation unit when the three guests are killed on a cruise ship that is out of helicopter assistance range. The Panama to Tahiti crossing is all ocean. Eleven lonely, isolated days of romance at sea that can bleed no more. They board a long-range coast guard plane for a night jump into the Pacific as near to the ship as is possible. Another body is found before they change clothes, and another murder happens each night. The ship's security officer Ruby Jenkins soon develops ideas and a desire to join what she sees as a more exciting future, but it is Prisha from data wrangling in the ship's office who is seconded to help CSCI. If they can stay alive long enough to find the killer.
CRUISE TRAFFIC – New 2022
Of the six books, this one has had movie inquiries. Possibly because it is a containable shoot, with the ships on a route that circles the Mediterranean. Following extensive work on the screenplay, the book was completely re-reverse engineered and the updated version of what was Laundry Wars is now heinously focused on human trafficking.
Commander Kieron Philips is called back from his recuperation in Bequia, which could so easily have slipped into retirement. The problem with the three 'King' ships in the Mediterranean appears simple, and one ideal for Kieron to reboot on.
CSCI does not normally get engaged to deal with trivial crimes, and it soon transpires a more sinister crime is behind their engagement. The ships are being used to traffic humans, who join as crew in Albania and leave at cities like Barcelona or Malaga. As Hunter attempts to confront the executives over the real motives of CSCI's engagement, he finds the two managers they report two have been released and his agency's service is no longer required. Someone on the inside must be involved, but a group of women joining in Albania cannot be ignored. With the help of the ship's magician, they make the next intake of women disappear and leave a trail of blood behind them. They have now upset a gang that has zero respect for human life, and who is ensuring that Interpol knows they have kidnapped the women.
CRUISE SHIP ART THEFT
Art is being systematically stolen from the collection on the most luxurious cruise ship at sea. The collective value is way beyond the sum people kill for. CSCI is approached to work invisibly because unlike INTERPOL or any other international crime unit, art police, valuers, insurance investigators, or experts, they are unknown to the thieves. They must remain unseen, or the crime will stop, the thieves will vanish, and the art lost for good. The ace CSCI play is their intern Macey who can be on the ship as the star guest. It is an opportunity that can make this young unknown artist a star. It is exploitation that puts her at risk, but it is a chance her talent deserves; a chance a girl from the Miami projects never gets to have. All she has to do is survive and make it work.
DISASTROUS (COVID 19) CRUISE ROMANCE
Romance can be harsh, it can be violent, it can be a crime. Violet has never had the chance of romance, nor has she experienced life and time is running out. As the world comes out of a major virus lockdown the media's resurgence for life sells her the need to venture out before it is too late. Her care-at-home medical team disagrees but before she can be interned again for her own safety, she takes a cruise and vanishes without a trace. Now she is not only a danger to herself, but to others. Possessing refined skills cunning, wit, and acting that were essential to survive a lifetime of institutionalisation, she uses her charm on the ship's crew and guests. Georgie, head of entertainment senses the problem early on after an unfortunate incident where she overstepped. Rather than admit the incident to her superior officer, the hotel manager, she shares her worry with her partner, Bedriska. The Russian is still in lockdown in Miami where she works for CSCI, from where she tells Georgie to involve Kieron who is on her ship as the guest speaker. He is taking a long look at life and more rehabilitation time as his head injury continues to prove a problem, but the relationship between him and Georgie is frosty as that triangle becomes ever more complicated. CSCI honours her wishes and doesn't involve the ex-special services man who has been single all his life. They start to investigate Violet from Miami and find the woman dangerous. Very dangerous. By the time Kieron finds out, it is too late, he and Violet are friends.
START AN AUDIO BOOK SUBSCRIPTION – OR GIVE ONE AS A PRESENT WITH THIS COZY CRUISE MYSTERY WHERE THE ROMANCE IS ALWAYS DOOMED

(Cruise ship) BLOOD DIAMONDS
A storeroom gem safe on the cruise ship MS Aerwyna is open and a whistleblower reports it on a tip line. It is the third out-off-service ship, anchored in international waters off the Bahamas, to be refitted. If the heist involves each of the anchored three ships, it is well-organised crime with a purse large enough to kill for.
By the afternoon, Cruise Ship Crime Investigators CSCI are onboard under the cover of system testers. The mastermind and digital expert are required to break into the cruise operator's main system, produce movement orders, and open doors, maybe remotely working from anywhere. However, at least one from the gang must be on board the ship to open the mechanical lock and physically carry the bounty away. Whilst false COVID test results are used to immediately lock the ship down, CSCI know time is limited before the trapped bandits realise the crime has been discovered and they need to escape.
The six-novel Kindle box set is the cheapest way to get all six novels – link here
LISTEN TO OUR CHRISTMAS MARKETS PODCAST – FREE HERE
CLICK THE PICTURE or search CRUISING WITH DORIS VISITS
for all of the podcasts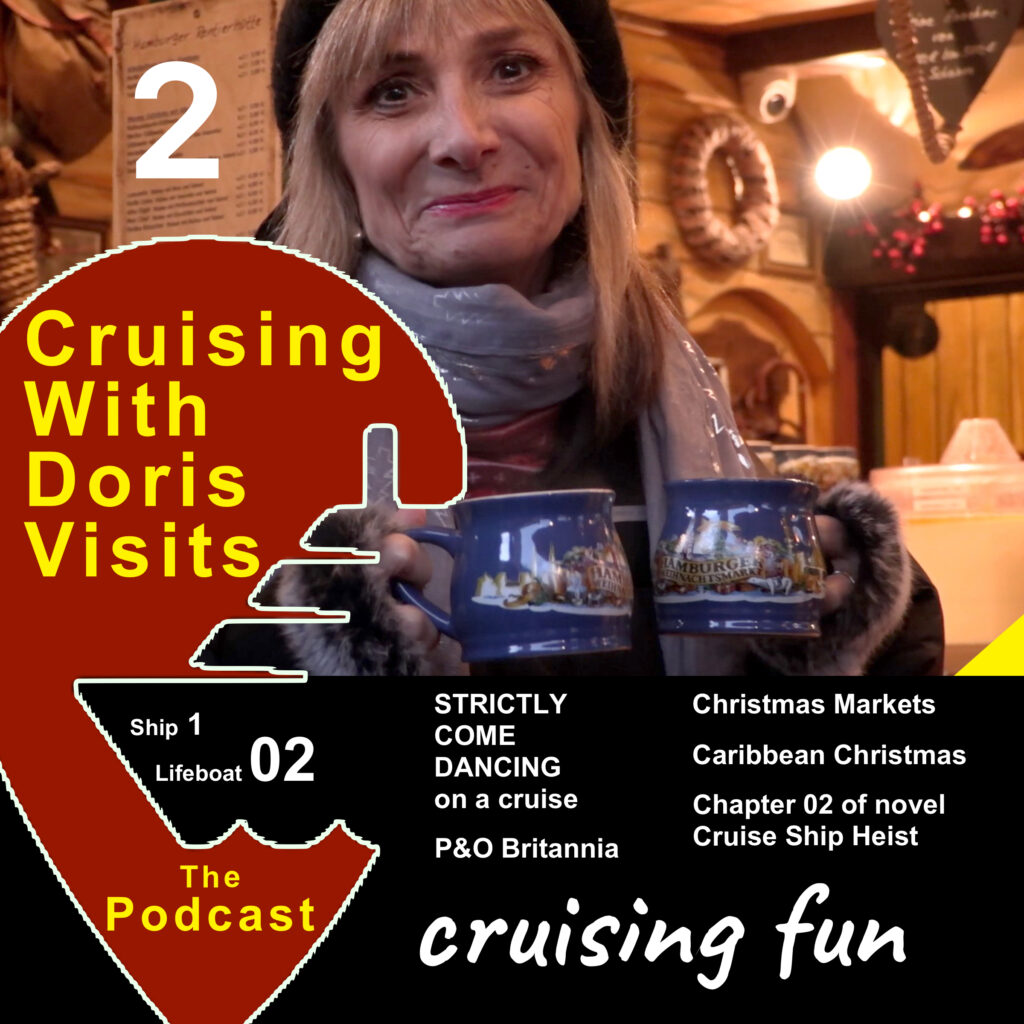 The first book is serialised free on YouTube in 44 nightly sections in @[email protected]
Cruise Doris Visits Subscribe. Thank you