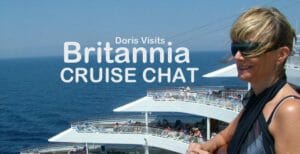 Jean looks at the Britannia for us in our efforts to help you SEE THE CRUISE BEFORE YOU CRUISE THE SEA, we have just travelled the Britannia. It takes eight minutes of tight editing to show you all the passenger areas it is that big. The only one we didn't shoot is the exclusive private area – it is the premium private area, so better chairs and more of them.VIDEO OF THE NEW SHIP IONA – HERE – NOW – IONA MOVIE – SEE IT !!
Ballroom dancing is often popular on the ships, some have little room for it, but the Crystal Room is there just for that and still leaves a live lounge that holds around 600 for a top act, a theatre that holds 950, the Limelight Club to watch an act while you dine like TV's Dean Andrews, or Eric and Ern, or the cinema that holds 200 … and there are other areas. It means more areas for Strictly Come Dancing, see our step by step guide of what they do and how. The ship holds 3,650 customers and 1,350 crew with little quiet hide-aways round corners in the cafes etc. It is such a contrast to the small ships that it is like a different holiday. Take a look, share and please like us on Facebook.
Cruise Doris Visits Subscribe. Thank you
Britannia Web Cam + where is the Britannia nowIf you want to see all the Britannia's future cruises in one long list to make it easy to see the options and dates – click here
If you are treating someone to the cookery club on board, then look what we have found for you to make it even more memorable for that special person. Even if it is you. Treat yourself! These cookery aprons, while not cheap are a holiday special and they come in 28 different colours!

If you like this then take a look at our video coverage of some of the other ships. Azura and Arcadia are both covered on this site. Or the smaller ship, the Aurora, there is a great tour of that ship, a favourite of ours. The Britannia has one of our favourites, the Sindhu fine dining restaurant, we filmed it on the Arcadia, but you can see the food here. Top choice for a treat. OUR ANGELS & DEMONS TAKE ON ROME Doris Visits allows you to SEE THE CRUISE BEFORE YOU CRUISE THE SEA. We have videos of many of the cruise stops you might make from New York to Tahiti, from Tallinn to St Maarten. Please follow us on Facebook. CRUISE INSURANCE THAT EVEN THE CRUISE SHIPS SELL, AND WE ADD NOTHING ON, JUST CLICK HOLIDAY EXTRAS – OR OUR BLOG