Jean Visits the Britannia.
In our efforts to help you SEE THE CRUISE BEFORE YOU CRUISE THE SEA, we have travelled the Britannia a few times. It holds 3600 guests and nearly 2000 crew. The Crystal Room made this an ideal ship for Strictly Come Dancing and she even shows you the costumes. Plus all venues including the Limelight Club and a cinema. The Limelight has had stars like Boysife and Dean Freidman. Or, meet Choir Master and Musical Theatre Guest workshop guru Adam Allinson here.
VIDEO OF THE NEW SHIP IONA – HERE – NOW – IONA MOVIE – SEE IT !!
Search for the great cruise novel Cruise Ship Heist
Please subscribe to our YouTube Channel while watching the tour.
Aurora Ship Tour Azura Ship Tour Arcadia Ship TourTAKING DRINKS ON BOARD ? CAN I ? HOW MUCH ?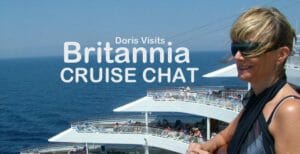 We have a new P&O menu page showing all ships, click here to see. There you will find cabin tours like our tour of the Suite C102. The Britannia is a family ship, designed to have something for every generation so that multiple generations of a family can cruise together. Designed for the future of cruising, the 'vertically integrated' family. People who play together, stay together and it is not unusual to see huge family groups with four different generations on the ship. It is also a great please to get married and from 2018 will be holding same sex marriages.
The library on the Britannia is to the side of the bar on deck 17, but you can get to it down the other corridor and there is a back door so the bar can be avoided. The Britannia is a regular down the Fjords, which is a very popular route for it. Take a look at the Fjords cruise it is very different.
JOIN THE BRITANNIA CHAT – Did you cruise with a large family group? – Click and join the chat.
If you like this then take a look at our video coverage of some of the other ships. Azura and Arcadia are both covered on this site.