Jean Visits the Britannia the fast 4min version.
In our efforts to help you SEE THE CRUISE BEFORE YOU CRUISE THE SEA, we have travelled the Britannia a few times. It holds 3600 guests and nearly 2000 crew. This video is the fast cut 4 minute version of the 8 minute film and covers all the passenger areas. This is a Strictly Come Dancing ship, and normally gets two show cruises a year in the Mediterranean. It has three entertainment venues plus the Limelight Club and a cinema. The Limelight has had stars like BoysLife and Dean Freidman. Or, meet Choir Master and Musical Theatre Guest workshop guru Adam Allinson here.
VIDEO OF THE NEW SHIP IONA – HERE – NOW – IONA MOVIE – SEE IT !!
Please subscribe to our YouTube Channel while watching the tour.
Cruise Doris Visits Subscribe. Thank you
Aurora Ship Tour Azura Ship Tour Oceana Ship Tour Arcadia Ship TourTAKING DRINKS ON BOARD ? CAN I ? HOW MUCH ?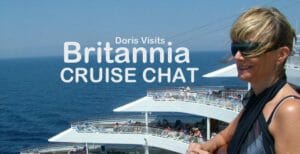 We have a new P&O menu page showing all ships, click here to see. There you will find cabin tours like our tour of the Suite C102. The Britannia is a family ship, designed to have something for every generation so that multiple generations of a family can cruise together. Designed for the future of cruising, the 'vertically integrated' family. People who play together, stay together and it is not unusual to see huge family groups with four different generations on the ship. It is also a great please to get married and from 2018 will be holding same sex marriages.
CRUISE DEALS SPECIFIC TO THE P&O CRUISE SHIP BRITANNIA – CLICK HEREIf you want to see all the Britannia's future cruises in one long list to make it easy to see the options and dates – click here
If you are treating someone to the cookery club on board, then look what we have found for you to make it even more memorable for that special person. Even if it is you. Treat yourself! These cookery aprons, while not cheap are a holiday special and they come in 28 different colours! If you love the TV chefs and Food Heroes check when they are on board.

The library on the Britannia is to the side of the bar on deck 17, but you can get to it down the other corridor and there is a back door so the bar can be avoided. The Britannia is a regular down the Fjords, which is a very popular route for it. Take a look at the Fjords cruise it is very different.
JOIN THE BRITANNIA CHAT – Did you cruise with a large family group? – Click and join the chat.
If you like this then take a look at our video coverage of some of the other ships. Azura and Arcadia are both covered on this site. Our new P&O ships page should be a lot more resourseful. The Britannia has one of our favourite Sindhu fine dining restaurants, we filmed it on the Arcadia, but you can see the food here. Top choice for a treat.
Why not have a look at the LATE DEALS over a coffee. Doris Visits allows you to SEE THE CRUISE BEFORE YOU CRUISE THE SEA. We have videos of many of the cruise stops you might make from Miami to Tahiti, from Tallinn to St Maarten. Please follow us on Facebook and Twitter and share.