No matter how many Doris Visits Destination Guides we publish here, our fantastic passengers have more tips to add in the chat sites.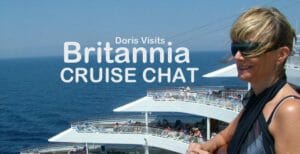 If the Britannia is your first, Fantastic! Join the chat by clicking the picture.Our Chat Site GUIDELINES We have loads of information here and then there are over 1,000 people attached to the chat sites. The Britannia will be the benchmark by which you judge your future cruising. It would be easy to think that all cruise ships are like the Britannia, but they are not. It is just over half the passenger size of Symphony of the Seas with 6,200 guests. A smaller ship may shock you with what is not there. But, guests who are used to smaller ships, much smaller, sometimes find the Britannia big. There are adult-only ships, but all cruising is for the same purpose have fun and let others have fun too, that is what we try and circulate at Doris Visits. So, we don't allow moaning on our chat sites. VIDEO OF THE NEW SHIP IONA – HERE – NOW – IONA MOVIE – SEE IT !! At Doris Visits we know that everyone has a favourite ship, so we are building a chat site for all our user's popular ships as demand is seen. Find your ship's chat site + share your pictures + experiences to help others This is alongside our ever-increasing port and destination guides. You will find dress code is the biggest hornets nest, but the answer is simple, 'live and let live'. Those who don't wish to dress know they can only access part of the ship. As it costs the same to cruise as those who put a collared shirt on or a cocktail dress, we suggest you keep your options to visit all areas of the ship open. Dress Code in certain areas like Insurance is a CONTRACTUAL OBLIGATION. Don't get caught with a bill for clothes on board ship if you change your mind, or a bill for a fortune if you need to be airlifted off.
DORIS VISITS WESTERN MEDITERRANEAN MENU OF PORT GUIDESDORIS VISITS EASTERN MEDITERRANEAN MENU OF PORT GUIDESDORIS VISITS CARIBBEAN MENU OF PORT GUIDES
Our chats sites are full of fantastic people willing to share, in order others can find out about a ship, as well as our tours, find the ships chat site and meet the people who sail on it. Again, the Doris Visits chat sites are NOT for moaning, so moans are deleted. We also quietly and politely delete articles that are the same as a Doris Visits article we have on the main site. Discover things as only passengers can join the chat. So, join the chat site and share your knowledge, tips for others or ask questions.
The Doris Visits P&O BRITANNIA – chat site – click here to join
To get a taste of the Britannia here's Jean's 4min walk through most of the passenger areas. AND PLEASE SUBSCRIBE TO OUR YOUTUBE CHANNEL WHILE WATCHING
Please subscribe to the Doris Visits YouTube Cruise Destination Guide channel here
Cruise Doris Visits Subscribe. Thank you
How about reading one of our adventure cruise ship crime novels written by the team here at Doris Visits who have written movies and TV until these books.
The Doris Visits P&O BRITANNIA – chat site – click here to join