Buda and Pest, together make Budapest and it features on the River Cruise route – one of the many stops on the Danube. It is a top destination and it is a Formula 1 City – Formula 1 does not refer to Doris's driving of the pedal driven car round Margaret Island in the middle of the River Danube, which splits Buda and Pest. Buda is one side of the river, Pest is on the other side. We genuinely got an all areas pass to the F1 there – and when I say all areas, I mean all areas including into command centres where we were told strictly no filming or pictures … of, the Budapest Formula 1 Grand Prix.
GAME OF THRONES TAKE ON DUBROVNIK OUR ANGELS & DEMONS TAKE ON ROME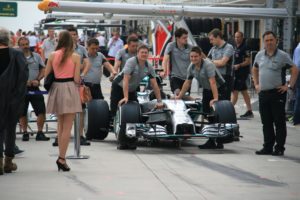 So how? We were living in Budapest whilst working on the HBO / Cinemax series Strike Back which went out on Sky. One of the stars was Malaysian actress Michelle Yo, who is married to Jean Todd head of the FIA. So, blessed with the keys to anywhere, we walked back pit lane and saw command centres, gyms, traveling nightclubs and green rooms, boy, we thought film had money but these guys have so much they take everything with them. It is not a crowded F1 and it is a very special town, so if you are an F1 fan, this could be the venue to see it live. Maybe on a well-timed river cruise!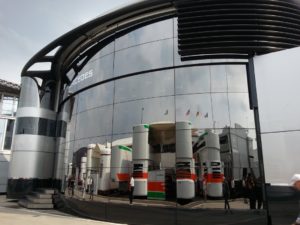 The race, the day was a once in a lifetime dream, thank you, Michelle. The last time I went to a Formula 1 race was with Mr. Blobby for a Noel Edmunds show, and we never got this treatment! It made me realise that a day at F1 is quite special if you purchase the ticket to the champagne VIP rooms with access to the pit lane. Fast cars and high heels!
Budapest is a Party City. I am not sure who gave the award, but Budapest recently won the best party city of Europe award. I think I would agree. When the weather is good, just about every courtyard in the centre, and every unused warehouse becomes a bar, the alfresco bars being very special. Although it is young, all ages are there. Some of the bars serve food, some is very good. Some partying goes on to very late. You will soon find these areas not far away from the middle where Deak Ferenc Metro station joins nearly all the lines.
Cruise Doris Visits Subscribe. Thank you
Budapest City by Segway. This film is about Segway in Prague and Budapest, where, because of the ground you want to cover quickly, the Segway is a good idea. In Budapest, you can cross a bridge quickly, go up to Buda castle, come back to Pest and see the parliament building on the Pest side. It is a great way to tour fast and get a quick overview on what you might like to see afterwards with more time.
SHIP & CABIN TOUR VIDEOS IBERIA CRUISE ROMANTIC CRUISE BOOKS
Hop On Hop Off Bus. These can be great but I never felt it was a great tour in Budapest, maybe because I lived there for months, but it is a town you can walk to, and the places out of town you might like to see are visits by bus or car. Taxi's in Budapest are good but like anywhere – ask first, check the meter goes on. We recommend Segway here!
Budapest River Cruises – click here
Eating in Budapest. There are so many seriously good restaurants in Budapest there is no excuse to get caught in a tourist trap. We once had such a bad meal on one of the boats on the river we had to complain, and we got our money returned in full. When in the middle of town, two places you must visit. The Book Cafe upstairs in the bookshop opposite the Opera House, you will not be disappointed. Just tea and cake while someone plays the piano in the most ornate cafe you will find.
ADRIATIC CRUISE CRUISE INSURANCE P&O LATE DEALS
The second is a fresh fish restaurant not too far away from the book cafe, in the main street up towards the crossroads. You buy what you want, they cook it how you want. Fantastic. Wish I could remember the name, someone please remind me. Our treat would then be the Pomo d'Oro which also serves great fish but much more. It was a standard for the cast and crew and we went there often. You can spend UK prices but get a better wine and food than for the same money in the UK. So, better value for money than the UK, great food great wine.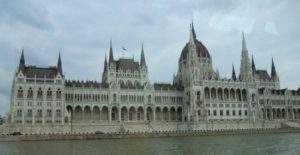 List of places to see are easy, Buda castle is a must. The Chain Bridge they rave about, but it is a bridge. Parliament Building and St Stephen's and Matthias Church are all possible by Segway or walking, or local bus or tram.
Hero's Square is the other way and is a huge square, huge park, zoo, area where they have festivals and concerts and Pomo D'Oro is not too far away on the walk back.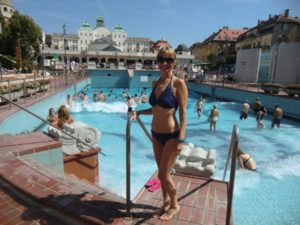 Out of town, Szentendre is a great village about 20kms away up the Danube and a great day out in the sunshine. Food, wine, local art. Nice place and worth the trip. If you drive, watch the parking restrictions and use the pay and display car park. Budapest is a great place to visit. Highly recommended! And, if it is the summer, also take a trip to the baths. There are three versions of our Houses of Parliament around the world, one is here on the Danube.
If you have never cruised, here is a River Cruise to look at for the Christmas Markets. and we are mainly a cruise site, then click here to see how to look at what cruising is. Why not have a look at the LATE DEALS over a coffee from your armchair? Doris Visits allows you to SEE THE CRUISE BEFORE YOU CRUISE THE SEA.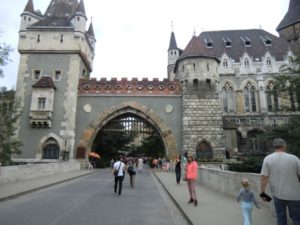 BOOKS SET IN BARCELONA 'Origin' by Dan Brown Chapter 43 of Origin: Discover the fameux Szimpla Kert, one of the best Budapest Ruin Pubs. Kazinczy Street is one of the most popular streets of Budapest's Jewish Quarter. There is an Art Nouveau synagogue, the Museum of Electronic Engineering and the most famous of Budapest's ruin pubs, Szimpla Kert. Kindle or Hardcover on Amazon