The glamour has gone….. Hugh Hefner dies at 91. We were at his 80th birthday party on the beach in Cannes, wow, that seems a long time ago. Let me just and explain before you get into our blog on Cannes, well actually this is what Cannes is about, so it is relevant. I dragged my wife, your main presenter Jean Heard to Cannes many times and she always hated it. It is sell, sell, sell (see below). This year I also dragged my daughter there, the very young actress Laura Aikman. She didn't want to go, but my reason, knowing it well, is do it now before you are famous, before you start to get harassed and can't walk the streets during the market (festival). With them both dressed to the nines, and they can as you have seen, I walked up to the bouncers on the tent announced myself and said my name is on the list. It is a normal bravado they know well in Cannes, sometimes works, often doesn't but I have experience in getting in and was sure there was a good chance. I had two good looking women, only one man. I was sent to the supervisor as my name wasn't on the main list, the two girls were appraised visually, all three of us were let in. I am sure they didn't hear my name. Laura still tells of her joking with Robin Williams, also gone now, in the queue for the unisex toilet and many more strange stories. But Hugh, whatever your opinion and I did meet him, was a gentleman, a great gentleman. Inside were many friends, who all walked in – that's Cannes. The secret, as on a cruise ship, dress well, it all works.CHAT GROUP – Cruise the Mediterranean Chat – New Group, be one of the first to join and start a thread on your forthcoming or past cruise by number – – CLICK HERE TO SHARE & CHAT
We have been going to Cannes for over 20 years, but not on a cruise ship
David and Elizabeth have just stopped at the tender port of Cannes on the Oceana, a ship we are to be on next year twice in Greece to film and blog new destinations. Cannes was meant to be on our last Strictly Come Dancing cruise but one of the many things you need to know about Cannes is you don't always get in there with a big ship, because of wind. Like Monaco, it can be a place that a ship fails to dock at. Both are tender ports.
Cannes the exhibition centre
Like the stars, Cannes puts on costumes and make up for the camera, and that will not be there unless there is a glamorous exhibition or event that is painting the town. A whole Christmas scene can be erected filmed, put on the news, then pulled down because the space was rented for a day. Cannes has been clever in establishing itself as an expensive exhibition centre. The hotels and auditorium are close enough to trains and Nice airport to make it a central place for companies to show off their wares whether technology, sales, industry or film.
We ha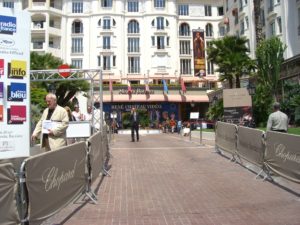 ve been going to the film market for over twenty years, so let me explain the myth of the changing Cannes film market and festival before we give you tips on where to go. Cannes is first and foremost a film market that attracts people buying and selling movies, packages of movies (they are most often not bought singularly) as well buying and selling people and potential careers. It was the biggest film market in the world.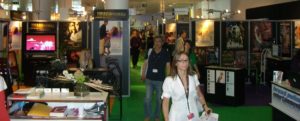 Everywhere is barrier-ed off to the public and hotels are exclusive. Inside the hotels and auditoriums are stands and posters, buyers and sellers. It is clinical hard sell, mainly action pictures and explosions on posters and explosions by artistes.
Geographically well positioned so Americans and Koreans (huge film buyers) and other long distance travellers can then take a few days off in St Tropez, just down the coast then go further and attend the Monaco Grand Prix. The film industry is magically timed around these other events to convince stars come to aid publicity. They stay at the most prestigious swanky hotels like Hotel du Cap Eden Roc, take a look at where the big stars really stay out of town. We had a great party in a castle in the mountains for American Werewolf in Paris (see my Statue of Liberty stunt jump film) MOVIES MADE AT CRUISE DESTINATIONS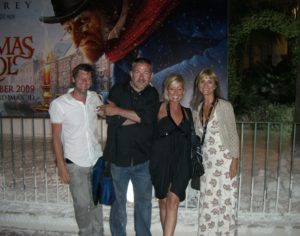 The rooms of the Grand, the Majestic and the Carlton become offices over night. It is all about buying and selling, the festival and completion have benefited from that clever marketing for years with very little effort. You will be able to walk round the reception areas of these hotels and imagine. Cannes Festival has been able to feature art films and interesting product and not schedule or play commercial films because of the huge success of the market and the side events that attract stars. During this week prices go wild, not just beers but the taxis take liberties and Cannes is the only place in all my travelling where a taxi drive pulled out an ice pick to use as a knife and threatened me because I refused to pay his outrageous bill which, we agreed before getting in the car late that night. I then wrote to the authorities and nothing was done. There is a dark side to Cannes that expects to get the high prices.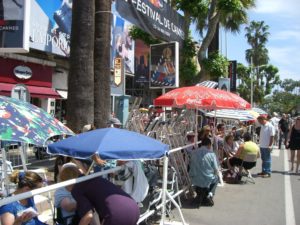 The film week is an extreme, it is when every main hotel is roped off, the public and press can only walk in certain areas and behind barriers. The photographers park their step ladders at barriers like towels on sun beds to save their evening place. Pop up restaurants and bars appear on the grass and beach. Oh the beach, by the way Cannes does not have a natural beach; the shore is stoney and the small sand section is all imported sand, but hey, they do that in Key West in the Florida Keys although there they do the whole island. Cannes is changing, and you will notice that it does now include commercial films in the festival and prizes more than before, and that does not please them all. Why, because films are now bought and sold on line, with web sites like Withoutabox and Cinando, so buyers and sellers have no need to go to Cannes film market, it has become a choice, and one that is balanced against going to Berlin or Sundance the new places the buyers and sellers prefer. Cannes has become a centre for film and media students exploring the industry and Government paid officials on expense accounts running booths to encourage you to film in their country and take advantage of their film incentive. Much euro money gets splashed there now. OUR GAME OF THRONES TAKE ON DUBROVNIK
So, what to see. Take a look inside the Majestic and Carlton Hotels, find the petit Majestic hidden away in the back streets behind the Grand, that is where those in dinner suits and nice dresses drink in the streets when everywhere else closes, but it will be a quiet pub full of movie posters and memorabilia. Or walk up Rue Saint Antoine behind the Harbour area, this in festival has tables out to the point walking two abrupt can be hard, and dining alfresco could be any star. OUR ANGELS & DEMONS TAKE ON ROME
But there is a reason that mostly all the tours on offer take you away from Cannes, it is surrounded by beauty and wonderful places so look at a few here. On that link you will also find a Vespa tour and Segways. A small trip away is St Tropez, well worth a visit, or just along by train the far more interesting Juan Les-Pins and then Antibes where you can walk or taxi to the Hotel du Cap Eden Roc. Cannes to Antibes takes 7 minutes on the train and can cost as little as 2 Euro. Nice is not far at all. The tours from Cannes are varied, see the many offered by the ship or that we have found here.
This is the film of what you will see in Cannes, while it is without a festival as David and Elizabeth take the tender and walk around.
Cruise Doris Visits Subscribe. Thank you
If you can't stop at Cannes because of wind and you are bound for Italy, you may well be diverted to Corsica. Fly to the french coast and find a hotel with Booking.com and a tour here. Our links take you to the best deals they have.
SEE THE CRUISE BEFORE YOU CRUISE THE SEA. We have videos of many of the cruise stops you might make from St Lucia to Barcelona, from Tallinn to St Maarten. Please follow us on Facebook and Twitter and share.