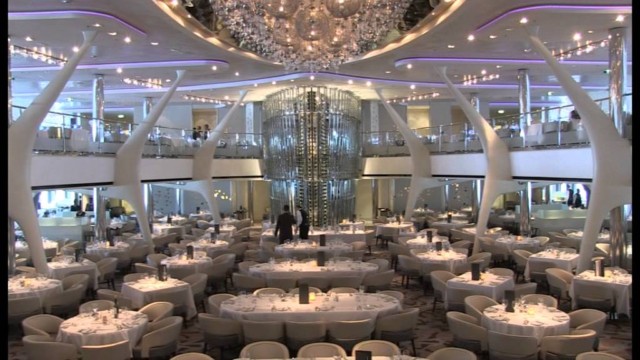 The CELEBRITY ECLIPSE – take a look.
The Celebrity Eclipse was the forth ship in the solstice class to join Celebrity Cruises in 2008, and later her sister ship the Celebrity Solstice joined in 2009. There are five Solstice class ships. The Eclipse holds around 2,850 passengers and has approximately 1,270 crew spread over 17 decks and can travel at 24 knots. In 2010 when the Icelandic volcano shut down airspace as an act of good will the ship saved 2,000 British tourists trapped in Spain. Bet they could not believe their luck because this is a terrific ship. The Eclipse received the "Best from the UK" award from the 2015 Cruise Critic – UK Cruisers' Choice Awards.
The ship is aimed at style lovers and has a variety of staterooms on offer. It has the usual collection or entertainment and bars, but two features it calls unique are the internet cafe and Apple shop, and the Glass Blowing feature on board. Unlike our film of glass blowing in Gibraltar, it does not use flame, but electrical heat for fire safety reasons. It has a real grass deck where you can picnic! There is a sushi bar as well as an extensive gym, a solarium; the ship is full of features.
Cruise Doris Visits Subscribe. Thank you
Their ships are stylish and contemporary.
CHAT GROUP – Cruise the Baltic Chat – New Group, be one of the first to join and start a thread on your forthcoming or past cruise by number – CLICK HERE TO SHARE & CHAT