This also explains fly-cruise into Barbados? First – if you are worried that you take the plunge and find cruising is not for you, there's a money-back guarantee at both SAGA and FRED. OLSEN. Cruising is that easy, it stays that easy – but learn the ropes. The ropes hold the ship in dock!
This blog is full of links to other blogs, so you might want to come back and use them. Before we look at money, trust me money is not the decision-maker. Most ships reserve around a third of the areas for discounts. Why? Because those cabins may be under the football pitch, above the theatre, near the engine room? You seriously get what you pay for, but, it does mean that by taking an inside cabin in a noisier area you can cruise twice as much, so, positives and negatives. We will give you the money-back guarantees at the bottom, they are good deals to start you on a cruise. But choose the right ship, to the right destination, both are far more important.
The true cost of cruising means you need to understand you are about to enter into a CONTRACT where you expect the cruise company to give you certain things, and they expect you to comply with certain rules, contractually. People are put off ships, the tolerance is almost zero and you will not be under UK law with UK rights. A lady recently was given a bill of £50,000 for being airlifted to a hospital… insurance is contractual.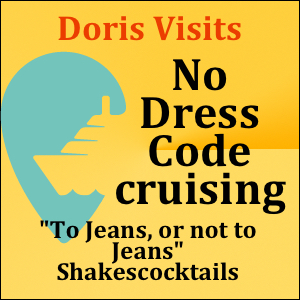 How to choose a ship? Maybe Dress Code is a good way. Dress how you want, you are on holiday! BUT, not all the ship will be available to you and you did pay for the whole ship. So maybe pack clothes that allow you to enjoy all you paid for should you so decide when you see it.
If you want to wear shorts in the evening, do not choose the wrong ship and blame the ship. You are entitled your own opinion on how you dress, but you are not entitled to change the rules of the ship. Dress code is a great indicator.
FLY CRUISE ARRIVE AT MALTA – WHAT HAPPENS
SAGA ocean cruises, Norwegian and Marella, as well as P&O claim to allow relaxed dress codes. But that is only in certain areas of the ship. Cruise guests do dress up. SAGA state – 'getting smartly dressed up for the occasional formal night has long been part of the fun of cruising. So make sure you do have your gladrags packed too.' They then state that casual means smart casual in the evenings and have, like most ships 2 formal nights a week which they suggest is a glamorous long dress or sequinned shall and a dinner jacket and bow tie are the 'ultimate in sophistication' their words. In other words, cruising is dressy ……. We pack suits and glad rags and still can't fill a case! See our films, Jean doesn't look too shabby – only take what you NEED.
DRESS CODE MARELLA CRUISE DRESS CODE P&O CRUISE DRESS CODE FRED. OLSEN CRUISEDRESS CODE – Who doesn't have one? Who does? Why, how and should I?
Check our deal one-page and see the deals on offer and try and beat the prices. Keep it pinned as what the companies are offering as deals. Within a short time, you will become an expert like other cruisers, but for now, a few tips might help. It is so easy to get it wrong! Choosing a cruise is easy, choosing the right cruise is a little harder. Doris Visits does try to help, just search Doris Visits. Top Cashback is a good way to get a discount.
You can see that by taking just one part of a cruise ships style, you set a tone. Choose the ship first, then the destination.
Every cruiser will love to give you advice because they love cruising; ask them on your favourite ships chat site. They have found things that work for them.
Let us explain how wildly different cruises can be. An adult-only ship with an older audience that loves to dress up, normally a smaller ship verses four generations of family who cruise together as one – the newer 'vertically integrated cruising for all' – So, So Different.
Larger ships have something for every generation and don't want to dress every night. There are many many food and area options. Each area has a dress code allowing you to choose. As the joke says, some people are skiing, spending the kid's inheritance, some are spending it with them and their parents. Larger ships will have Bridge and other card games, quiz nights and Karaoke, quiet bars and sports bars, night clubs, west-end like theatres and discos. Some ships are a boutique hotel, others are a village, some are a city with zip lines, climbing walls and waterfalls dropping ten decks in height.
DESTINATION – Next – Sun-seekers will choose Caribbean cruise or Canary Islands VERSES the harder, exhausting, hugely interesting and educational Baltic cruise – or …. The historic Game of Thrones Adriatic Coast where you walk through the living film set that is Dubrovnik. Some just love the ship and want sea days – Atlantic Crossing, and others don't want any sea days if possible, Mediterranean Cruise from Malaga. What a contrast.
GAME OF THRONES TAKE ON DUBROVNIK OUR ANGELS & DEMONS TAKE ON ROME
If you hear that someone didn't like cruising, you can see from above that they may have chosen wrongly, because the variety is vast and it is 'chalk and cheese' or 'diamonds and coal'. Or, 'sequins and shorts', or 'sun and cities'. There's a time to love them all, the small ships and the large ships, the sun and the exploring or – foodie cruises around the world, India and Asia. Once you are a cruiser you will look for variety.
They are all great, but you can see in an instant, that they are all different. Let's suggest your first cruise is an easy one – fly and cruise to the Caribbean, even that needs a little research. How to get to the beach for $2 on a bus, or take an expensive Rain Forest Hike. Here on Doris Visits is where you find the answers. You will want to do both, but don't tour Antigua because it is a beach island, and don't expect to find the best beaches on St Vincent without a tour or a bus or a boat. The two weeks of the sun will be better at having done two things.
watch the Doris Visits films and guides
join one of the many Doris Visits ship chat sites and chat with others
I might suggest that Guadeloupe or Martinique are ports where you might want to head for a beach or take a tour. I might suggest that Antigua has some of the best beaches in the world. Others you meet on the chat sites will have other gems to share. We just ask you to share Doris Visits and subscribe to our YouTube channel (that is important to us as we need numbers to get design access at different levels)
HOW DOES TIPPING AND OTHER COSTS AFFECT MY TOTAL CRUISE COST
Cruising costs money! The price of your cruise is the start, it is far from all-inclusive you may be familiar with unless you are sailing with lines like Regent Seven Seas. Then you will be paying 7 to 10 times more than the budget lines. You can stay eating in the main very nice a la carte restaurant and never go on a tour, and never buy a drink – that will be a cheap cruise. However, there are fine dining restaurants which in London would cost a fortune, but on the ship are a small extra premium. Restaurants from Jamie Oliver, Marco Pierre White and Oly Smith's wine bar which is a firm favourite of ours on the Azura, but the layout it has on the Britannia puts it in second place.
CRUISE INSURANCE CAR PARKING DEALS ON BOARD ENTERTAINMENTWhat Drinks and Food can I take on board?
It is not just about food, a special night out, but you might like a more private sunbed and a little more attention when sunbathing, if so, most ships will have a premium area. This cost should be looked at if you want a better sunbed. But, if you are on a Caribbean cruise with few if any days on the ship is it worth it? Maybe not. The smaller ships may have slightly older clientele though you will find couples with babies and young children even on the Aurora, however, they will be few. The kids club does tend to make the children invisible because they do love it so much. The larger ship will have two choices of entertainment, maybe three, and maybe three clubs and additional bars with maybe a duo and or a pianist. Stuart doesn't lay in the sun and prefers the quiet areas on larger ships and activities. Jean likes the Aurora and Azura and enjoys the sun and finds little places that are not busy.
Like the cruise or Fred. Olsen will refund – click here to see full details and feel confident about booking your first Fred. Olsen CruiseLOOK FOR YOURSELF – SAGA GUARANTEES PAGE – CLICK – LOOK – BOOK WITH CONFIDENCE – LOVE YOUR FIRST CRUISE GUARANTEE
Those who have not liked cruising, may have made a choice that did not match them, because somewhere there is a ship that suits you, going to places you will like. It might be a small ship going to Greece, or a large ship out of Barbados, but look first. Even join a chat site and see what the others are saying.
You may ask why a cruise has two different departure dates, how come? This occurs on Fly-Cruises. You will see it on cruises leaving the Caribbean like on the Azura and Britannia and Marella Discovery cruises in the far east. It is because it takes a dozen or so planes to fill a ship. So 6 planes are scheduled to land throughout day one, and the rest day two, so the queue at check-in, ship immigration is staggered. A late plane can cause long queues. See the film below to watch how you immigrate onto a ship in Barbados. Click the Marella or Britannia on-line brochure pages (image boxes) to see how a ship moves around the globe in different seasons.
Click here for the special CARIBBEAN SEASON menu. Islands and Caribbean Season Destinations here !CHAT GROUP – Cruise the Caribbean Chat – New Group, be one of the first to join and start a thread on your forthcoming or past cruise by number – CLICK HERE TO SHARE & CHAT
DRESS CODE – each area is different on ship – take P&O for example
We think this is an important indicator. On Cunard, Regent Seven Seas, P&O and on Fred Olsen ships you will be in a small minority if you do not dress on gala nights. Cunard do not allow jeans anywhere on the ship after 6 pm. Most ships are the same but each has different rules. Cruising is a chance to dress and on gala nights black tie should mean a dinner suit and tie, ladies in evening dresses. A lounge suit is acceptable on most ships with a dark tie. Cruisers do enjoy the chance to dress-up. Using the P&O ships as an example, on black tie nights, you will be expected to dress for most areas in the ship. If you do not wish to dress up, the buffet and the pub and casino are normally the places left for your evening after the entertainment where dress code is not requested in the night club or theatre, however, you will be in a minority if you do not dress. On the larger ships the areas not enforcing a dress code are extensive. If you are in a dress code area and incorrectly dressed, if the waiters have not already suggested you might be comfortable in another venue then the fashion police will. As an example, we quote P&O exactly in their dress code. (2019)
The following venues are exclusively Black Tie venues when Black Tie is the Dress Code of the ship.
Arcadia: Intermezzo, The Crow's Nest, Meridian, Sindhu and Ocean Grill restaurants.
Aurora: Anderson's, The Crow's Nest, Alexandria, Medina, Sindhu and The Glass House restaurants.
Azura: Blue Bar, Planet Bar, Meridian, Peninsular, Oriental, Sindhu, The Glass House and The Epicurean restaurants.
Britannia: The Crow's Nest, The Epicurean, Meridian, Peninsular, Oriental, Sindhu and The Glass House restaurants.
Oceana: Magnums, Yacht and Compass, Ligurian and Adriatic restaurants.
Oriana: Anderson's, The Crow's Nest, Peninsular, Oriental and Sindhu restaurants.
Ventura: Red Bar, Metropolis, Cinnamon, Saffron, Bay Tree, Sindhu, The Glass House and The Epicurean restaurants.
On tropical nights, Abba nights (leaving Stockholm – and who would not love to see the Abba museum?) seventies nights etc, not every dresses but many will make an effort. Casual is normally smart tailored jean or trousers and a shirt, some ships require a jacket or blazer. Best way to look at it is you are joining the cruise ship, it is not joining you.
P&O DRESS CODE FRED OLSEN DRESS CODE MARELLA DRESS CODEIf you want to look at the cruise routes for the mid size ship Oceana which is Malta and Dubai based – click here
Finally, though all the ships have stabilisers and the big ships sit well in the sea. The Aurora is wonderfully stable. You might like to buy and pack sea sickness bands before you go. If you see others with grey wrist bands on you will know why. Have a look at our what to pack. Packing for the Galapagos Islands is different, and we have a separate film.
Cruise Doris Visits Subscribe. Thank you
MARELLA CRUISE Q&A PAGE OF NEW CRUISERS QUESTIONS
Here is another ponder – if you are someone who does not like New Years Eve but always wanted to see Sidney Harbour at that time of year, or the fireworks in Funchal, then that is an excuse to cruise. If you love Strictly and never managed to get tickets, then that is an excuse to cruise. And if you like 50 Shades of Grey and like an edgy romantic read then the Sally Katz books might be a reading introduction. We hope we have helped, the rest of the site surely will as will David's site How To Cruise.
Hi. I'm David Withington.
After our first cruise in 2012, Christine (that's my wife) and I created the How To Cruise website – with the intention of it being a useful source of basic and essential information for people who are brand new to cruising, just like we'd been.
As most seasoned cruisers will tell you, once you've been on one cruise, you'll likely be hooked for life. So it's great to join with Stuart and Jean in serving the amazing cruise community with practical and helpful cruise information.
Always on the lookout for great cruise tips to share, we've found the Doris Visits videos valuable assets. And in the Facebook cruise chat groups, it's good to see so many seasoned cruisers helping cruise newbies with answers to their many burning cruise questions.
Aurora Ship Tour Azura Ship Tour Britannia Ship Tour Arcadia Ship Tour Oceana Ship Tour
Essentials – cruise travel labels and our cruise crime novels – oh, and the seasickness bands.
The mystery thrillers are a whole new way to experience cruising. You may not have been to the ports in the novels, you certainly won't have been to the parts of the ship they use. All the cruise crime novels will make you feel like you are in the adventure and on the ship – dodge the bullets and stay out of the romance. Ship and cruise accurate, the novels are a great way for new cruisers to discover a ship too. Please share the Amazon link. CRUISE SHIP HEIST (read the reviews from cruisers). https://amzn.to/2GKQBIp