Club Med 2, the 5-mast schooner will be refurbished in dry dock during this winter season. The 392-guest sailing cruise ship is to have a make-over from top to bottom. This will include restaurants, lounges and cabins which will receive new furniture and an up-to-date unique look in the Club Med style.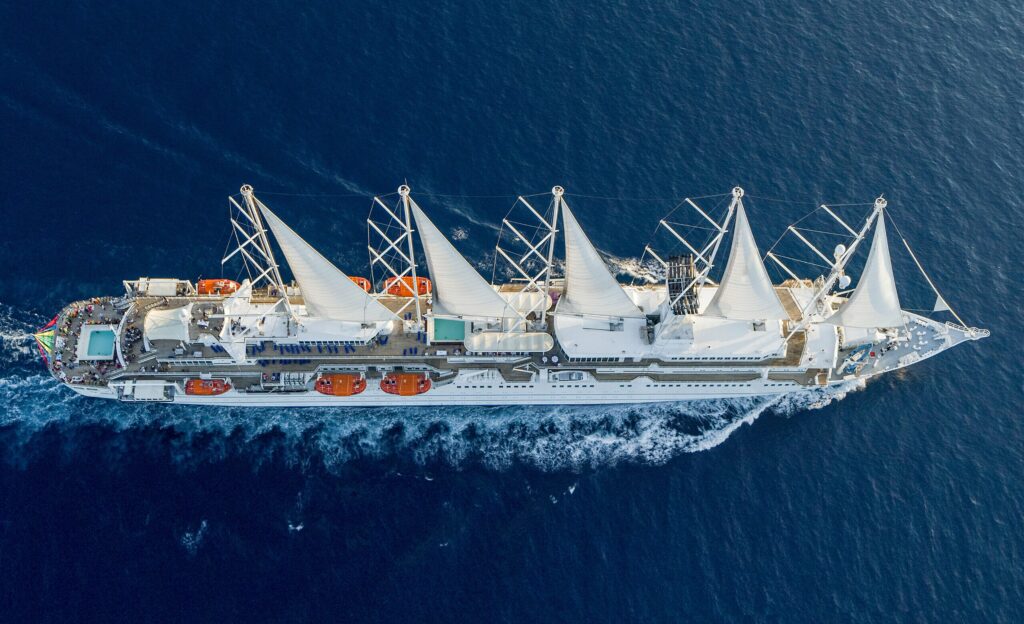 The ship's spa and gym will also be remodelled with enhanced well-being and fitness features. Sothys will be offering the luxury treatments when the ship re-sails.
Le Monte Carlo restaurant will have a new look and future programmes will include live cookery demonstrations with menus changing with the seasons. All the bars and lounges will be re-designed.
On top, the ship's computerised sails will be remodelled.
On the 5th of December 2022 Club Med 2 is expected to be all done and will take the transatlantic crossing to position for the Caribbean season, and due to its small size, it will get into one of our favourite islands, Bequia. Other islands will include Saint Barthelemy, Marie Galante, and Mayreau.
Facebook Cruise Chat Groups.
AMBASSADOR CRUISE GROUP by Doris Visits
AURORA & ARCADIA P&O ADULT ONLY GROUP by Doris Visits
AUSTRALIAN CRUISES by Doris Visits
AZAMARA & OCEANIA R-Class Group by Doris Visits
CRUISE ENRICHMENT GROUP by Doris Visits
CUNARD CRUISE GROUP by Doris Visits
EXPLORATION & EXPEDITION CRUISE GROUP by Doris Visits
FRED OLSEN CRUISE GROUP by Doris Visits
MARELLA CRUISES GROUP by Doris Visits
P&O AZURA GROUP by Doris Visits
P&O BRITANNIA GROUP by Doris Visits
P&O IONA GROUP by Doris Visits
P&O VENTURA GROUP by Doris Visits
PRINCESS CRUISERS UK GROUP by Doris Visits
RIVER CRUISING Group by Doris Visits
SAGA CRUISE GROUP by Doris Visits
VIKING CRUISES GROUP by Doris Visits
VIRGIN VOYAGERS GROUP by Doris Visits
YACHTS & CLIPPERS GROUP by Doris Visits
Just search Doris Visits
Doris Visits PORT GUIDE channel on YouTube please subscribe on your TV app and watch in 4k
Instagram/DorisVisits