How would you smuggle money onto a cruise ship? Getting alcohol on is hard enough.tIf you get the money on, can you stay alive?
Cruise Doris Visits Subscribe. Thank you
For two years Doris Visits contributor Stuart St Paul has been looking at a possible film or drama to set on cruise ships. There are very few books that are set totally around cruising and cruise ships, and to re-work them for TV or a film was proving as much work as it was to develop new work from the beginning. This pacey thriller starts a series of books and sets a style for the CRUISE SHIP CRIME INVESTIGATORS or C.S.C.I. based in Miami.
Take a look at the reviews from cruisers on Amazon. The book is a real page-turner and is an accurate portrayal of both a cruise ship and the ports around the Panama Canal where it all kicks off in no uncertain terms. Writer Stuart is now a regular guest on many different cruise ships and his daughter, Laura Aikman who is the author of additional material has just finished filming the Gavin and Stacey Christmas Special and is now taking a final look at book 2. CRUISE SHIP SERIAL KILLER.
CRUISE SHIP HEIST – OCEAN ATLANTIC
– Is now available in paperback as well as Kindle. It is the first in a planned series of cruise ship crime investigators. Laundry Wars is book 3 and is currently being written. CSCI #cruiseshipcrime investigators #CSCI #C.S.C.I.
Commander Kieron Phillips survived Ireland, survived Iraq and many more missions behind enemy lines. Now retired, he finds himself looking down the wrong end of an automatic weapon in South America, and potentially in the most dangerous situation of his life. Being killed in service might have been envisaged, but on the first holiday of his retirement- if release with no pension or honours can be classed as retirement- danger was the last thing he expected. Click the picture for a pre-release version on Kindle. The book will be out soon.
Kieron is going on a cruise to meet with his adopted daughter, a dancer on the ship. But even in his short journey from luggage reclaim to customs he is chatted up by a Latina beauty who won't seem to leave him alone, and watched covertly by another stunning woman who has a more familiar somewhat military air. Sadly, for him, it seems it's not his rugged good looks they are after, and before he knows it one woman is arrested, another sharing his taxi to the ship and a third arrives carrying a case that obviously doesn't belong to her, filled with who knows what. Kieron involuntarily becomes involved in the movement of drugs and money in South America. All he wanted was a quiet break.
His two new accomplices smuggle the case with its unknown contents onto the ship. Now embroiled in the saga, his cabin is searched by a stowaway gunman looking for the Latina woman who he thinks is on board and was not arrested. Standing on the deck looking down at dock in Panama, he realises it could be unsafe for him to get off, but on instinct, when he sees the female officer he met at the airport being followed. He takes off after the team of locals, into an area of downtown that cruise guests would never venture and a world of trouble which has to resolve before the ship sails.
Kieron continually battles with himself, trying to leave his life in conflict behind him, to adjust to civilian life and spend time with his daughter, to play Dad, but continually gets pulled back like a magnet, into the criminal drama escalating below decks. Is he seeking it out, or is it seeking him out? He starts to wonder if his being on this cruise was an accident, or whether someone saw his ex-military status and put him in the right place at the right time. It becomes clear to him that he cannot trust anyone on the ship, and no crazy amount of money is worth either his life or the life of his daughter. They are both in serious trouble which escalates as they cross the Atlantic out of reach of any helicopter, policing or rescue – his time of jumping from boats and planes is far from over if he wants to live.SHIPS & CHAT – Read a cruise novel, share with the community for your cruise operator or ship. You will find them here + share – click
Click picture.
Cruise Ship Heist is the novel that explains the origins of Cruise Ship Crime Investigators.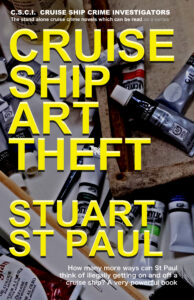 Cruise Ship Serial Killer is the start of Cruise Ship Crime Investigators and the two men behind it.
In Cruise Ship Laundry Wars a female investigator joins.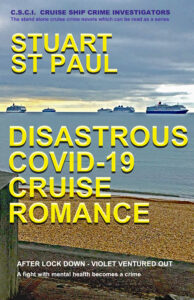 Cruise Ship Art Theft is currently in competition which has suspended its release. In it, one of the interns becomes the star of the piece.
Disastrous COVID-19 Cruise Romance is on the editor's table, for release pre-Christmas, along with the box-set.
You can read any book as a stand-alone novel, and visit Stuart's author page here
Within weeks of release, the books are doing well.
13 March 2019
A gripping cruise-accurate page-turning thriller that I couldn't put down. I'm not normally into fiction – but this book had me gripped from beginning to end. If you've ever been on a cruise, you'll recognise so much of cruise life from Stuart St Paul's brilliant story-telling. But this is far more than an ordinary cruise. It's a brilliant adventure with many twists and turns. If you're anything like me, you won't be able to put it down.
4 people found this helpful
8 June 2019
I read this book while on my last cruise on P & O Ventura to the US and the Caribbean and I must say once I started it I was hooked and couldn't put it down, sitting up late into the night to read another chapter. I really like reading books with a cruise theme while actually on a cruise. The story was exciting and certainly kept your interest. Looking forward to the next one Stuart.
5 people found this helpful
Essentials – cruise travel labels and our cruise crime novels and members cruise-related novels
The Port guides here on Doris Visits are a great way to remember your cruise and share with your friends. The mystery thrillers are a whole new way to experience cruising. You may not have been to the ports in the novels, you certainly won't have been to the parts of the ship they use. All the cruise crime novels will make you feel like you are in the adventure and on the cruise of the ship.
Cruise Doris Visits Subscribe. Thank you
Enjoy your cruise