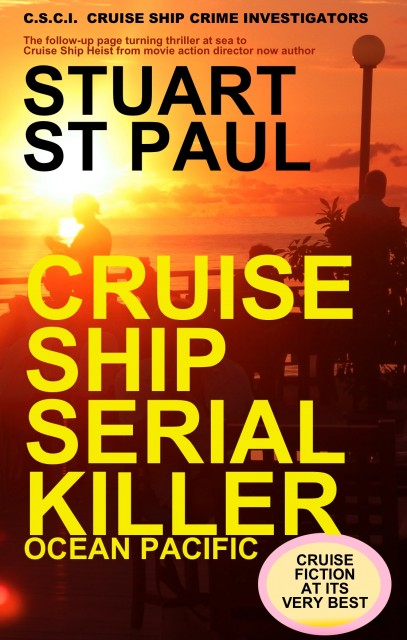 A very accurate vision of a world cruise passage across the Pacific, but, a switch has been triggered in someone on board and they are killing guests.
The Panama to Tahiti crossing is all ocean, eleven days of romance at sea. But, three guests are killed just when the ship sails beyond helicopter assistance; 3 Days out of Panama, 8 days forward to French Polynesia? Will the night sky bleed more red into the horizon? Hunter and Witowski had just landed in Miami to set up the Cruise Ship Crime Investigator unit. The phone rings and shaping their new office goes on hold. They board a long-range coast guard plane for an inevitable night jump into the Pacific as near the ship as is possible.
Officer Ruby Jenkins, head of security soon develops a taste to be the first woman to join what she sees as a more exciting company, but then Prisha, seconded from data wrangling in the ship's office gets the same romantic dream to join CSCI. While crew dramas unfold, panic grows amongst the guests as another body is found each night. One thing is certain, the killer is on board ship.
This is the follow up to the page-turner CRUISE SHIP HEIST which explains how the two men meet each other. In this book, two women come together hoping to join the company.
The gripping book is written by one of our Doris Visits contributors, award-winning film director and screenwriter Stuart St Paul who many of you may have seen on board as a celebrity guest. It reads like a movie, one you are glad you are not a cruise guest in potential danger with no escape. His artist partner is his daughter Laura Aikman, the actress red top papers said was flirting with James Corden earlier this year before they realised she was the new cast member for the Christmas special of Gavin and Stacey.
CRUISE MURDERS – OCEAN PACIFIC – CLICK HERE – KINDLE or PAPERBACK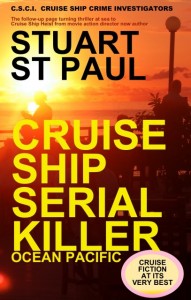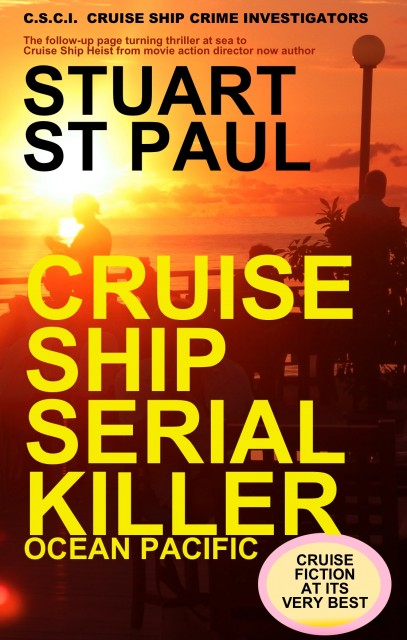 'Doris Visits' Cruise Novels are all set on an ocean cruise or within the cruise industry. Cruise Ship Crime Investigators is the new company the two men have formed in this novel.
There are over a thousand guests plus crew on a cruise ship. Almost none of the guests have any idea of the dramas going on behind the scenes and below decks, not even when a murder occurs in their midst. It is not until the rumours fill the chat groups and fake news spreads that the fear and panic starts.
Cruise Ship Laundry Wars is 90 pages written and it has all kicked off. We can reveal it will be the most dramatic book of the three.
The fourth book, Cruise Ship Summer Knights is just at planning stage and the only words that have been heard on that are – try not to upset anyone!