We often see passengers shock, anger and disappointment at airports because a traveller has bought a bottle in duty-free with all the intentions of enjoying their holiday, and as they change planes the bottle is confiscated. Where have we seen that? Numerous airports:- South Korea changing planes for Australia, Fiji etc, Canada changing planes for the Pacific or down to connect with a USA port (you will also need a Canadian transit visa even though you never step inside Canada! See our Visa's page). Changing planes inside the USA to connect with a USA cruise. The Middle East and Dubai, Singapore also can see you change planes to continue. There is also the chance that if your plane changes flight pattern and you need to connect to continue to your port, then expect that getting on a new plane could see you have to go through a restrictive practice. Having them taken off you as you enter a ship is also possible.
There is a similar shock on some young guests faces when in the USA ports they cannot even buy alcoholic drinks over the bar on board because the laws of the USA say drinking alcohol cannot start until they are over 21. Ships may ask your age if the details do not show on your cruise card. Buying a drink for a minor is a serious offense which the ship has to take seriously to comply with the laws of the country whose waters they are in.
Look at the short cruise and taster cruise destinations
Saving money needs some thought, just to ensure it does not turn into losing money. The ships do not normally confiscate, but take your excess non-allowed drinks and store them until you leave the ship. P&O may be the most lenient allowing one bottle – so what can you take on board and what can you not?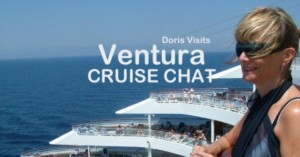 At P&O they publish that each adult of the correct age (18 in the UK, 21 in the USA) may take on board one bottle of the following; wine, Champagne, beer, spirit or liqueur (up to 1 litre in size) as they embark the ship for the first time only. Then there is a further rule, that alcohol taken on board is for in-cabin consumption only. There is no corkage charge, however, if you consume that alcohol in a public area you will be charged corkage. You are on a hotel and that is a very common hotel and restaurant practice. So as not to be disappointed also look at their dress code. After finding your cruise, please book direct with P&O through a Doris Visits link.
Aurora Ship Tour Azura Ship Tour Britannia Ship Tour Arcadia Ship Tour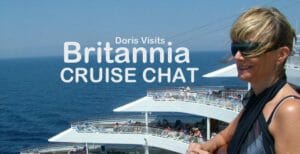 If you buy bottles of alcohol at ports along the way, you will not be able to drink them while on board. There also may be local laws that the ship would have to uphold. Few ships encourage food or drink to be taken on board, as they all like to think that all your culinary desires and special diets are more than adequately catered for. Few will allow any perishables even if you have a fridge. Water is often carried on board by guests, but cases of soft drinks may be treated as non-encouraged.
Subject to variations to the age limit; when not in the USA waters and other restrictive countries, 16 and 17-year-olds may be bought beer, cider or wine to drink with a meal in the restaurants when accompanied by a parent or legal guardian.
We suggest you read the P&O Code of Conduct – click here
The rules are even more harsh for crew members who on or off duty may be required in an emergency to man a lifeboat station, and so under maritime law have drinking restrictions imposed upon them with random breath and sometimes drug tests. If they fail they will often be put off the ship at the next port, whether dancer or bar staff, engineer or officer. Each ship and cruise line will have similar regulations, so rather than repeat them all saying similar we will add all their codes of conduct as we find them.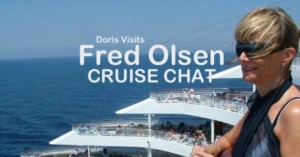 At Fred Olsen, they are more strict. Any alcohol brought on board, whether at embarkation, or during a port call, will be stored and returned to you at the end of your cruise. They also have a tougher dress code. After finding your cruise, please book direct with F.O through a Doris Visits link.
Fred. Olsen – a look at some of their conditions – click here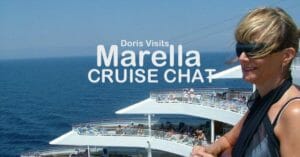 Marella Cruises – are also strict, once onboard their ships, you can only drink the alcohol that ship cruise staff serve you. Despite the change to all-inclusive, they have still got rules. They appear to allow alcohol purchased on a flight during a fly-cruise, however during embarkation, they reserve the right to search luggage and hold any alcohol that they believe has not been purchased on your flight – they will ask to see the proof of purchase. Any alcohol that is not permitted onboard will be returned to you on your departure. Marella Rules Page.
20. Liquor
20.1 Alcohol will only be served to adults.
20.2. Where the fare paid by a passenger includes meals on a breakfast only, Half Board or Full Board basis, it does not also include wines, spirits, beer, mineral waters or other liquors. These are available for purchase on-board at fixed prices.
20.3. The Carrier and/or its servants and/or agents will confiscate all alcohol brought on-board by passengers, with the exception of alcohol purchased on the outbound flight to the ship – proof of purchase will be required. Alcohol that is confiscated will be returned to passengers at the end of the cruise.
20.4. The Carrier and/or its servants and/or agents may refuse to serve a Passenger alcohol or further alcohol where in their reasonable opinion the Passenger is likely to be a danger and/or a nuisance to himself, other Passengers and/or the Vessel.
Princess Cruises state – 'As provided in the Passage Contract, guests agree not to bring alcoholic beverages of any kind onboard for consumption, except one bottle of wine or champagne per adult of drinking age (no larger than 750 ml) per voyage, which will not be subject to a corkage fee if consumed in the stateroom. Additional wine or champagne bottles are welcome, but will incur a $15 corkage fee each, irrespective of where they are intended to be consumed. Liquor, spirits or beers are not permitted. Please remember that luggage will be scanned and alcohol outside of our policy will be removed and discarded.*
Alcoholic beverages that are purchased duty free from the ship's gift shop, or at ports of call, will be collected for safekeeping and delivered to the guest's stateroom on the last day of the cruise. A member of the ship's staff will be at the gangway to assist guests with the storage of their shoreside alcoholic purchases while our Boutiques staff will assist guests with shipboard alcoholic purchases.'
click here for the New Canary Island cruise menu including West Africa & Cape Verde