For a while the tallest skyscraper in the world at 829.8m high – the Burj Khalifa. NOT FOR LONG. On the other side of the creek, the competition heats up, but from the same property developer. Emaar Properties in partnership with Dubai Holdings. In another film, we go up almost to the top of the Burj Kalifa for cocktails. It is as much amazing as disturbing. If it were not for COVID and delays in build, two new buildings would both have surpassed the Burj.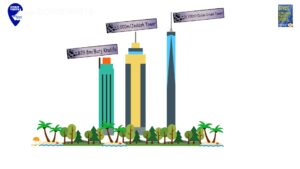 The Jeddah Tower in Saudi Arabia will stride out in front if it completes at the planned 1 km (3,281 ft) high. It will be the centrepiece of a major development for shopping, eating and drinking, and will have apartments and hotels. This huge development sits alongside Saudi Arabia's first cruise terminal at the Jeddah Islamic Port. The developments are aimed at boosting Jeddah's role as a major trade hub across Africa and the Middle East, and to join the rapid growth of tourism on the Red Sea. It supports the Government of Saudi Arabia's wider 'Saudi Vision 2030' initiative.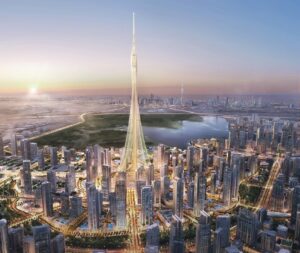 However, on the otherside of the creek in Dubai, The Dubai Creek Tower will be a minimum height match to the Kalifa, but rumours abound of 1.3km. However, whilst it can steal the highest building title, it may not be a skyscraper. Unless it has 50% of the height is used for dwellings it would fail the benchmark set by the Council on Tall Buildings and Urban Habitats. It would also fail as it will be supported by a total of 68 miles of steel cables in a web. We will see. What we do know now, is why they built the metro there and called the station Creek. Now, the real reason the metro goes to the old creek is clear; there is to be bigger shopping, taller buildings and more people. That means Dubai, as will all the enlarging Red Sea ports, will want more ships and more cruisers.
PORT GUIDES filmed by Doris Visits are a great way to research, remember your cruise and share your memories with your friends. ATHENS GUIDE ANTIGUA CRETE GUIDE RHODES ST PETERSBURG ROME DUBROVNIK KEY WEST STATUE OF LIBERTY TOUR STAVANGER

Our Insurance and Medical testing page has other options and is worth a look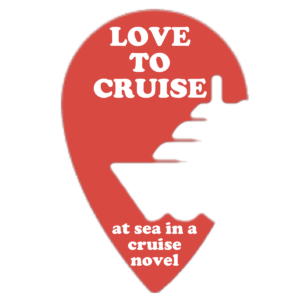 You may have seen cruise thriller author & movie maker Stuart St Paul – click here on a ship giving an after-dinner speech or a talk with a book signing. Crime novels are a whole new experience. You may not have been to the ports in the novels, you certainly won't have been to the parts of the ship they use but they take you there. Stuart's page is here. The cheapest way to buy his cruise thrillers is the KINDLE BOX SET, all six cruise thrillers for the price of two.
CHAT GROUPS – a fantastic way to help others and a place to find answers. We run a Facebook Group for each of the ships. For example, P&O IONA group P&O Ventura MARELLA EXPLORER Disney & Family cruise chatSAGA Ocean & River cruise chat group Viking Ocean & River Cruising chatCunard Chat – Premium cruise liners Find the complete list of chat groups here