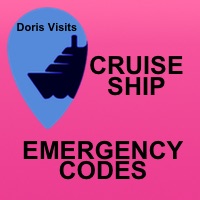 Some codes you might hear on a cruise ship, or not, hopefully ….
Our fav code is Winnie – Operation Winnie. It basically means clean the pooh in the children's pool – allegedly from the Disney Cruise line. There is no confirmation of this.
30 – 30 – Clean up required (Or PVI see below or combination of both)
Alpha – a medical emergency
Bravo – is a fire emergency
Bravo Bravo Bravo – man overboard (some suggest Oscar is used) – the side or rear of the ship may follow.
Bright Star – death or medical emergency
Charlie, Charlie, Charlie – security threat.
Code Adam – missing child (named after Adam Walsh)
Cold Alpha or Alpha Team – medical emergency (detail will follow with teams required)
Code Baby Ruth – faeces in the baby pool
Code Bravo – fire (place would follow)
Code Delta – Is a big one – damage to the ship – and might have detail to follow and teams called.
Code Orange – Colours are used for illness outbreak – so, orange is early stages of norovirus infection – (There may be following orders like close pools or buffet – see red below)
Code Oscar – man overboard
Code Papa – pollution (oil spill, etc)
Code Red – illness has broken out, normally norovirus
Code Yellow – is a lesser illness alert.
Code Sierra – medical emergency needing a stretcher
Code Winnie – faeces in the pool (Disney)
Echo – the ship is drifting, often caused by strong winds
Kilo – all personnel to report to their emergency posts
Mr Mob – some use to indicate a passenger or crew member has fallen overboard
Operation Bright Star – a medical emergency
Operation Rising Star – a passenger has died onboard
Oscar – is a reference to someone falling overboard
Papa – oil spill or pollution
Priority 1 – fire (Cunard)
Priority 2 – the ship is taking in water
PVI – public vomiting incident
Red Parties – Potential fire onboard
There is no code for the first book that we have found – Cruise Ship Heist! But Charlie, Charlie, Charlie seems to be the close fit. The Pre-release version of that book is a Kindle free to read on Amazon in the Kindle library or just a few pounds. BOOK 1 on AMAZON
The second book is definitely a Cruise Ship Fallen Star …… the body count is nearly in double figures
Both books are written by the Cruise Doris Visits team and would make a great TV series. Book one would be the first 16 episodes, book two would be series two.
As you know, or may not, the team behind Doris Visits are ex-TV players having worked for HBO, BBC and ITV and cruising has become a (semi) retirement hobby.
Why Amazon publish first – in the world of intellectual theft, it establishes copyright as well as makes us really research our work. Books are fast, a TV show or film can take ten or so years to get on screen.
To follow the book news on ……
Did you know – Every short port talk film we make for cruises as port guides on our 'Doris Visits YouTube channel', maybe a port guide for cruisers but a location and reference for further writing….