The Epicurean can be found on the three largest P&O ships in the fleet, The Azura, the Ventura and the Britannia which, is an example of how the larger ships can offer just a little more options should you wish to treat yourself. My guess is you have walked past them many times. It is premium restaurant for a special or romantic evening. On Gala nights they do impose a dress code which is respected by staff and passengers. The food here is not about volume it is about presentation, service and eating at a leisurely pace. The Epicurean is rather meat orientated but there are fish and vegetarian options, and they will discuss the menu with you days before your booking. As with all the special fine dining restaurants, they tend to get booked up in the second week as guests find them, and the Epicurean on the Azura and Ventura outside will get very busy leaving islands that are not windward and where it is warm. These things can all be discussed early on your holiday.
Expect stunning presentation of classic dishes inspired by British ingredients like Gloucester Old Spot Pork Fillet or Salt Marsh Lamb Rack that are cooked individually for you as in any on land restaurant. Our film is just a taster of the atmosphere and a couple of dishes. If you have booked your P&O holiday, you might choose your moment and book a table on line before you go, you can always cancel or move it, but booking reserves the table. If leaving somewhere warm like St Vincent, it is warmer outside than inside.
CLICK HERE TO GO TO SAMPLE MENUSBOOK A TABLE – GO TO YOUR PERSONAL P&O CRUISE PLANNER HERE
Cruise Doris Visits Subscribe. Thank you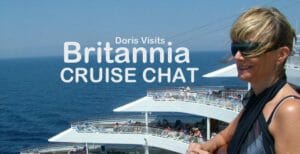 Join our Britannia cruise chat, of the chat for your favourite ship. Just click here or click the image to share your pictures, ask a question or help someone else who has a question. Doris Visits has been joined by some great film makers and we now want some knowledgable moderators to help on the chat sites. We have one for every ship and one for each cruise region. Azura Chat here. Ventura chat here. Caribbean chat here.
Click here for the special CARIBBEAN SEASON destination menu. Each islands and Caribbean Season Destinations has a guide and tour guide here !CHAT GROUP – Cruise the Caribbean Chat – Be involved in the Caribbean chat group if you love the Caribbean – CLICK HERE TO SHARE & CHAT
Similarly, the Limelight club in the Britannia only, normally rotates four menus, and it is about the evening not a volume of food. It is a three course menu because you are there to watch a top cabaret act; it is like a speakeasy. As we are official affiliates of P&O, you can book your holiday here now or if you have booked already and have your details which will all come via the internet and you will be sent tickets and plans, you can book a table at the Limelight Club as well as excursions via you cruise planner below. The internet is a wonderful thing!
P&O EARLY DEALS Menu 1 Menu 2 Menu 3 Menu 4 P&O LATE DEALS
BOOK A TABLE – GO TO YOUR PERSONAL P&O CRUISE PLANNER HERE