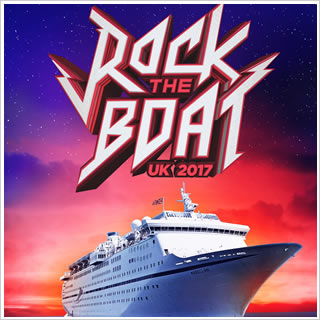 THEME CRUISES – more & more popular
ROCK THE BOAT – Sammy Hagar did lead out the Rock the Boat that sailed from the USA, great friends of ours British legends, Status Quo have done the Rock The Boat out of Australia, the UK Rock The Boat was lead out by American Suzi Quatro. These cruises aim at having fun and there are theme nights including Rock Gods, School Uniform and Pacific Dress. There are air guitar battles and lip sync battles for passengers but the acts are the real draw. The UK Rock The Boat in the past have had The Manfreds, The Yard Birds, Slade, From The Jam, Big Country, Animals and Friends, and The Troggs. They have been held on the Cruise & Maritime ship MV Magellan. It is an adult friendly ship with wide corridors and stairways and expansive deck areas to exude a real feeling of spaciousness. Well-appointed lounges, panoramic seating and observation areas and a friendly service with great cuisine. This cruise starts and finishes in Newcastle and stops at Aberdeen, Liverpool, Dublin, and Invergordon. When in Liverpool you might like to get the Beatles Story.
STRICTLY COME DANCING – is probably the only themed cruise most of you might contemplate, and it happens four times a year (for dates click here). This cruise follows a well established route in the Mediterranean because the acts have to swap in and out at well established ports with airports. The entertainment is that packed they could not all stay on board. See the program
The there is the Love Boat – the DESIRE CRUISE ! – So you might not wish to sign up for a cruise on this special erotic cruise, but we thought you might like to read about it. It is far far too strong for even Violet from the Solo Cruiser novels who we think would be disgusted. Yes, there is a special cruise going out, and the theme is, well I guess open-mindedness puts in politely. This themed cruise is for those who like to jump in the Jacuzzi naked. And have a dress code that is – naked!
Mexican adult hospitality firm Original Group has chartered the Azamara Quest for the sex-themed experience in autumn 2017 and the 690 passenger ship is said to be selling fast.
Yes, there will be naked co-mingling and erotic playrooms to provide an aphrodisiacal treat.
This initial free spirited cruise will be an eight-day voyage from Italy to Croatia and Slovenia dubbed the "Desire" cruise. The ship will be transformed with performances, couples workshops, themed nights and "intense icebreakers" designed for motion in the ocean. Open-mindedness is encouraged on the couples-only voyage, whether that be at the "mix-n-mingle" private playrooms or at the clothing-optional areas of the ship, such as the pool deck.
Rodrigo de la Peña, CEO of Original Group says "We're thrilled to bring to the sea our more than 30 years of experience in creating the perfect sensual atmosphere for adults, and we have no doubt that the Desire Cruise experience will be life-changing for our passengers and will become the sensual way to get away."
As with all ship's staff members are off limits. "No" means "no." And there will be couples-only areas to fulfill your intimate desires."
GOLF
Azamara Cruises offer a golf cruise each year, take a look at what they have to offer.
CHAT GROUP – Cruise the Mediterranean Chat – New Group, be one of the first to join and start a thread on your forthcoming or past cruise by number – – CLICK HERE TO SHARE & CHAT

Clicking the DORIS VISITS COMPARE CRUISE DEALS BOX takes you to a variety of deals and explains how they are all found.
Marella Cruises Cruise Chat – share your experiences, reviews, pictures, films and help others with their questions. JOIN THE CHAT GROUP There has yet to be a book written in the Solo Cruiser series that is based around a mediterranean Cruise, but we here that one is being planned and that it takes place on a Strictly Come Dancing Cruise. The 4th book based in Florida and the Caribbean is due out early 2018. For now, if you have not read them, like in 50 Shades you might skim through the raunchy bits, but they are great cruise books with good stories. It never seems to work out the way it should though. Follow author Sally Katz by clicking her name and then on the author page on Amazon, click follow. Then as she releases a new book your are informed.