Fincantieri S.p.A. is an Italian shipbuilding company based in Trieste, Italy. Already the largest shipbuilder in Europe, after the acquisition of Vard in 2013, Fincantieri group doubled in size to become the fourth largest in the world (2014). Serving 18 cruise brands it has built over 100 ships since 1990 it has docks and shipyards in multiple countries. FINCANTIERI
Doris Visits says forget the flabby news about scrapping a few old ships. If anything, COVID like disasters throughout history speeds up change. New ships are on the horizon and the bed count of new vessels being delivered outstretches what is lost. In our second shipyard report, Fincantieri show that the modern style and facilities offered, as well as the technology and ecological reasons for moving on suggests a bright new future for cruising.
Our New Year's Eve update on new ships.
VIKING – Viking Venus – Mars – Neptune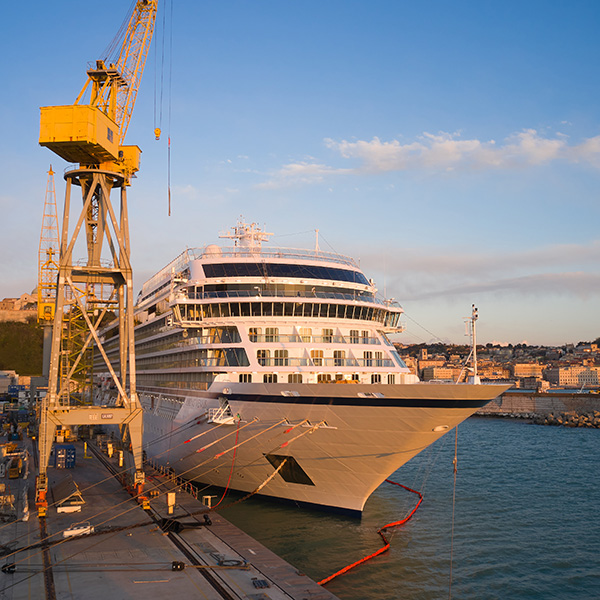 Viking Orion was the seventh cruise ship that Fincantieri built for Viking Ocean Cruises built at the Ancona shipyard. Viking Venus, Viking Mars, and Viking Neptune will be sister ships to a growing fleet. They can hold many more guests than Viking configure them for, holding them at a maximum of 940 passengers the ships remain spacious and luxurious. They also fall into the small cruise ship bracket.
The design is from experienced naval architects and engineers: a modern design of Scandinavian inspiration, characterized by sophisticated yet functional elegance. In addition to the all-veranda staterooms, the ship also has spacious suites with sweeping views, two pools, of which one Infinity Pool off the stern, and a Spa designed according to the wellness philosophy of the Scandinavian tradition, with a sauna and a snow grotto.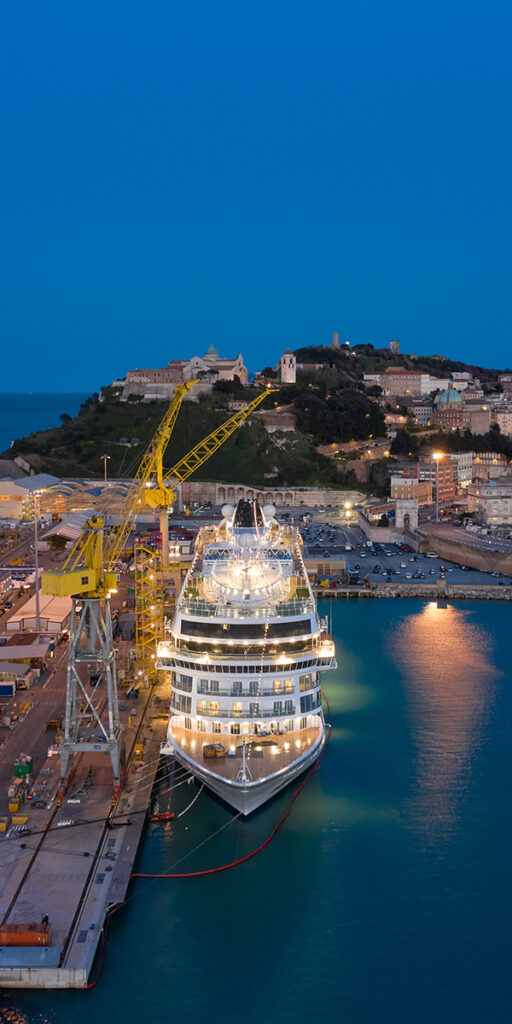 The Viking ships are all built according to the latest navigation regulations and equipped with the most modern safety systems, including the "Safe return to port". Furthermore, they feature high-efficiency engines, hydro-dynamically optimized streamlined hull and bow for maximum fuel efficiency and equipment that minimizes exhaust pollution and meets the strictest environmental regulations.
The manuafacturer's fact sheet says – 47,842 GRT. 473 PASSENGER CABINS. 1,443 PEOPLE MAX CAPACITY but Viking hold capacity down to 930 maximum.
NEXT
2022 – MV Viking Mars
2022 – MV Viking Neptune
Virgin Voyages Valiant Lady – "Valiant Lady" delivered this year, as well as her still new sister ship "Scarlet Lady", weigh about 110,000 gross tons, is 278 meters long and 38 wide. They all feature over 1,400 guest cabins designed to host more than 2,770 passengers, accompanied by 1,160 crew members on board to deliver the famed Virgin service. The quality of life on board is guaranteed by the "comfort class" certification, testifying minimum levels of noise and vibration, as well extensive use of home automation. By installing an app on their smartphones, guests are able to manage a wide range of cabin functions (air conditioning, lighting, opening and closing of blinds, music, and television).
2022 – Resilient Lady
2023 – Project Virgin IV
MSC – MSC Seashore now delivered is the first Seaside EVO ship, an evolution of the game-changing and pioneering Seaside class joining sister ships MSC Seaside and MSC Seaview, which launched in 2017 and 2018 respectively. This class of ship is renowned for its innovative and glamourous design features and is conceived to connect guests with the sea. MSC seashore offers a whole host of brand-new features, venues and experiences for guests as 65% of the public areas have been reimagined to take the guest experience to a whole new level. The ship offers 13,000 sqm of outdoor space, with a wide choice of outdoor bars and dining, pools and deck area for relaxing and sunbathing as well as different vantage points around the ship to take in the sea views. Plus MSC enter the Explorer Class of ships in 2023.
2022 – MSC Seascape (169,380 GT)
2023 – Explora I (64,000 GT)
2024 – Explora 2 (64,000 GT)
2025 – Explora 3 (64,000 GT)
2026 – Explora 4 (64,000 GT)
Silverseas – Silver Dawn – The third ship in the Muse-class series, delivered in 2021 the Silver Dawn. She is a sistership to Silversea's Silver Muse, built in the Fincantieri shipyard of Sestri Ponente (Genoa) in April 2017, and Silver Moon, which was delivered in Ancona in October 2020. At 40,855 gross tons and with a capacity of 596 passengers, the vessel's 298 spacious all-suite cabins are a distinctive feature of Silversea in the cruise landscape.
PRINCESS CRUISES – New ships…..
2022 – Discovery Princess (143,700 GT)
2023 – Project Sphere-class (175,000 GT)
2025 – Project Sphere-class (175,000 GT)
NCL Norwegian Cruise Line – the Leonardo Project. There are six ships ordered, the first to be built by Fincantieri for NCL. We expect to be called the Norwegian Prima, and it to be the first in the Prima Class. However, the project is called the Leonardo Project. Each ship is thought to cost in the region of $850m.
2022 – Norwegian Prima I (140,000 GT)
2023 – Project Leonardo II (140,000 GT)
2024 – Project Leonardo III (140,000 GT)
2025 – Project Leonardo IV (140,000 GT)
2026 – Project Leonardo V
2027 – Project Leonardo VI
CUNARD Cunard's fourth ship is under construction in Naples, the yard name is Fincantieri 6274. Cunard's 249th ship is larger than those in service and marks an exciting moment in their 180-year history.
2022 – (Yard no 6274) (113,300 GT)
HAL HOLLAND AMERICA LINE – could they exist without a ship with this name?
2021 – Rotterdam (99,500 GT)
These links take you to the cruise operators own website - book direct - have your online contact direct with them
Our page on cruise insurance & antigen testing: click> INSURANCE & TESTING

CHAT GROUPS – a fantastic way to help others and a place to find answers. We run Facebook Groups for cruisers – see the list in black boxes after the ships and fleets listed above.