When you finish your transit flight, your bags go to the ship. You are not normally immigrated to the country, especially in Barbados etc when going to the Caribbean. You are taken on a bonded coach, like bonded cargo to inside the shipping terminal, so still not in the country. There you queue to be immigrated onto the ship, your credit card is taken like checking into any hotel, and your picture taken for your cruise card. You might like to sleep on the plane so you are sprightly for this queue and embarkation Take a look at our favourite soft pillow, yes this is a neck support pillow (click here and click box continue to Amazon to get past the adverts, then this pillow is half the price we have seen it anywhere else). In the summer the transit ports can be Dubai or Malta to pick up a ship.
FLY CRUISE ARRIVE AT MALTA – WHAT HAPPENS
If you had asked me yesterday which was my preferred London airport I would have had to think hard. Not today, the answer in a flash is Birmingham. Seriously, Gatwick is nowhere near London, Luton is a building site with no direct transport and a bottleneck approach road that needs much more serious thought, Stanstead is OK, but where is it? Suffolk? Southend is improving, and Heathrow is a fight; either an hour on the tube or the unpredictable M25. If you drive and park for Heathrow, you'll be miles away with a transfer in traffic. Birmingham however, as much as I hated the idea when my tickets were delivered, is easy!
Cruise Doris Visits Subscribe. Thank you
Birmingham is 'the' London airport. A simple uncrushed, hour-long overground train ride sitting in a civilised seat with a table. The train stops in the airport and you wheel your cases to the check-in a hundred yards away. My advance train ticket which, my employer does not pay for, cost half the Gatwick express price, and almost the same as a tube ticket; where I would be unlikely to get a seat. It goes to show that you have to think out of the box. However, if your plane is flying from one of the lesser London airports there is no point in travelling to Birmingham.
'It fits with my less than direct life that I am about to land at Orlando, Florida for a Caribbean Cruise. Surely everyone else on the plane is heading for a theme park. My direct route would be; find a man, fall in love, get married; but I have left it a little bit late in life; the panic is on. Have you noticed that now there are more and more single women that they lock the Captain in his flight cockpit? The route my life has taken since waking from my cryogenic state has been a very educational set of diversions with no road map.'
We smiled when we read this about Birmingham because we have flown regularly from the nightmarish London airports – except Southend, where did that come from? But, we have also got on the train at Watford, got off in Birmingham Airport and said – wow, why is this so easy. So just saying, let the train take the strain, try Birmingham, and also before you go, for less than a tenner, download the first three Solo Cruiser books to your Kindle. You will be shocked, not talking about the romance, though that might shock too. Should you decide to drive to Birmingham Airport and need parking; Birmingham Airport Parking with Holiday Extras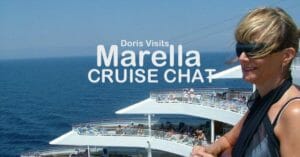 So, we also index Birmingham as a cruise Port. Maybe that is going too far, but many will check in for the cruise at Birmingham and not see their cases again until they are delivered to their cabins, even if you don't get your cruise card there. You may be on one of the 13 or so flights to fill the Azura in Barbados, or one of the 15 or so flights to fill the Britannia. The excitement builds. Whilst in the queue read a cruise novel. If you are on a P&O flight to a P&O ship, a big tip from us. The excursion desk will be crammed when you arrive so book your excursions by looking at the destination films here then using your personal cruise planner below. Also book your table for dinner (in the second week all fine dining restaurants fill fast and you can always cancel).
The Limelight club normally rotates four menus, it is a three-course menu because you are there to watch an act, it is like a speakeasy. As we are official affiliates of P&O, you can book your holiday here now or if you have booked already and have your details which will all come via the internet and you will be sent tickets and plans, you can book a table at the Limelight Club as well as excursions via your cruise planner below. The internet is a wonderful thing.
Essentials – cruise travel labels and our cruise crime novels – oh, and the seasickness bands.
The Port guides here on Doris Visits are a great way to remember your cruise and share with your friends. The crime novels are a whole new experience. You may not have been to the ports in the novels, you certainly won't have been to the parts of the ship they use. All the cruise crime novels will make you feel like you are in the adventure and on the ship – dodge the bullets and stay out of the romance. Ship and cruise accurate, the novels are a great way for new cruisers to discover a ship too. Please share the Amazon link. .CRUISE SHIP HEIST https://amzn.to/2GKQBIp
QUESTION: If I travel and I am more than 24 weeks pregnant am I technically un-insured and liable for all the bills?
ANSWER: Check with your insurance company and lawyer before you travel, but it appears all the companies say no travel.
Cruise Doris Visits Subscribe. Thank you