As new ships are planned, so are the retirements. SAGA seem to have followed a lead given by VIKING OCEAN cruising with their identical smaller cruise ships. The idea is to keep the smaller special style of cruising, but add some of the essential features the larger more family style ships have brought to the industry. That does not mean a climbing wall and a go-cart track. Their new 1000 approx guest ships will be state of the art and it is a standard that encourages the Sapphire to sail away. Sure the Sapphire can hold that many guests, but SAGA wish to offer more and have ordered two new ships. The Sapphire has been a much loved ship, and it is always sad to see it go. Originally built for Hapag-Lloyd Cruises in 1981 as the MS Europa. These were the days when a small ship could shine. But even by 1999 she was changing hands and went to Star Cruises and was renamed MS SuperStar Europe a name that appeared not to work and the name was quickly changed to SuperStar Aries. In 2004 she went to Pullmantur Cruises and was renamed MS Holiday Dream. 2008 she was moved sideways to a subsidiary company aimed at the French market and renamed Bleu de France. She joined SAGA in 2010 after a huge refit.
The Sapphire has few cruises left, but what they are calling the final season has just gone on sale. This is fast on the heels of announcing the final season of the SAGA PEARL 2, meaning that SAGA will be operating the Spirit of Discovery and the Spirit of Adventure. We will be featuring more on the progress of these two exciting Adults Only Cruising ships. Join our CHAT – Saga Boutique Adult Ships – CHAT
SAGA SHIPS – ADULT ONLY – OVER 50's JOIN THE CHAT HERE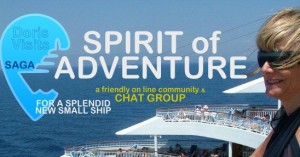 This is the site dedicated to the new ship at sea, the Spirit of Adventure. As or members sail on it, they will be able to answer questions. Click HERE to join the community. Our guests have a wealth of knowledge.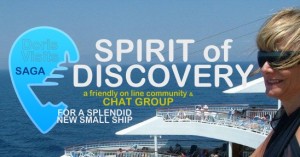 We look forward to the Spirit of Discovery due to sail in 2020 which is so close. Click HERE or click the picture to join.
Our chat guests are a great bunch of people.
On the back of the resurgence of Adults Only cruising, a more classic style of cruising a distinct from Family cruising, we have started an Adults Only Chat site. We will see if that takes off. As always we will support them as long as our readers suggest a need for it. ADULTS ONLY CRUISING
Sapphires Five-cruise finale includes the Med, the Baltic and best of Britain
From Nordic Noir to the Holy Land, the five final voyages of one of British cruising's most popular ships are open for booking. The ship's farewell tour also features the Baltic, a gastronomically-themed cruise to Europe's Atlantic coast and Morocco, and a Norwegian fjords exploration before her last return to Southampton.
Price is per person, based on two people sharing the lowest available price we found when searching. If those rooms have gone, and they are normally inside cabin grade, prices may be higher. Details and availability on the links.
FOR ALL OF THE SAPPHIRES REMAINING CRUISES – CLICK HERE FOR FULL LIST