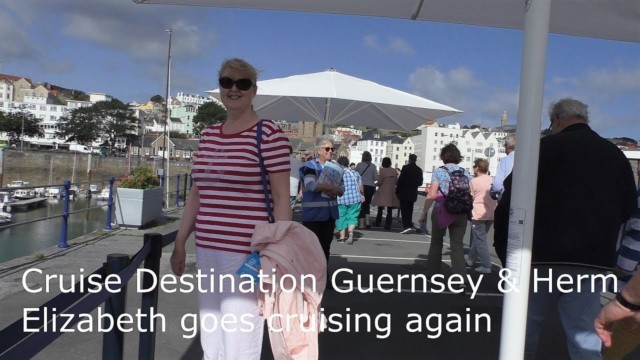 The Adonia has been sold and will move to Azamara Cruises in 2018 where it will sail as the Azamara Pursuit. I am sure her last few cruises with P&O will be quite special. We certainly have cherished moments as she was the only ship to take you to places like Bequia, otherwise a day trip from St. Vincent. Key West is still another firm favourite we did with the Adonia. David and Elizabeth took what may have been the Adonia's last British Isles Cruise with P&O. The video features St Peter Port in Guernsey and the small island of Herm from August 2017. Romantic, Guernsey is meant to have more than its fair share of romance. Once the home of French poet, novelist, and dramatist of the Romantic movement, Victor Hugo, considered one of the greatest French writers. His home, Hauteville House can be visited by guided tour only and lasts about an hour. Tours start every 20 minutes between April and September and the groups are limited to a maximum of 10 people. Access to the garden is free of charge and there is often a lecture in the garden which focuses on Victor Hugo in exile from France, how he decorated the house, his work, and political fights. Guernsey is the prettiest of the Channel Islands with Georgian and Regency houses, winding streets and hidden leafy alleyways. The best way to discover it is by walking around the lanes dedicated to walkers, cyclists and horse riders.Castle Cornet, the last Royalist stronghold of the English Civil War and now home to several museums and theatrical events is worth exploring. Fort Grey was a bastion against Napoleon (see his house in our Corsica film) and is now a fascinating Shipwreck Museum. Or you could get the boat to Herm, which is what David and Elizabeth do in this film.
Cruise Doris Visits Subscribe. Thank you
If you enjoy learning more about the entertainers you see at sea, then take a look at our show cast! Here is our growing menu of those who work at sea.
CRUISE INSURANCE THAT EVEN THE CRUISE SHIPS SELL, AND WE ADD NOTHING ON, JUST CLICK HOLIDAY EXTRAS – OR OUR BLOG Check out some of the great Cruise Routes, our concise films on what a ship offers when it takes a specific route. These are typical routes but we do have films to help cruisers on every popular cruise destination in the world. The Aurora is now one of P&O's smallest ships, Jean's favourite at the moment. It does have some interesting routes like the New England run. NEW YORK – JUMPING OFF THE STATUE OF LIBERTY BROOKLYN CRUISE TERMINAL ACCESS ROCKEFELLER CENTER SAIL UNDER UP RIVER & UNDER HUDSON BRIDGE EMPIRE STATE BLGD @ NIGHT
Want to look around the ships, take a look at our ship tours. If you are new to Doris Visits Cruise TV then welcome, we invite you to comment at the end of our blogs, and ask you for follow us on here on www.DorisVisits.com and like us on Facebook and follow us on Twitter and subscribe to our YouTube Channel to get the best from us. We are always looking for social media persons to help us expand so drop us a line anytime at [email protected] PLEASE SHARE
SEE THE CRUISE BEFORE YOU CRUISE THE SEA. We show cruise destinations all over the world. From St Lucia to Barcelona, from Tallinn to Tenerife, from Rome to Russia. Please follow us on Facebook and Twitter and share.
We don't have an Adonia chat group, but you can chat Adonia on the fleet group with others that sailed her and use the other small ships. CHAT GROUP – P&O SHIPS – for those who cruise – share information or research your forthcoming cruise – use the cruise number – CLICK HERE TO SHARE & CHATHow to access these deals – use the click here and when on the page, click the brown bar 'see all cruises' just above the pictures of the ships. That will take you to the deals we have.
Marella Cruises to the Baltics, Fjords, Iceland & Arctic – click here for Marella Cruise's own web site – Baltics, Fjords, Iceland & Arctic Cruise deals page