As cruisers, we might all agree that it's safer to go on a cruise ship at the moment than on any form of public transport or even to a crowded pub or dance hall on land. But the Hamburg Christmas market is open (at the time of writing) and it is our favourite Christmas market.
| | | |
| --- | --- | --- |
| Hamburg | Fleetweihnachtsmarkt | Nov 22 – Dec 30 |
| Hamburg | Weihnachtsmarkt Osterstraße | Nov 18 – Dec 30 |
Can we go? Possibly, but it can change by the time you read this. On Tuesday Munich became the first major German city to cancel its 2021 Christmas market, with several smaller markets already cancelled across Germany. To be fair, expect the market to be smaller as some vendors will not risk the loss they might make. Hamburg is open but to even enter the area you must show your vaccination certificate. The Hamburg Senate made the '2G rule' binding for areas with an increased risk of coronavirus infection, meaning that patrons must be able to show proof of vaccination against or recovery from COVID-19. This applies to any areas at Christmas markets where food or drinks are sold. For more details, please see our What's Important article for the most up-to-date information on current corona regulations in Hamburg.
Our film starts in Hamburg's city centre with the market at the historic City Hall. The ariel wire flying sleigh we filmed a few years ago is back; Santa Claus regularly makes his appearance, hovering above the market. is dotted with Christmas markets, the largest of which is located on Rathausmarkt Square. We then take you to Jungfernstieg boulevard. An easy walk down to the Inner Alster Lake. Here, there are more stalls with food, marshmallows and chocolate, jewellery and handicrafts, roasted nuts and cinnamon-scented baked goods. Before it gets dark you could shop anywhere nearby, like the nearby Neuer Wall, Alsterarkaden or Europa Passage. We did a tour of the town Hall before it got dark, and that, as well as a film of Miniature Wunderland, are in our many films of Hamburg under the port menus above.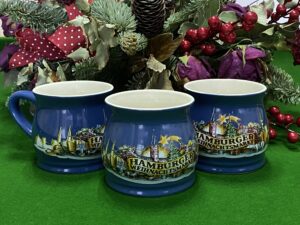 CAN YOU TRAVEL? At the moment, for most cruisers, it is just a paperwork and proof of vaccination nightmare to cruise but there are some changes and here is a broad brush stroke. And, quarantine on return to the UK, currently until a negative test is received which is around or at least two days.
ONBOARD – expect that you might have to be tested several times during your cruise and that your temperature may be taken daily. We understand this happens on some cruises, possibly Viking and others.
BOOSTER – do I need one? When? The answer is a bit like the mess on the passports we have seen. Your ten-year passport runs out ten years after the start date regardless of what it says as an end date (unless the end date is sooner, then it is sooner). COVID jabs have an end by date. Your NHS app may show and end-by-date. But, as a rule of thumb, there is a time limit on vaccination being adopted and it appears to be 6 months after the last dose. That is the point when a booster may be demanded.
CHILDREN – What happened? The UK is small. America is the world's largest cruise market, with Dodge Island (Miami) being the centre.
It is where I based the office of my Miami Vice-like, UK and American cruise crime-busting duo, for my cozy CSCI mystery series of books. (a great present for a cruiser, and the income this year has gone on improving the Doris Visits ships and fleet menu online). Most cruise ships including Cunard, P&O, Marella and SAGA are at least in part, USA owned. It means what America does, others sometimes use as a benchmark. Over-fives in the US are being offered the Pfizer vaccine. It has made cruising with British children sailing especially in the Caribbean and now in many other places impossible this winter, as the UK are not yet double-vaccinating five-year-olds.
MOBILE PHONE AND APP – Can I travel without some form of digital device? It is getting harder as some cruise lines are adopting both a track and trace as well as booking systems using their own proprietary apps to get access to some venues from theatres to swimming pools, which may be operating at restricted capacity. Some lines like Princess have a digital medallion and on some lines, the cruise card is going in favour of a digital device to open your cabin door. It seems the virus has sped up a digital future.
At home, small gatherings are easy as we can all agree to flow test before we meet, and as cruise ships demand the same, they are doing their best to be amongst the safest place to be. We know a cruise lounge or restaurant is airier than on land alternatives, that they have strict hygiene protocols and have upgraded air conditioning systems, internal trace and trace have quarantine rules, but the problem lies in getting on and off, and then returning home.
I guess we have to remind ourselves that last Christmas was worse, however, this Christmas is becoming a little more strained. Last night we had an Indian meal delivered from our local and the owner brought it himself. It was nice to see him but he was masked and stood back from the door. That was as expected, but a reminder that life is still a worry. He also told us that every, not just a few, but every Christmas party and booking they had, has been cancelled. Cruisers with families know only too well, that children have become a problem as most UK children are unvaccinated.
As Doris Visits is essentially a port guide cruise site, with us filming destinations for our YouTube channel it is over a year since we have been able to either do what we do or indeed shout about the ports we have filmed. But it is Christmas, and I came to the decision this morning that I would highlight our Christmas Market films and ports at Christmas. A cup of warm mulled wine and a few minutes to look at Hamburg Christmas Market first.
It is important to add that the UK has designated Germany as a 'high-incidence area'. The local rules and our rules both apply. Cruisers may enter Germany from the UK for any travel purpose if they are fully vaccinated.
However, travelling with children is not easy at the moment, not least because many ships are running limited or limited capacity children's clubs. Rules for Germany state that unvaccinated children under 12 years of age although allowed to enter Germany have to quarantine on arrival. That does not work for a cruise day visit. Quarantine lasts five days. Travellers who are not fully vaccinated and do not meet one of the exemptions may not currently enter Germany from the UK.

All travellers entering Germany from the UK are required to complete pre-departure digital registration, regardless of vaccination status. You must check the return measures required to re-enter the UK. You must realise that this can change and that returning can include quarantine at your expense and this may include over Christmas.
All that said, I think posting the Christmas market films are a way to celebrate Christmas even if you can't go. So, mulled wine, which I will do in my Hamburg Christmas mug, and watch the film.
HAMBURG CHRISTMAS MARKET – our blog
Probably our favourite Christmas market, it does find itself on many Christmas market cruise itineraries. The city itself is both charming and compact enough to be inviting and easy. The ship normally docks early and allows a long day so the visit becomes even easier and more interesting.
We have a Hamburg guide film which is very informative, but you can if you get book on-line get a morning ticket for Winter Wunderland. See our film, it can easily take two hours just being casual, and looking for all the detail and clues double the time. Then along the warehouses is a coffee roasting house and cafe which is a very relaxing and interesting contrast. By this time, the sun will have dropped and it will be time to head back to the town hall. The market is very well organised, large cabins in rows and the stalls selling hot red spiced wine appear to have to use mugs rather than littering disposable cups. The mugs have a deposit, but we liked them so much we kept them and got another round to make a set of four very memorable Hamburg Christmas mugs.
There are satellite markets, one at the church with the time clock inside. see the Hamburg guide film, and the other by the lake where the boats are also lit and decorated. It is very hard to beat as a Christmas market. The great news about Hamburg is the shuttle bus stops a short walk from the town hall, the other two markets are close.
Oslo Christmas Market Copenhagen Christmas Market Christmas decorations in the Caribbean
Health and Travel Insurance and Antigen Tests are being checked. ENTRY REQUIREMENTS are changing daily. Here is your help. We list some cruise travel insurance companies used by guests and some Antigen Test bodies. We advise that you shop around and read ALL the small print, and use insurance and tests appropriate to your travel requirements and contracts that you are entering into. Also, as many countries now demand a double vaccination for all ages this is causing problems with families who have children who are not yet vaccinated. The rules change. The Government online page should be up to date – here is the page for SPAIN.
CRUISE INSURANCE OPTIONS
Cruise Insurance from Just Travel Over seventies Insurance from Just Travel
Cruise Insurance from StaySure SAGA cruise insurance TUI/Marella Cruise Insurance
PLF – Passenger Locator Form
This is a form that can be required to enter a country. The UK uses PLF, other countries have their own rules. CHECK CURRENT ADVICE HERE
Expect your cruise operator to check your insurance, and tests so carry multiple copies where possible. Carry your insurance at all times, especially on a port day. A photocopy backup of important documentation is good to have in a second place. Always have any medical card, EU Medical card or European medical card.
Expect insurance companies to ask for your medical records before they payout. It has always been a condition of booking a cruise that you have cruise valid insurance. Booking a cruise means you are entering and agreeing to a contract and the terms and demands.
At Doris Visits we suggest you are
correctly insured
and that your
EHICard
(or similar) is up to date. (Yes it has a validity date on!!!)
I intend not to get into an argument with anyone as to the validity of any card, arguments are for barristers to do and judges to rule on. But if you are lifted off a ship, and your partner follows and stays in a foreign hotel while you are in hospital, they may need the EU or equivalent card as they are now in a foreign place. It can get complex. As you leave the hospital and travel home, you may need an EU or similar card. (Similarly, if you are put off a ship after being arrested. Fighting or shoplifting or any crime on a zero-tolerance ship).
There are some modern complications with the card now we are not in the EU. However, we are still in Europe. There is the EHICard. The new UK EHICard and a UK Global Health Insurance Card (UK GHIC).
Press here for the link to take you to the government GLOBAL HEALTH page
Link the box uses is this – https://www.nhs.uk/using-the-nhs/healthcare-abroad/apply-for-a-free-uk-global-health-insurance-card-ghic/
Always expect it can change, you may have to isolate or quarantine, it will most likely be at your cost.
cozy mystery cruise thrillers in paperback and eBook all set on a cruise and written like movies or TV series. Well, that is where I spent the last 50 years! The income is reinvested into this Doris Visits online resource and filming the port guides. – Take a look at the menu.
4/12/885/242