What is in the 5 Euro tour?
The Cruise ship shuttle bus will almost certainly drop you off at the town hall, and you must go inside. A very ornate building, very proud, and amazingly almost untouched by war. The tour locations, as seen in our film, are well worth the 5 Euro, plus you get a presentation by a very informative guide which they ask not to be recorded. You can take pictures but no flash. Hamburg Port Google Map
Cruise Doris Visits Subscribe. Thank you
This new Town Hall, or Rathaus, replacing the wooden one that burnt down in 1842, was built between 1886 and 1897 and it survived the bombing. The square outside is used for one of the best Christmas Markets. It has fewer rooms than Buckingham Palace, which is a sometimes mis-told line. It has 647 rooms and stands on over 4,000 oak piles with a very elaborately decorated façade, flanked with 20 statues of previous emperors. The Latin inscription over the door translates to "The descendants shall seek worthily to maintain the freedom achieved by their forebears." The inner lobby is even more impressive, and the rear courtyard can be seen free. The rooms on the 5 Euro tour are again impressive and the short informative tour is worth it. It goes at set times, so check when you get off the bus and fit it into your day accordingly. They include portraits of former speakers, the parliament debating chamber, and the imperial hall, or Kaisersaal, which was named to represent a visit by Kaiser Wilhelm II at the opening of the North Sea-Baltic Canal. The ceiling has paintings reflecting that period of merchant shipping.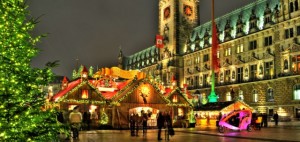 Many of the smaller ships will do Christmas Market cruises and once again Hamburg and the Town Hall features hugely in the itinerary. Cruise and Maritime (click the picture for possible deals) will undoubtedly go here. The very spectacular market is held in the square outside the town hall, making the two a great visit, without the other site of Hamburg. – See Jean Heard's tour of Hamburg City for Doris Visits.
Amazing 3d pictures, best watched after the video so you understand the orientation.
If you are thinking of a Baltic Cruise (click) here is our menu of every major Baltic Cruise destination and some tours and excursions on video, plus tips.CLICK HERE for our new BALTIC CRUISE destinations menu – All parts and tours together, then a choice of every Baltic port in its own menu. CLICK HEREP&O Cruises to St Petersburg – Click hereFred Olsen Cruises to St Petersburg – Click hereMarella Cruises to St Petersburg Cruises – Click me
SEE THE CRUISE BEFORE YOU CRUISE THE SEA.