Hans Christian Andersen (2 April 1805 – 4 August 1875) spent much time in Copenhagen, we retrace his footsteps and share what you can find of him here.This is a chance to make up your own tour and find some secrets in Copenhagen that even the tours don't share. His lodging rooms, his houses, where he worked and played.
Cruise Doris Visits Subscribe. Thank you
A few features relating to his life are discussed and pointed out on the free walking tour but you can do it yourself. See our wonderful film, and don't miss taking the kids to Ripleys near the town hall, then his bedroom on the way back.Ships Dock Here – Google Map position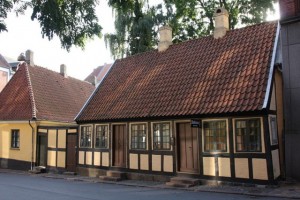 He was born in Odense, the son of a cobbler, and he spent his childhood years there. Odense is the main city of the island of Funen, Denmark; 45 kilometers (28 mi) north of Svendborg, 144 kilometers (89 mi) to the south of Aarhus and 167 kilometers (104 mi) to the southwest of Copenhagen where Anderson eventually went. Odense is famous for Anderson and where the last Viking King, King Canute IV was murdered in 1086. They have an HCA walking tour and the house where he was born is now a museum with exhibits and listening stations with stories, as well as original drawings and papercuts made by Andersen himself. If you decide to go all the way to Funen, then you have the open museum. The University of Southern Denmark was established in 1998 with the University of Odense and has a Hans C Andersen program.
TIVOLI PARK WALKING TOUR MERMAID STATUE ROSENBORG CASTLE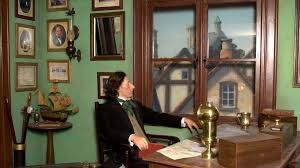 Ripley's Believe It Or Not, Copenhagen has an HCA section which will suit children and those interested in his life. They have a lot of detail. It is better than a long walk to the Mermaid statue and is just by the Town Hall. It is a great place to start before looking at his statue the other side of the town hall opposite Tivoli. Plan it so the department store is still open, then go and see his bedroom, before heading to Nyhavn. Just like Doris Visits, Anderson eventually became a writer of travelogues!
in his earlier years it was Fairy Tales, plays, poems and in his later years, novels. Often thought of as a children's writer his works were deeper touching all ages and cultures. He wrote hundreds of fairy tales, but the adaptations of those works are more focused on children and often less dark. We wonder if works of his such as the Emperor's New Clothes had any bearing on the unproved rumours that either his grandmother was related to royalty or that he was the illegitimate son of King Christian VIII. Find your ship's chat site + share your pictures + experiences to help others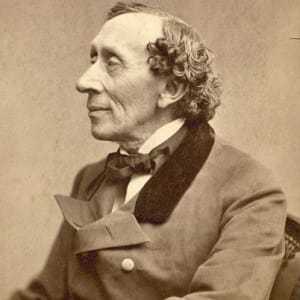 As a child he was intrigued by travelling actors and entertainer groups, and it is inferred that he was bullied because of his gentle nature. His mother Anne Marie Andersdatter, was an illiterate washerwoman, but his father had an education and introduced him to stories with the Arabian Nights but died when he was only eleven. Anderson, who had spent much of his time having to look after his father was released to a poor school where he was apprenticed as a weaver and a tailor. Given all that it is quite amazing that at fourteen he travelled 100 kilometers away to Copenhagen to try and seek work as an actor. Where his soprano voice had been developed is unclear, other than a self inspired dream. Where he got the money or courage to travel is also unclear.
Your Copenhagen Hans Christian Anderson tour begins just steps from where the shuttle bus drops you at Kongens Nytorv. It kind of ends there too. The department store over the road, Magasin du Nord, was then Hotel du Nord, and where he stayed walking over the road to audition as an actor. He was not accepted, but they took him as a singer. The theatre just along from where the shuttle bus drops you. The Royal Danish Theatre accepted him because of his voice, but his choir-boy-like tones soon dropped and he no longer had a place. Luckily his writing skills, especially his poems had not gone unnoticed and Jonas Collin, the director of the theatre sent Anderson to a Latin grammar school in Slagelse, 100km south west of Copenhagen. But, maybe there is another side to this story, because Anderson was in love with Louise Collin, the youngest daughter of Jonas. That could have been why Hans was not pleased about being sent into exile. Anderson, now 17, and having already published his first story, "The Ghost at Palnatoke's Grave" considered the education a waste of time a nuisance.
Here is where another rumour begins, because Jonas Collin persuaded King Christian VIII to pay the larger part of his education, there were rumours the King may have been his father. Anderson was religious, and prayed for God to give him a wife, but instead he was sent to a high school in Helsingor some 45 Km along the coast from Copenhagen. Famous for the Kronborg Castle, which some say is the inspiration for Shakespeare's Hamlet, Helsingor does not seem to mention Anderson as one of its historic past.
Cruise Doris Visits Subscribe. Thank you
The reason may be that there is an assertion that here he lived at his schoolmaster's home, where he was abused, being told that it was "to improve his character". Said to have been the darkest and most bitter years of his life, he left this school at 22, having been discouraged from writing, and leaving him with depression. During this sad period, he wrote a The Tallow Candle, a tale about a candle that felt he was unappreciated. For a young fourteen-year-old who ran away to the city with such ambition, it appears education and school masters had the wrong effect on him. Luckily for us all he escaped back to Copenhagen.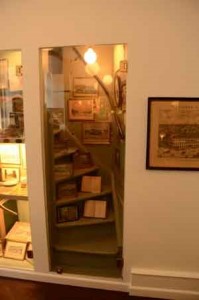 H.C. Andersen spent the majority of his life living in three different houses in Nyhavn (seen on our film) where he wrote some of his fairy tales. No. 9, Nyhavn, is the oldest house in the area dating back to 1681, HCA lived at number 20 where he wrote the fairy-tales 'The Tinderbox', 'Little Claus and Big Claus', and 'The Princess and the Pea'. He also lived for 20 years at number 67 and 2 years at number 18.
On returning at 22, he lived (1827-1828) opposite in the department store, Magazine du Nord, which was also previously a hotel, Hotel du Nord. His room is on the 3rd floor as shown in our film, so you can see what to look for because it is hidden. It is just over the road from the shuttle bus. The square, theatre and department store are seen on our film guide of the free walking tour – click here –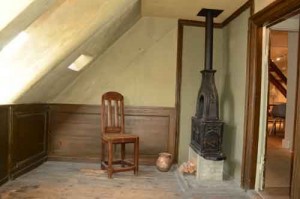 In 1944 he proposed marriage by note, to the Swedish opera star Jenny Lind, who turned him down calling him a nuisance.
Anderson was gender fluid, and also felt femininity which he wrote asking Edvard Collin to keep as their secret. But Edvard, who was not gender fluid wrote that the affectations of Anderson were embarrassing, "I found myself unable to respond to this love, and this caused the author much suffering." It appears a few of the men Anderson approached were incorrect choices. Anderson does not appear to have had any successful relationships with men or women. HOP ON+OFF BUS
In 1847, Andersen visited England and met with Charles Dickens, one meeting I would love to have sat in on as both men had so much to say about life that would have sparked an incredible conversation. By the 1850's Anderson was writing travelogues. In 1872 Anderson fell out of bed and injured himself, from then on his health deteriorated. He discovered he had liver cancer. He planned his own funeral right down to Andersen consulting with a composer about the music, saying: "Most of the people who will walk after me will be children, so make the beat keep time with little steps."
Take a look around Doris Visits and get more out of your cruise research – guides, tours, cabin tours, ship tours, news. AARHUS COPENHAGEN FREDERICIA GDANSK GOTHENBURG HELSINGBORG HELSINKI KALUNDBORG KIELE KLAIPEDA MALMO OSLO RIGA SKAGEN ST PETERSBURG STOCKHOLM TALLINN TRAVEMUNDE VISBY WARNEMUNDE
His childhood house is in Odense, his schools are miles away, his homes in Copenhagen, statues everywhere:-
HOMES INCLUDE
STATUES INCLUDE
Ripleys Fairy Tale House has models in Copenhagen.
The Little Mermaid statue is in our second Copenhagen film because it is not on many city walks, being out of the way on the bank of the water between the ship's berth and town.
There is a Hans Christian Andersen statue in the Rosenborg Castle Gardens, Copenhagen. It is the oldest and most visited park in Copenhagen. It is literally the Kings garden and was established in the 17thcentury. It is a nice place to visit.
The Rosenborg statue appears to be the only one in Copenhagen.
There are two in Odense
Sidney, Australia, one in Solvang, California, one in Bratislava, Slovakia, one in Lincoln Park, Chicago and my favourite, Hans with the duckling in Central Park, New York.
SOME OF HIS WORKS (click picture for Kindle version)