Honfleur flourished after the French Revolution, when the hereditary monarchy and the feudal system of French nobility were abolished and it's ship owners could start a slave trade of their own. The local shipowners made fortunes from North America and Canada where Samuel de Champlain, a local explorer founded the Canadian city of Quebec. Looking at the enchanting area now it is hard to think it was built for commerce.
Its harbour is tucked into the southern side of the Seine's estuary where the river meets the English Channel. It was fortified into a strategic stronghold during the Hundred Years War by the French king, however it didn't stop the English taking over for several decades when many buildings were destroyed. P&O Cruises to HONFLUER – click here to look and book The old harbour (Vieux-Bassin) is lined with 16th to 18th century townhouses with colourful window boxes of tumbling flowers in narrow cobbled streets. These have been a subject for artists including Claude Monet and native son Eugène Boudin. Works by Monet and Jongkind are on show at the Eugène Boudin Museum, named after Honfleur's most famous painter, whilst Maisons Satie offers a quirky tribute to the composer, Erik Satie.Fred Olsen cruises to HONFLUER – click here to look and book Each area of the Vieux Bassin have their own distinctive character. To the east, around the church of St-Etienne, is packed with interesting buildings. The western area slopes up to the splendid wooden church of Ste-Catherine, a vaulted timber structure erected by shipbuilders entirely of wood dating back to the 15th century. Here you will find the town's main museums dedicated to its artists, poets and musicians. Central Honfleur's southern area is more discreet, but well worth exploring too for its architecture, including St-Léonard church and the restored fountains.MEDITERRANEAN CRUISE DESTINATIONS – MENU – CLICK HERE FOR GUIDES, TOWNS, CITIES & TOURSAlso look for Notre Dame de Grâce, a 17th century chapel containing various painting and models, where fantastic views of the town, the Seine estuary and Normandy Bridge can be found. There are galleries, craft shops, and Lieutenancy, an old salt stores and maritime museum.
Cruise Doris Visits Subscribe. Thank you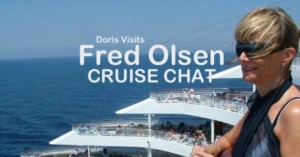 Join one or two of our friendly chat communities. Cruisers are normally extremely knowledgable and enthusiastic about cruising. Between them there is a huge knowledge base and on the chat sites we encourage everyone to share their positive experiences. We try not to be critics, as people who have worked on stage and in film all their careers, we know we can't please all the people all the time, so by just saying what it is, how to get there, the cruiser can make up their own mind.
No two people like the same thing. So we don't encourage the need to share what you didn't like, for someone else who did like it may explain it in a different way. A singular bad experience should be resolved with the cruise operator and not on the Doris Visits Chat sights. These are for people who like cruising and want to share, and they are also there for those new to cruising who want to ask. When you join one, you can jump to one of the others easily.