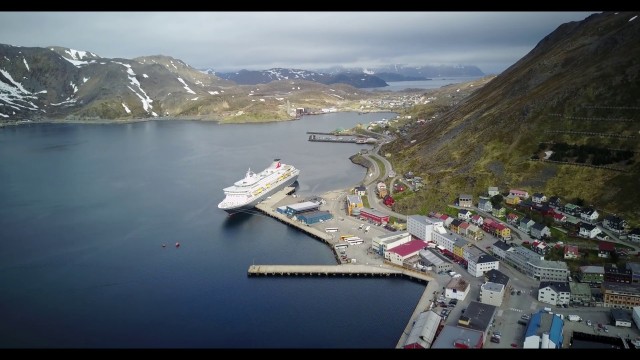 The Fred Olsen ship Balmoral in the Honningsvag Fjord. A wonderful overview of the cruise destination by low flying DRONE. This is a busy fishing village and the things on offer to see are.
Research tours where you can, then decide which ones you might take. If on line tours are available they will be here. Here is what the ship may offer and what there is to see. Marella Cruises here
Walking tour taking in the Ice Bar.
King Crab by Rib, a tour of the Fjord.
Magerøya Island with its pretty fishing villages and quaint craft and gift shops.
Journey through the wild, desolate terrain and climb to the North Cape. Here the Norwegian Sea, part of the Atlantic Ocean, meets the Barents Sea, part of the Arctic Ocean.
Hiking and Kayaking are available, and fishing can be found locally. PORT GUIDES – FJORDS MENU OF DESTINATION GUIDESPORT GUIDES – BALTIC SEA MENU OF DESTINATION GUIDES
Cruise Doris Visits Subscribe. Thank you
You will need to click the YouTube button after starting the film as Sony ATV own the Beatles music on it, it has to be played on that platform. The ORIANA is one of the many ships to visit here.
Take a look around Doris Visits and get more out of your cruise research – guides, tours, cabin tours, ship tours, news.
ANDALSNES BERGEN FLAM OLDEN OSLOFJORD SKJOLDEN STAVANGER TROMSO REYKJAVIC AKUREYRI ALESUND ALTA BODO EIDFJORD KLAKSVIK TORSHAVN GEIRANGER HAUGESUND HELLESYLT HEIMAEY HONNINGSVAG ISAFJORDUR KRISTIANSUND LOFOTEN ISLANDS LONGYEARBYEN NARVIKNUUK QAQORTOQ TRONDHEIM