So, what's Hurtigruten like, David? You see… usually we choose P&O. That's just our style. But this Hurtigruten cruise had lots of appeal. I mean… who wouldn't want to explore the picturesque coast of Norway and see the Northern Lights.
Our HURTIGRUTEN CRUISE EXPERIENCE  By David Withington – How To Cruise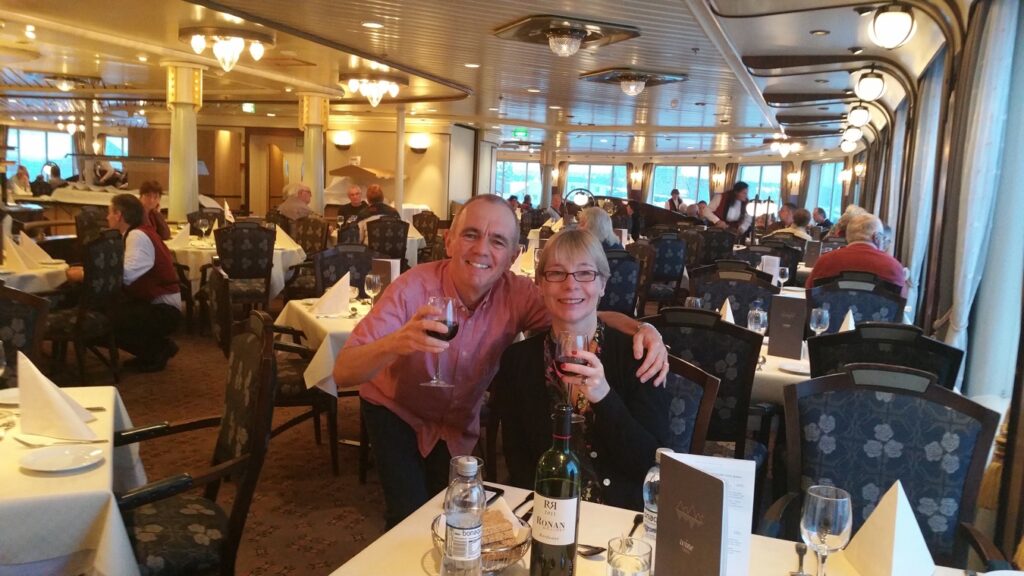 David and Christine travelled on the MS Finnmarken. Now called the Otto Sverdrup, it had a capacity for about 1000 passengers (although some sources say as few as 628 passengers). The odd car creeps in the cargo area too. Whatever, it was a nice cosy size when compared with the 5000+ capacity ships. But you won't find the MS Finnmarken around anymore. It's now known as MS Otto Sverdrup, named after a great Norwegian polar hero.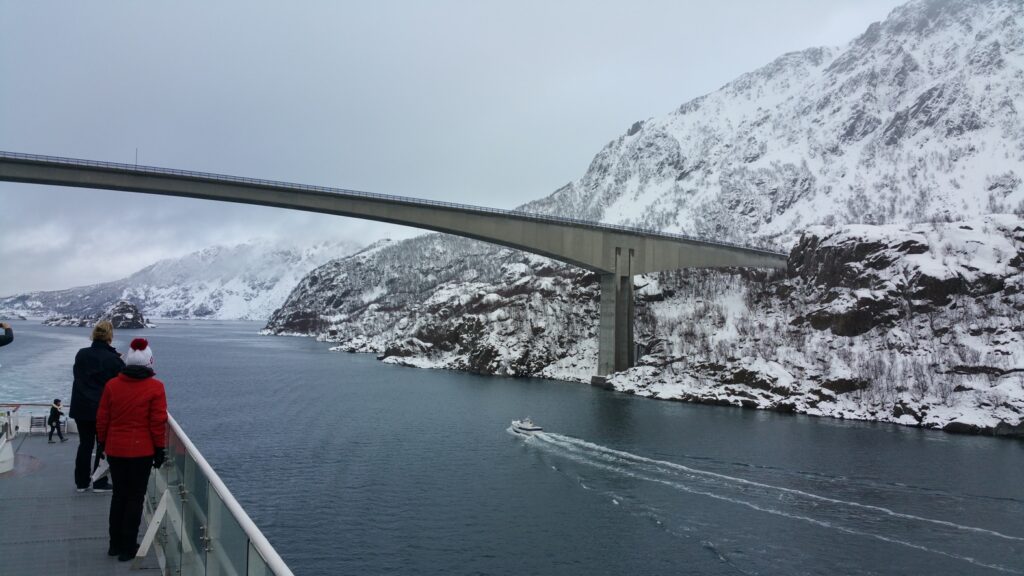 Our cruise took us up the coast of Norway and around the top to the Russian border.
It was March time. So the further north we sailed, the colder it got, and the more snow appeared on the landscape. That enhanced the beautiful scenery.

But the part which I remember most about the cruise is this: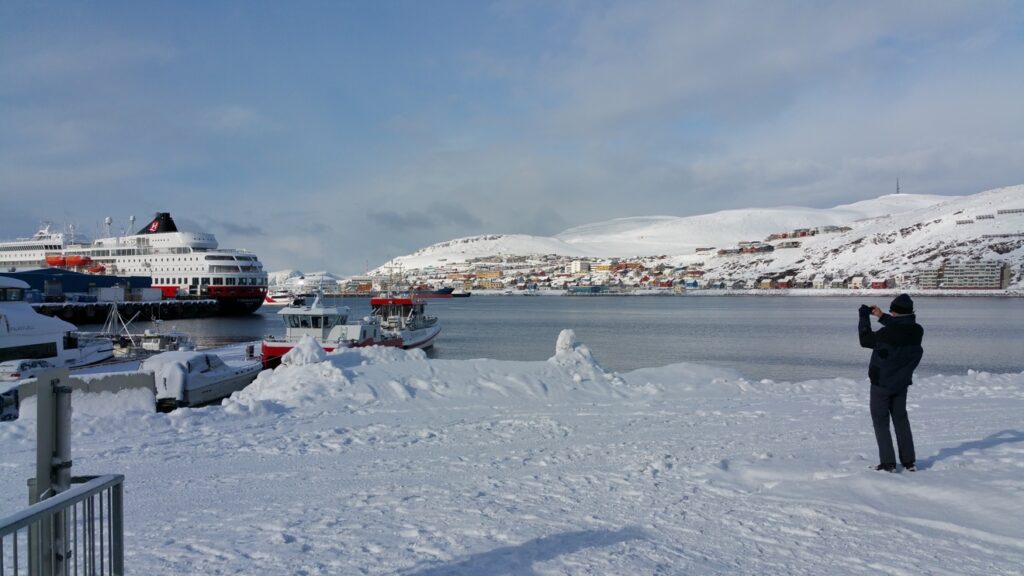 The cruise ship also served as a service ship, carrying day-trippers, cargo and mail. That meant our cruise ship delivered mail to remote islands.
So, when we discovered our ship was planning to dock in some harbour of a tiny village on an island for 15 minutes, we donned our winter woollies and snow boots, and spent a memorable 10 to 15 minutes exploring the beautiful snow-covered village.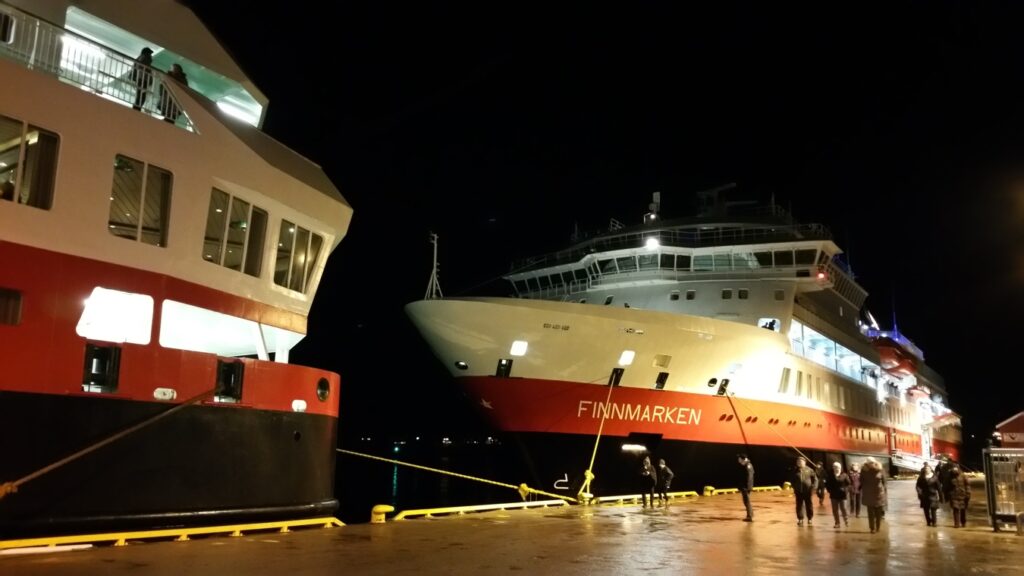 There were a few of these short stops. You could choose to explore the harbour and its village or town, or stay on the ship. But some stops were during the night hours whilst we were fast asleep. We chose to skip those!
Of course, these short stops were in addition to the normal tourist stops.
Excursions
As with most cruise companies, Hurtigruten offered a range of organised excursions. Even if a bit pricey, we found the organised excursions to be good. But because this was all new territory for us, we usually decided to explore the local towns ourselves on foot.
Dining on Hurtigruten
The Hurtigruten MS Finnmarken had only one restaurant, providing a buffet-style breakfast and lunch, and waiter-served dinner. So what was the Hurtigruten dining experience like?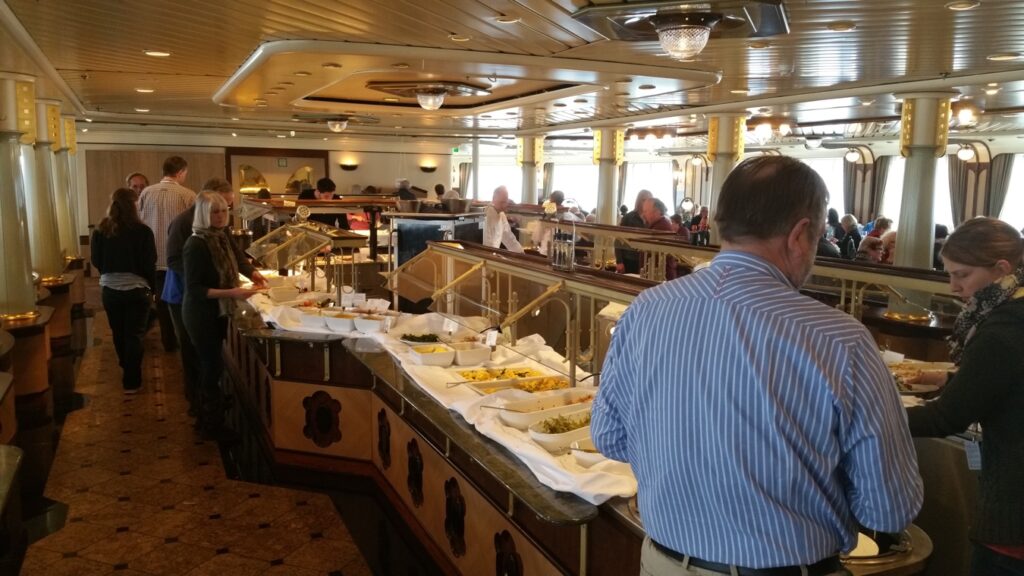 The food was wonderful. As you'd imagine with a Scandanavian cruise company, there was a healthy variety of fish on the lunch buffet – as well as delicacies to suit other palates. At dinner, there was a choice of two sittings.
So far, not much different from many other cruise lines' dining style – except that Hurtigruten didn't offer us the choice of freedom dining.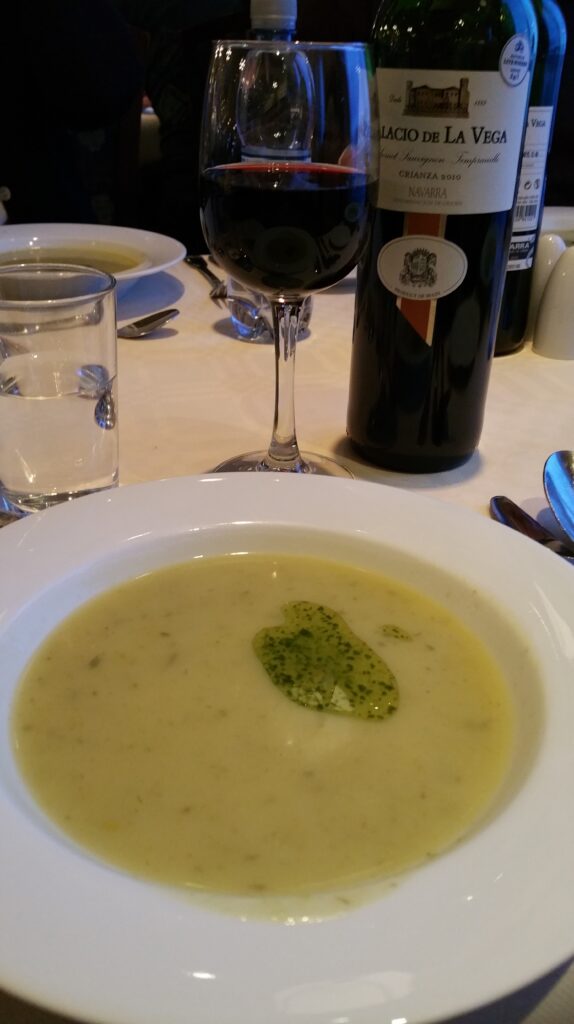 On week one, we shared a table with a young German lady and her Grandmother. Why the multicultural mix? Because there was a good blend of Norwegian, German and British on the cruise. Grandmother spoke no English, so we alternated between Granddaughter translating and us using our tourist German. But that made the dining experience even more enjoyable.
On week two, we shared the table with a British couple with whom we've been friends ever since. But isn't that what happens on cruises – meeting great people?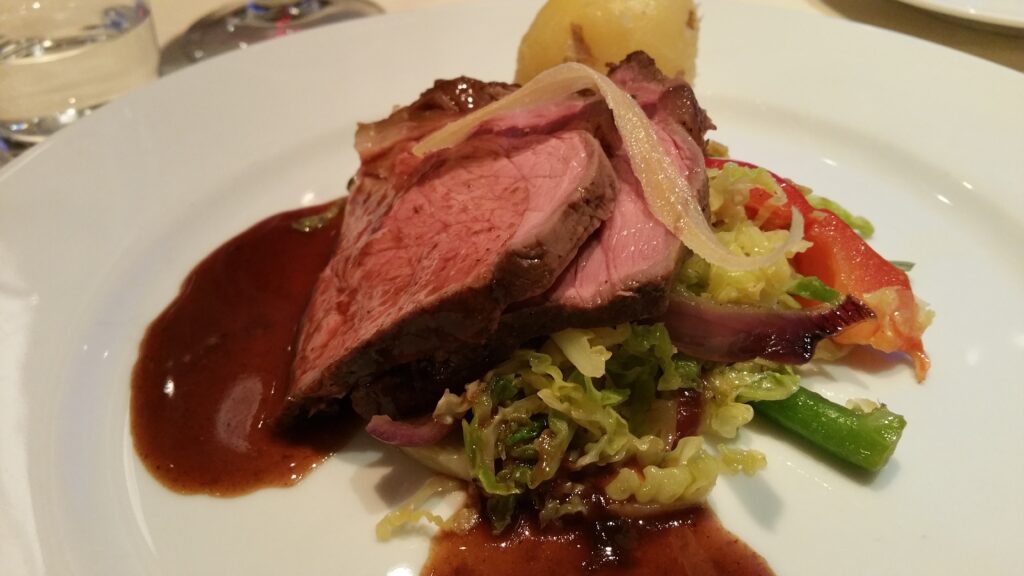 Our travel agent threw in the wine package; that was a bottle of wine each evening to compliment the food. The Hurtigruten wine selection was so good that our fellow diners bought the same (rather expensive) package whilst on board.
Dress code for dinner was always smart casual.
These links take you to the cruise operators own website - book direct - have your online contact direct with them
Entertainment
On our normal choice of cruise, P&O, there are theatres and other entertainment venues to watch musicals, listen to comedians, and enjoy lectures. Or you can sit and listen to resident musicians. Lots to do. Lots to see.
But on our Hurtigruten cruise, there was none of that. Instead, we enjoyed a drink in the bar with the friends we'd met on the cruise. Or we sat and read a book whilst watching the amazingly beautiful Norwegian landscape go by, the hills and mountains turning whiter with snow as we ventured further north.
Perhaps I'd describe our Hurtigruten experience as quieter and less flashy than P&O.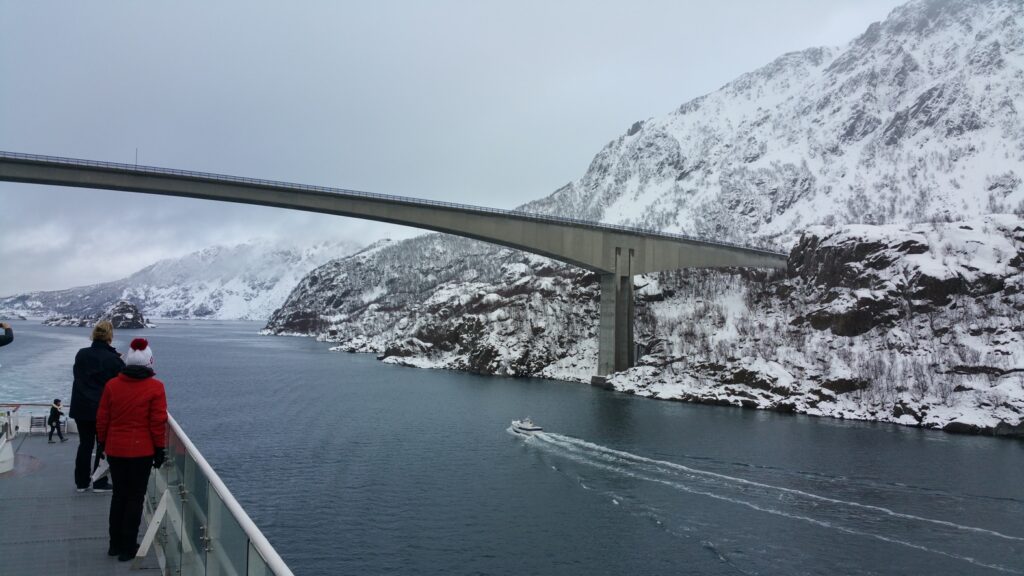 As well as the bar services, we were able to purchase snacks and drinks. And, of course, there was the obligatory shop, selling essentials and memorabilia.
As we crossed the Arctic Circle, King Neptune made an appearance and passengers were invited to participate in a traditional ritual that involved ice down their shirts.
WiFi on our Hurtigruten ship was free. It started off with a reasonable speed but got slower as the cruise progressed. That was probably because of phone apps trying to continually update over the limited bandwidth. But at least it was free.
1 Fly from the UK
1 Bergen, Norway
2 Ålesund, Norway
3 Trondheim
4 Arctic Circle
4 Lofoten Islands
5 Tromsø
6 Honningsvåg
6 Hammerfest
7 Kirkenes
8 Hammerfest
8 Tromsø
9 Harstad
10 Arctic Circle
11 Trondheim
12 Bergen, Norway
12 Fly to the UK
Lasting Impression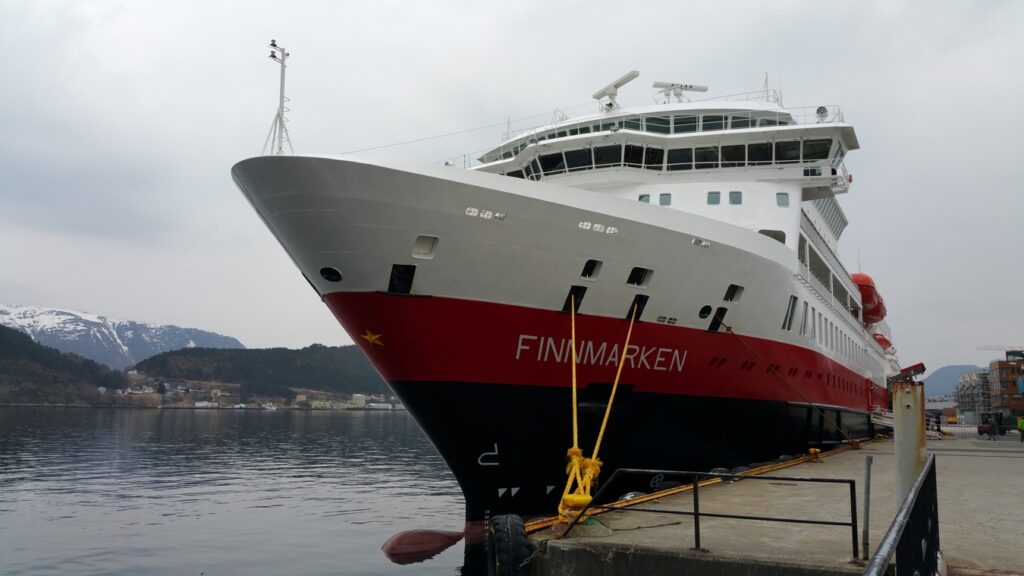 So, what was my lasting impression of our Hurtigruten cruise?
Considering it was back in 2015, I still remember this cruise well. And I put that down to these four things:
The additional 15-minute stops
The incredible beauty of the landscape, towns and villages
The smallness of the ship and the community spirit
The cuisine
Oh, and we saw the Northern Lights! That's something else ticked off my bucket list.
Yep, from our experience, a Hurtigruten cruise is definitely one to experience, at least once in your lifetime.
David Withington