Most Canary Island Cruises will follow this typical route, though Fred Olsen ships do take in the Moroccan coast. I have always wanted to see Rick's bar in Casablanca.
The Canary Islands itinerary is a favourite on many ships, no flying, no weight restrictions, often Southampton to Southampton.
Add that to often nice weather and flat seas and it is a no-brainer.  Follow this film of a route compilation.
Cruise Doris Visits Subscribe. Thank you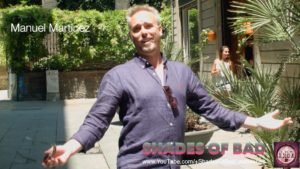 First up three days at sea with some great entertainment including Manuel Martinez, 'Tina Turner' and day time saw film celebrity guest speaker Stuart St Paul in the theatre.
We arrived in Madeira to leave the next morning at 1130 hours, which is not re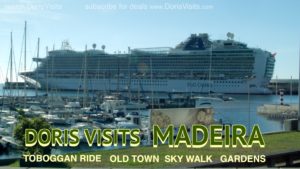 ally two days in Madeira. That might catch you out. But it is an evening out for many of the crew as well as the guests as they get a chance to dine out in a city. Madeira is terrific and as one guest said to us, no matter how many times he comes back there he always finds something new to see. With great weather we made three films we encourage you to see. The Madeira Guide, the Famous Toboggan Ride and the Tropical Gardens. Then there was a relaxing afternoon at sea to prepare early for the evening. Madeira Tours available.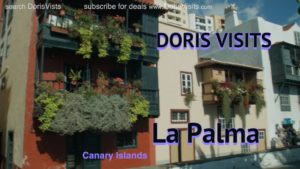 Now in the Canary Islands region, we had a long day ashore in La Palma. Back on board at 17.30 is a treat. La Palma is the smallest and least known of the Canary Islands but easy to walk from the port to the castle and back. Our film shows you most of what you might like to see. La Palma Tour Options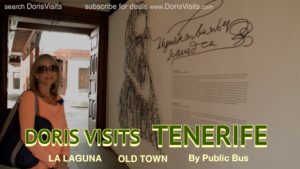 Tenerife back on board was 22.30, another warm weather evening in port. The ship berths in Santa Cruz de Tenerife, the capital city. Easily walkable with plenty to explore. We went to the old capital of La Laguna a very stylish old town. We have many films with options on the Tenerife menu. Tenerife Tour Options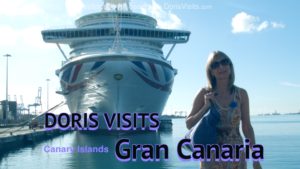 Gran Canaria offered normal hours on shore, leaving at 1737 hours. It gave us time to go by bus to the old town and see the Cathedral and old houses, including Columbus's house where he never lived, but there is a museum of relics from his frequent visits to repair his ship, then get a bus down to Maspalomas Beach for lunch; two films in the menu. Gran Canaria Tour options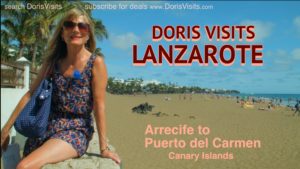 Lanzarote was the last warm island and curiosity to see a small seafront bungalow we once owned in Puerto del Carmen. We wished we could have afforded to keep it, as yes, we had guessed, it was now a shop and probably worth a lot more. We did walk around in Arrecife and film the front and what is there despite it being closed as it was a Sunday. Puerto del Carmen is about 15 minutes on the local bus. Many people opted to visit the famous Sunday market in Teguise, again a quick, cheap and easy journey by bus, and one that we will do next time. Lanzarote Tour Options
Next day we were at sea and although many stayed late in bed Stuart was back on stage at 1100 hrs telling the tale of taking the legendary rock band Status Quo from Coronation Street to Fiji and making a film that had a West End premiere and was released by Universal. The Fred Olsen ships also take in the African coast.  Agadir, Casablanca and other options could be added to this route, and Marella Cruises loves this route with ships stationed here for the Winter Cruises.
Lisbon got off to a bad start. Extensive road works on both sides of the port meant solid traffic and as the buses have to go up the road to turn and come back it took 40 minutes for the shuttle to get back to the ship on the other side of the road. Our only sour moment of the whole cruise was that we asked a local rep if it would be quicker to walk and were given a short rude remark. We should have walked and like most others, we did walk back and will not use the Lisbon shuttle again. The town was very busy and with four ships in port, it was even busier with queues at the tourist office. It is not an easy city to see in a short time and most maps have a commercial inclination so we hope our film helps others see what they might want to do. We did it by Segway. Not an easy segway as it is rarely flat, the streets are cobblestones, but for the experienced or confident it is fun. Like Prague – hilly. Lisbon has so much to offer, I wish we could have stayed longer. But that is a good excuse for a revisit. There was a big sail away party. The weather was still great and everyone had a good time. Lisbon Tour Options – recommended as it is a complex city.
The next day at sea started the sail home and last rehearsals for the choir and their performance on the 20th, as many spent their time looking at brochures for their next cruise. Many booked while onboard ship. Of the 3,000 passengers on board, 2,300 were returning customers and of the other 700, many had cruised before. It is addictive!
Back in Southampton, wishing we were off again. The ship had sailed 3,384 nautical miles on passage and visited six great ports. Seven if you count Southampton, we don't have a film on that. England was cold and grey, but it's always nice to come home.