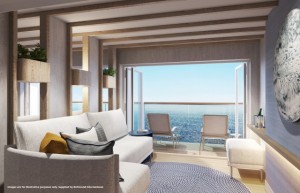 While few of us mortals can afford suites, I totally get the splash out why not it's our holiday approach. The Iona will be the first ship in the P&O fleet to have Conservatory Mini-suites. These will bring the outside into the living space. The ship plans to have as many as 95 of these cabins when releasing in 2020. These rooms will offer un-paralled views and ability to relax in your cabin. But when the ship looks great you will be torn, stay in the cabin – enjoy the ship. No wonder they have ordered two of these new ships.Click here to choose a date to see the new ship.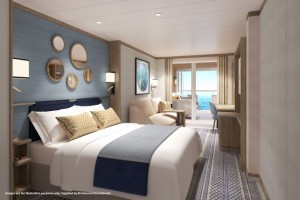 This comes from an study of other in depth studies of the future of yacht, airline and hotel accommodation. The space will have an L shaped sofa which may be closed off or left open. So, it will help the early breakfast for some while others are still sleeping. Or can be opened for evening cocktails.
P&O Cruises senior vice-president Paul Ludlow, said: "Iona's Conservatory Mini-suites will certainly make the sea the star, creating a peaceful and flexible space for our guests to enjoy a wonderful ocean view, feel cocooned and breathe the sea air. We know conservatories are popular with the British and the warmth and relaxation they bring can now be enjoyed on board. From sunrise to sunset these cabins will offer our guests a tranquil escape in luxurious surroundings."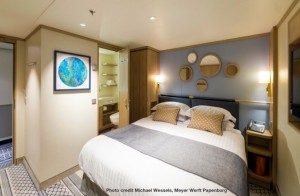 Ioan will have a wide range of cabins, so there will be chances to use this floating city, which sounds like it is built on just a little rock and roll despite the stabilisers… musical joke … to sail on a budget or like a king or queen. The colour palette is going to be on the white tones, from sands to other natural hues. The soft furnishings will be navy blue as well as having port-hole mirrors on light blue walls. All celebrating company colours with colours of the sea and sand.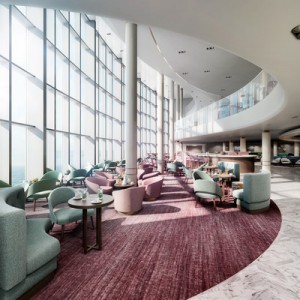 The inside is beginning to show a whole new style, here is a sample of the next IONA updates which we always publish on the IONA chat sites, please join if interested.
At Doris Visits we run no moan, just share chat sites. Whilst that might not suit all, if you like to share and chat totally focussed on cruising and not why someone's custard was cold, then help others find Doris Visits.
Try our web site CARIBBEAN – test us and add to it.
ANTIGUA ARUBA BAHAMAS BARBADOS BERMUDA BONAIRE CANAVERAL COSTA RICA COLUMBIA CURACAO CUBA DOMINICAN REP – AMBER COVE GRENADA GUADELOUPE JAMAICA KEY WEST MARTINIQUE MEXICO NEW ORLEANS PANAMA St THOMAS St KITTS St LUCIA Sint MAARTEN St VINCENT (& Bequia) TORTOLA TRINIDAD & TABAGO