The other acts talk about Jimmy being very good so I look forward to seeing him. He is an impersonator, but so good as Elton that seems to be rocket manning forward. Having seen the chatter on the Facebook Group 'Britannia Chat', Jimmy must have been on B727 and they are raving about him too. It looks from this film found on YouTube as if Jimmy is playing on the Azura, but he is a regular on the larger cruise ships we have just missed him. The one thing that shows up how good an act is, is when you see them in the cold light of YouTube, and yes, he is a brilliant Elton John. So, having worked with the real Elton many times, I occasionally show me being airlifted in his guise for the pop video 'I'm Still Standing' in my show. … I look forward to meeting Jimmy. His Facebook page.
St Kitts Port Basseterre Town Dubrovnik Old Town FJORDS CRUISE
Cruise Doris Visits Subscribe. Thank you
Here is a treat, Dean Richardson was on with him earlier this year and they did a duet together, so that must have been awesome and strange. Dean does Freddie Mercury. Can you imagine the chemistry that night on board ship! That is like having a beer with the Robbie Williams tribute and Jon Fisher, the foremost Gary Barlow tribute. They met from different ships moored next to each other on a wet day in Bergen earlier this year when we walked out filming with Manuel Martinez (who appears briefly in the Bergen video) when they all tasted whale meat. Oh the fun at sea.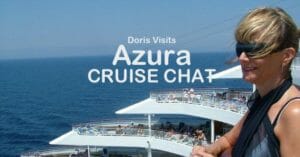 Click the picture or click here to join the Azura Chat if you have seen Jimmy as Elton on the Azura and share your knowledge with others. Azura Chat with Doris Visits. If you wish to become a moderator let us know.
He might be playing on land near you, check out his date list. Jimmy is not hard to find and seems to have a number of agents who can book him if you have a event that needs something special.
Find out more about the entertainers and show cast you see at sea & share with friends.
Want to look around the ships, take a look at our ship tours.
If you are new to Doris Visits Cruise TV then welcome, we invite you to comment at the end of our blogs, and ask you for follow us on here on www.DorisVisits.com and like us on Facebook and follow us on Twitter and subscribe to our YouTube Channel to get the best from us. We are always looking for a social media persons to help us expand so drop us a line anytime at [email protected] PLEASE SHARE
SEE THE CRUISE BEFORE YOU CRUISE THE SEA. We show cruise destinations all over the world. From St Lucia to Barcelona, from Tallinn to Tenerife, from Rome to Russia. Please follow us on Facebook and Twitter and share.
CRUISE INSURANCE MED CRUISE MOVIES MADE AT CRUISE DESTINATIONS
READ THE CRUISE BEFORE YOU CRUISE THE SEA. In the book charts!
Sally Katz used the films on Doris Visits to peg her books on! With permission. Each book takes place over a cruise and has incredible inside news. The books hide information on cruise lines and shipping inside a romantic novel. She told of the same sex marriage at sea (book2) plans a year before they were released!! Book 1 is a Canary Islands cruise, Book 2 is in the Baltic, Book 3 is in the Caribbean.
CRUISE INSURANCE THAT EVEN THE CRUISE SHIPS SELL, AND WE ADD NOTHING ON, JUST CLICK HOLIDAY EXTRAS – OR OUR BLOG


If you enjoy seeing more about the entertainers you see at sea, then take a look at our show cast! Here is our growing menu of those who work at sea.
Check out some of the great Cruise Routes, our concise films of what a ship offers when it takes a specific route. These are typical routes but we do have films to help cruisers on every popular cruise destination in the world. Baltic Route – Canary Islands Cruise – New England Cruise – Caribbean Cruise (from Barbados) – Norwegian Fjords – Mediterranean Routes