A grand 82-night voyage for culture and nature enthusiasts on the Balmoral is set to discover Asia and include the Holi Festival. It sails in January 2025. Here is the chat group.
Fred Olsen 82 Night History Cruise CHAT GROUP – click here
This culture-rich cruise heads for Asia on a journey timed especially to coincide with the Holi Festival. This is the group for that cruise, and we hope it will be full of great pictures. L2502 is the cruise number
Search for the great cruise novel Cruise Ship Heist
See The Fred Olsen page for full details and availability
– click here for the Fred Olsen page
FRED OLSEN PRESS RELEASE SAYS
The sailing, aboard Fred. Olsen's smaller-sized Balmoral, features calls into Myanmar and Cambodia, known for their ancient civilisations and rich histories, where guests can explore the temples of Angkor Wat from Siem Reap, the largest religious monument in the world, and Myanmar's ancient city of Bagan.

Wildlife lovers will have the chance to spot endemic species in Borneo, home to proboscis monkeys, or visit Sri Lanka's Udawalawa Elephant Park, while those with a passion for wartime history can discover the Củ Chi tunnels, an extensive network of underground tunnels, in a call into Vietnam's Ho Chi Minh City.

An undoubted highlight will be time spent in India, where Chennai will act as the gateway to the ancient monuments and temples of Mahabalipuram, created by the Pallava dynasty, while time in Mumbai will allow those joining the cruise to experience the annual Hindu Holi Festival or immerse themselves in the local way of life by assisting busy dabbawallas delivering lunches across the city.

What is more, in addition to the host of experiences on-board and ashore, guests who book to join this Grand Voyage can enjoy up to £500 per person to spend aboard Balmoral, plus free door-to-door transfers within 250 UK mainland miles to the port.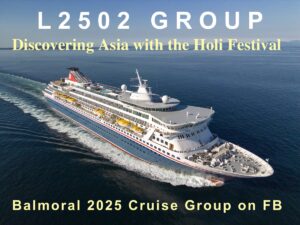 click the picture to go to the group
Itinerary – which we will fill with information as it gets nearer.
Southampton, England –
Gibraltar, Gibraltar –
Cruise Doris Visits Subscribe. Thank you
Cruising Grand Harbour, Valletta – Valletta, Malta –
Cruise Doris Visits Subscribe. Thank you
Alexandria, Egypt (overnight stay) –
Cruising Suez Canal –
Sharm el-Sheikh, Egypt –
Safaga, Egypt –
Jeddah, Saudi Arabia –
Colombo, Sri Lanka –
Hambantota, Sri Lanka –
Port Klang (for Kuala Lumpur),
Malaysia – Kota Kinabalu, Borneo –
Muara, Brunei Darussalam –
Ho Chi Minh City, Vietnam –
Sihanoukville, Cambodia –
Singapore, Singapore –
Yangon, Myanmar (overnight stay) –
Chennai, Tamil Nadu, India –
Kochi, Kerala, India –
Mumbai, India (overnight stay) –
Muscat, Oman –
Salalah, Oman –
Aqaba, Jordan –
Cruising Suez Canal –
Asdod, Israel –
Haifa, Israel –
Heraklion, Crete –
Cruise Doris Visits Subscribe. Thank you
Catania, Sicily, Italy –
Cartagena, Spain –
Cruise Doris Visits Subscribe. Thank you
Lisbon, Portugal –
Cruise Doris Visits Subscribe. Thank you
Cruising by Cristo Rei and Abril 25 Bridge –
Cruising by Belém Tower & Discovery Monument, Lisbon, Portugal –
Southampton, England