Once you are in the Canaries area, your ship is just a floating hotel, which overnight moves you to another island. La Palma, 'the fair isle', was our stop having left Madeira. It is so called because of its fabulous landscape. Of all the many cruise stops, Santa Cruz is up there as one of the prettiest harbours and is again small enough to explore on foot. If you were not on a cruise, your Canary Islands holiday might never see this gem.
P&O Cruises cruises to La Palma Fred Olsen cruises to La Palma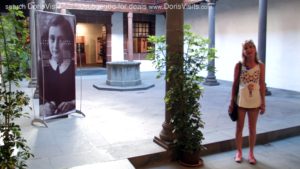 Stroll along the Avenida Maritime promenade to the old quarter around Plaza de Espana, with its 16th-century fountain and town hall, a magnificent Renaissance church and a handicrafts market. You are in Spain so the cafes will offer wonderful tapas and their speciality are small potatoes cooked in their skins and covered in a hot sauce.
DORIS VISITS CANARY ISLAND MENU OF PORT GUIDES
Inside the island is a huge volcanic crater, Caldera de Taburiente, it is crammed with rare animal and plant life and has been designated a national park. It is a sun trap so take water, sun lotion and a hat.
CRUISE INSURANCE CAR PARKING DEALS ON BOARD ENTERTAINMENT
It's night skies are so clear that a major astrophysical observatory has been built at Roque de Los Muchachos. Although La Palma is the least visited of the Canary Islands it has a definite charm and there is plenty to do and see. There is a naval museum which is under a reproduction of Columbus' Santa Maria, interestingly made out of concrete but painted to look like wood. It is quite hilly but there are many restaurants along the way where you can have a drink and a rest. Sally Katz used our Canary Island films of this cruise to base Her Virgin Voyage on.
Cruise Doris Visits Subscribe. Thank you
Please share your experiences and comment below with pictures. Also like and follow us on Facebook, Twitter and the video platforms YouTube and Daily Motion.
Marella Cruises to the Canary Islands – click here for Marella Cruise's own web site page for – Canary Islands Cruise deals page
Tours available from your ship will probably include
The Heart of La Palma
Volcanoes and Wines
Santa Cruz Trolley Train and Walk
La Palma Buggy Adventure
Leisurely La Palma
Silk Scenery and Sugar Estate
Volcano Hike
Wilderness 4×4 Adventure
There's a chat group for your ship – click here to find it
Violet Beckett takes her first cruise, a Canary Islands Cruise which is very accurately described.

Please share, tweet and tell other cruisers. The Canary Island Cruise is one of the most popular on the Britannia.
Aurora Ship Tour Azura Ship Tour Britannia Ship Tour Arcadia Ship Tour