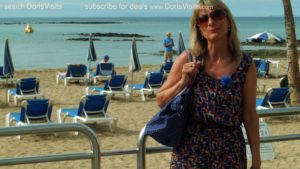 Lanzarote is another volcanic island with the darker black, red and white sand beaches and the moonscape parks that you can tour or drive through. The landscape is best seen from the Fire Mountain in the Timanfaya National Park which is famous for the fantastical shapes created by solidified volcanic lava. These have steaming hot natural holes or wells. The guides enthusiastically demonstrate if you throw a bucket of cold water down the well, it gets spat back up as steam. Camel rides are available in the National Park, and tours here will also take you to the lush wine country of La Geria to sample the heady local vintages. Head north instead of southwest and you will discover wonderfully verdant Haria – 'the valley of a thousand palms' and can enjoy panoramic views from Mirador del Rio. Equally fascinating is a visit to Jameos el Agua cave, an oddly shaped volcanic cave overlooking a saltwater lagoon where you will find a colony of white crabs unique to the island.
Aurora Ship Tour Azura Ship Tour Britannia Ship Tour Arcadia Ship Tour
Puerto del Carmen is where I used to have a small bungalow on the beach in Puerto del Carmen many years ago when my children were small, but the island has developed much since then. The attraction to re-visit was great. We got a bus and went on a trip down memory lane to Puerto del Carmen and had a delicious lunch in one of the gorgeous restaurants overlooking the sea.Tours available from your ship and privately all listed here
Arrecife might host the biggest fishing fleet in the Canaries, but we arrived in Lanzarote on a Sunday so Arrecife the port was mainly closed. There was a triathlon beginning in the town. It was very easy to get the bus though to either Teguise where there is the famous Sunday market or Puerto del Carmen the main tourist town. We had to be back on board by 4.30. There was so much more we wanted to do. Next time!!Marella Cruises click here to go to their site and vie Canary Islands Cruises
Cruise Doris Visits Subscribe. Thank you
If you were on the cruise with us please share your memories and photos on the chat site. Blogs with very full content we can input into the web site, like those from Charles Davis. Here is the menu of all Canary Islands stops and some tours.SHIPS & CHAT – Research other ships – passenger area tours, info & chat sites – Our Ships menu has every ship from every fleet – Find your ship's chat site + share your pictures + experiences to help others – click
The Canary Islands Cruise is accurately portrayed in this adult romp with a great story. Good holiday read for adults. Follow author Sally Katz by clicking her name and then on the author page on Amazon, click follow. Then as she releases a new book your are informed.
click here for the New Canary Island cruise menu including West Africa & Cape Verde
Clicking the DORIS VISITS COMPARE CRUISE DEALS BOX takes you to a variety of deals and explains how they are all found.