Laundry Wars the book that turns nasty very quickly.. It proves to have a completely new set of twists and turns, and again, they challenge you to second guess the plot which you will never do in this book. A harsh wormhole of possible disaster for a cruise operator.
CSCI Cruise Ship Crime Investigators take on a new member, Bedrîska, a Russian woman whom they know very little about. Other than she is the partner of Georgie, the woman Kieron owns a house with in the ever more complicated triangle. Actually, he doesn't know much, if anything, about Georgie. He is still-recovering Commander Philips is sent to join a ship with a seemingly simple problem; fights and disturbances in the laundry. However, nothing is simple. Bedrîska is Georgie's partner, a woman whom Kieron Philips had a fling with. Bedi now has to be undercover as husband and wife with him in the same cabin. Bedrîska knows that Hunter has played down Keiron's medical condition to get him to travel, but does she really care, has she really got his back? Nothing at all is as it seems but the cruise ship must sail and the guests, as usual, must know nothing of the pattern of small problems that potentially hide a much bigger one. They are not expecting blood to run as they uncover a human trafficking racket. Click picture.
Cruise Ship Heist is the novel that explains the origins of Cruise Ship Crime Investigators.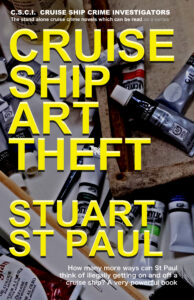 Cruise Ship Serial Killer is the start of Cruise Ship Crime Investigators and the two men behind it.
In Cruise Ship Laundry Wars a female investigator joins.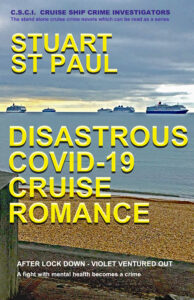 Cruise Ship Art Theft is currently in competition which has suspended its release. In it, one of the interns becomes the star of the piece.
Disastrous COVID-19 Cruise Romance is on the editor's table, for release pre-Christmas, along with the box-set.
You can read any book as a stand-alone novel, and visit Stuart's author page here
Within weeks of release, the books are doing well.
13 March 2019
A gripping cruise-accurate page-turning thriller that I couldn't put down. I'm not normally into fiction – but this book had me gripped from beginning to end. If you've ever been on a cruise, you'll recognise so much of cruise life from Stuart St Paul's brilliant story-telling. But this is far more than an ordinary cruise. It's a brilliant adventure with many twists and turns. If you're anything like me, you won't be able to put it down.
4 people found this helpful
8 June 2019
I read this book while on my last cruise on P & O Ventura to the US and the Caribbean and I must say once I started it I was hooked and couldn't put it down, sitting up late into the night to read another chapter. I really like reading books with a cruise theme while actually on a cruise. The story was exciting and certainly kept your interest. Looking forward to the next one Stuart.
5 people found this helpful
Essentials – cruise travel labels and our cruise crime novels and members cruise-related novels
The Port guides here on Doris Visits are a great way to remember your cruise and share with your friends. The mystery thrillers are a whole new way to experience cruising. You may not have been to the ports in the novels, you certainly won't have been to the parts of the ship they use. All the cruise crime novels will make you feel like you are in the adventure and on the cruise of the ship.
Cruise Doris Visits Subscribe. Thank you
Enjoy your cruise