Maurice will not have wanted to be listed as a comedian, but he's one of the funniest men on any stage. Just like he wouldn't want to be listed as a singer, but he is brilliant. He sings Ralf McTell, he sings everyone with ease, he just knows how to play the audience like a well oiled violin. A classic artist whose 50 years show at every turn and he should have been even bigger than he was huge. He is such a class act you could see him having taken over from Bruce on Strictly, he is a clean family act with the quickest of wit.
Did we expect that – no. We knew of the Grumbleweeds or the Weeds, we did not know of their TV or Radio shows, so it was all a very pleasant surprise as to how good Maurice was. Not only that he is a gentleman who mixes at the bar and plays table tennis with the customers. Just to think this man retired and was nearly lost to us all as an entertainer. He bought an Art Shop in Hawes in Wensleydale with his wife Jill and started to paint, his other love. He was discovered doing that, by galleries and also asked to appear on ships as the water colour painter. That was the tipping point because as keen as he was to explore cruising, he could not bring himself to be the painter. Not that there is anything wrong with being a painter, he is and he loves it but having the other entertainment acts that knew him as a star saying "didn't you used to be Maurice Grumbleweed?" was not going to work.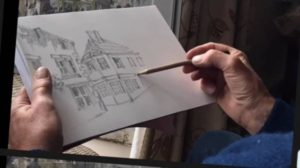 Maurice put an act together, did a ship to test it and has hardly been off one since, he is that good. So, first, how good a painter is he? Amazing. Grab a cup of tea, click here and watch for a few minutes. His work, under the name of Maurice Lee, can be seen and bought in a number of galleries in Grassington. He has a book too, which you can also obtain through his contact page.
So, music, the Grumbleweeds came out of earlier bands and combinations dating back to 1962. Tony Dale and the Wanderers were on the Battle of the Bands that year when Aker Bilk was the top of the bill and The Beatles were second on the bill, but as The Grumbleweeds they turned professional after their success on the TV talent show Opportunity Knocks. Maurice was with then for 40 years. Much happened, records, tours and deals which included BBC radio producer Mike Craig spotting them and producing several series of "The Grumbleweeds Radio Show" for Radio 2 throughout the 1980s.
Needless to say, he has down the groundwork and now it shows so if you have a chance to see him, don't miss it. Maurice, is one of the many great acts we are proud to call a friend.
Cruise Doris Visits Subscribe. Thank you
Maurice can be found only on P&O ships. P&O late deals. Find out more about the entertainers and show cast you see at sea & share with friends. Here is another film of Maurice chatting about his life and times.
Cruise Doris Visits Subscribe. Thank you
The routes that Maurice most works on are the these routes. You will find we have films to help cruisers discover every popular cruise destination in the world.                                                             Baltic Route – Canary Islands Cruise – New England Cruise – Caribbean Cruise (from Barbados) – Norwegian Fjords – Mediterranean Routes
Maurice's eldest son, James C Lee has written a brilliant book called End Of The Pier which, is a fictional novel written through his eyes as a child and a young man. The research was done watching Maurice and The Weeds in Theatre's as he grew up. Reviewed very well on Good Reads, James went to be a keynote speaker with the likes of Fredrick Forsythe. It is worth a look if you are a fan. Maurice has himself many illustrations in the children's book, Tummyfull.