The new Fred Olsen flagship is named after Fred Olsen Jnrs great-great-Grandmother. The ship was previously a Carnival ship operated by Holland and America,it is a Rotterdam Class ship with 12 decks that hits 25 knots and holds about 1,300 guests with 630 crew, though Fred Olsen may change that.
This is the friendly Fred Olsen Ocean Cruise chat site from Doris Visits
It's big feature used to be its multi Million dollar art collection. So what will Fred Olsen offer?
Search for the great cruise novel Cruise Ship Heist

See the Fred Olsen page on this ship .. https://tidd.ly/32kN3s7 MS BOLETTE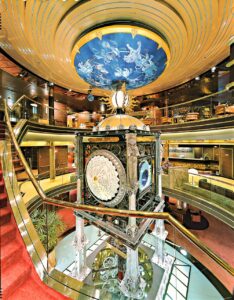 The flagship Bolette is everything that Fred Olsen guests have come to expect from a Fred. Olsen ship. Proudly bearing the name of Fred. Olsen Jr.'s great-great-grandmother, as many other Olsen vessels have over the years, she exudes classic, elegant style in her exterior and interior design, features spacious and comfortable public areas, and has all the facilities and special touches you need for a relaxing and enjoyable holiday. Including a beautiful theatre.
While she's one of the largest ships, by overall size, in the Fred Olsen fleet, Bolette has capacity for less than 1,400 guests. With 11 Bars, 6 restaurants and all the usual features from spa to pools.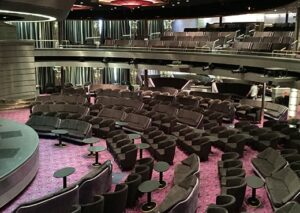 Their mantra is that you will not be overcrowded as you indulge yourself in the stylish dining venues, enjoy a glass of your favourite tipple and fantastic entertainment at the bars, lounges and theatres, and while away the hours by the all-season pool. And of course, with our friendly staff providing our typical level of personal, attentive service, there's an intimate feel to the onboard experience too. This sounds like a great addition to the fleet.
This is the friendly Fred Olsen Ocean Cruise chat site from Doris Visits
You may have seen the author on a ship giving an after-dinner speech or a lecture, his page is
here
.
Stuart St Paul – click here
His first-ever ship was The Black Watch.
Essentials – cruise travel labels and our cruise crime novels – oh, and the seasickness bands.
The Port guides here on Doris Visits are a great way to remember your cruise and share with your friends. The mystery thrillers are a whole new way to experience cruising. You may not have been to the ports in the novels, you certainly won't have been to the parts of the ship they use. All the cruise crime novels will make you feel like you are in the adventure and on the cruise of the ship.
Cruise Doris Visits Subscribe. Thank you
Enjoy your cruise