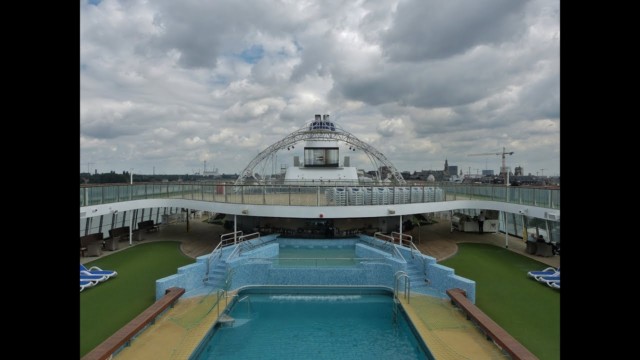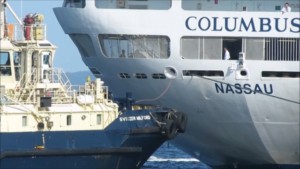 Take a look around the MV Columbus. Cruise and Maritime's home port is Tilbury on the Thames east of London. They also sail from Liverpool, Newcastle and Bristol which is not often referred to as a cruise terminal but is a wonderful city. C&M have a straightforward, unpretentious style of cruising aboard their two modest ships.
A warm, friendly service with a real 'home from home' atmosphere is assured. There are the traditional formal nights, cocktail parties and gala dinners. If someone has a great film of this ship, and a first hand love of it, please let us know at [email protected]
Cruise Doris Visits Subscribe. Thank you
SEE THE CRUISE BEFORE YOUR CRUISE THE SEA.
CHAT GROUP – Cruise the Adriatic Chat – New Group, be one of the first to join and start a thread on your forthcoming or past cruise by number – CLICK HERE TO SHARE & CHAT
DORIS VISITS COMPARE CRUISE DEALS BOX takes you to a variety of deals and explains how they are all found.
There has yet to be a book written in the Solo Cruiser series that is based around a mediterranean Cruise, but we here that one is being planned and that it takes place on a Strictly Come Dancing Cruise. The 4th book based in Florida and the Caribbean is due out early 2018. For now, if you have not read them, like in 50 Shades you might skim through the raunchy bits, but they are great cruise books with good stories. It never seems to work out the way it should though. Follow author Sally Katz by clicking her name and then on the author page on Amazon, click follow. Then as she releases a new book your are informed.
Like us on Facebook and follow us on Twitter and subscribe to our YouTube Channel to get the best from us CHAT on one of the many CHAT Sites – see them all here.
Powered by GetYourGuide. Become a partner.
CRUISE INSURANCE BELOW WITH HOLIDAY EXTRAS – OR OUR BLOG


If you like small ships then compare this to the others in our small ships menu.
CHAT GROUP – Cruise Canada & the USA Chat – New Group, be one of the first to join and start a thread on your forthcoming or past cruise by number – CLICK HERE TO SHARE & CHATIf you like small ships then compare this to the others in our small ships menu. Take a moment to look at the amazing Fred Olsen story in our destination guide to Oslofjord. Click Here.Cruise and Maritime – Deals we have – click here