Sparse details other than the release of an intention, the Cunard line announce the first new ship in over 12 years. Cunard have liner type cruise ships. They might even argue that they are not cruise ships. The £120m refurbishments of the flagship Queen Mary 2 and Queen Victoria recently set those two ships back in front. Now, 50 years since the naming of the much loved liner QE2, Cunard have announced a new ship is to join Queen Mary 2, Queen Victoria and Queen Elizabeth as the fourth member of the fleet. It will be the first time since 1998 that Cunard will have four ships in simultaneous service. To be built in Italy, it will share the iconic livery and red funnels, and the new ship will accommodate up to 3,000 guests. It will have distinct Cunard features as well as brand new experiences combining together to show the next generation of the Cunard fleet is looking forward. As soon as we get more details we will share them and we will list a new ship on the Cunard Fleet page.
CUNARD CRUISE DEAL @ THOMAS COOK
This comes a week after SAGA announce a second new ship to their fleet. It seems everyone is building new ships and each one gets bigger within their own family. See the Cunard fleet here.
JOIN THE NEW CUNARD CRUISE CHAT GROUP ON FACEBOOK
Having just come down the New England Route past New York, down to Charleston, missing the storms and going out to Bermuda on Aurora R715, take a look at the new destination films added to that area. New England and East USA films and guides. If you are on a New England Cruise we have many films that might help you plan, or excite you about your forthcoming trip, or if you are undecided they might just sway you to this route. They include, Boston Cheers, Boston Harbour Walk, Boston Clough House, Boston Quincy Market and Freedom Trail, New York Statue of Liberty and Island trip, NY Ellis Island, NY Empire State Building by Night, NY Big Bus Blue Route, NY Big Bus Purple Route, NY Big Bus Red Route, New York Grand Central Station, New York Library, Baltimore Guide, Charleston Guide and Bermuda.
Check out some of the great Cruise Routes, our concise films of what a ship offers when it takes a specific route. These are typical routes but we do have films to help cruisers on every popular cruise destination in the world.
P&O Cruises cruises to St Maarten – view P&O St Marteen cruises here Fred Olsen cruises to Sint Maarten – view now on the Fred Olsen site here Saga Cruises to the Caribbean – view there site here by clicking now Marella Cruises to the Baltics, Fjords, Iceland & Arctic – click here for Marella Cruise's own web site – Baltics, Fjords, Iceland & Arctic Cruise deals page
READ THE CRUISE BEFORE YOU CRUISE THE SEA. In the book charts! Sally Katz used the films on Doris Visits to peg her books on! With permission. Each book takes place over a cruise and has incredible inside news and information on cruise lines and shipping. She told of the same sex marriage at sea (book2) plans a year before they were released!! Book 1; Canary Islands cruise, Book 2; in the Baltic, Book 3; in the Caribbean. Adult romance, Bridget meets 50 Shades on a ship!
CRUISE INSURANCE THAT EVEN THE CRUISE SHIPS SELL, AND WE ADD NOTHING ON, JUST CLICK HOLIDAY EXTRAS – OR OUR BLOG

How to access these deals – use the click here and when on the page, click the brown bar 'see all cruises' just above the pictures of the ships. That will take you to the deals we have.
JOIN THE NEW CUNARD CRUISE CHAT GROUP ON FACEBOOK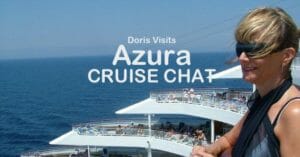 Click the picture or click here to join the Azura Chat site and share your knowledge with others. Azura Chat with Doris Visits. If you wish to become a moderator let us know.