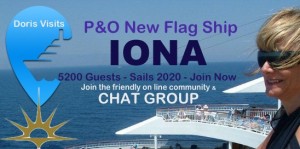 The IONA is the first in the Excellence class for P&O. (third in build)The initial sailings, prior to winter re-location have gone on sale. All will be on the same route as snagging and the watchful eye of technicians learn how this ship works.Click here to choose a date to see the new ship. A first in class means the release of a brand new ship, new style with new things. The propulsion is new, more eco friendly, many things are new. Their will be technicians watching over every steps of the way, from how the food is served, how hands are washed, down to navigation and safety drills. These always happen with a ship doing the same or a similar route for a good few cruises. The Iona will be in the Fjords and it will be great fun as teams of journalists swap places with teams of engineers.
Stephen Mulhern's new show Astonishing is likely to be on board, or maybe he will debut a new show. It could be a time of many firsts and maybe you want to be one of the first to see the ship.
Click here to choose a date to see the new ship.
Want to see what the Iona will look like, then look at Carnival's newest ship floating out. The AidaNova. You may remember Stephen Mulhern who is now a P&O celeb, was assisted by a Jane from the island of Iona,where on the beach she picked from a handfull of people who suggested the name Iona. Costa Cruises have the second Excellence class ship, but P&O are due to take another of these ships.
We know that the Oriana is being lost from the fleet. When it comes to naming the new ship, know that unless tradition is broken the name will have to end with the letter A. All P&O ships do, and traditions are very rarely broken when it comes to ships. Like the coin laying ceremony. The new ship, we are told will have a Limelight club, because that has been such a huge successful addition to the entertainment areas. But, we have a ship video already – how? Impossible? NO – not in this modern world. Take a look.
Cruise Doris Visits Subscribe. Thank you
Meet the fleet with our famous Doris Visits passenger area tours.
VIDEO OF THE NEW SHIP IONA – HERE – NOW – IONA MOVIE – SEE IT !!
Aurora Ship Tour Azura Ship Tour Britannia Ship Tour Arcadia Ship Tour Oceana Ship Tour
Check P&O own web page for new ship
But if you know your ship, just choose a destination.
PORT GUIDES – WESTERN MEDITERRANEAN MENU OF DESTINATION GUIDESPORT GUIDES – EASTERN MEDITERRANEAN MENU OF DESTINATION GUIDESPORT GUIDES – CARIBBEAN MENU OF DESTINATION GUIDESPORT GUIDES – CANARY ISLAND MENU OF DESTINATION GUIDESPORT GUIDES – FJORDS MENU OF DESTINATION GUIDESPORT GUIDES – BALTIC SEA MENU OF DESTINATION GUIDESPORT GUIDES – BRITISH ISLES CRUISING DESTINATION GUIDESPORT GUIDES – NEAR UK + SHORT CRUISE W.EUROPE MENU OF DESTINATION GUIDESPORT GUIDES – SHORT CRUISE W. COAST FRANCE PORTUGAL – DESTINATION GUIDES