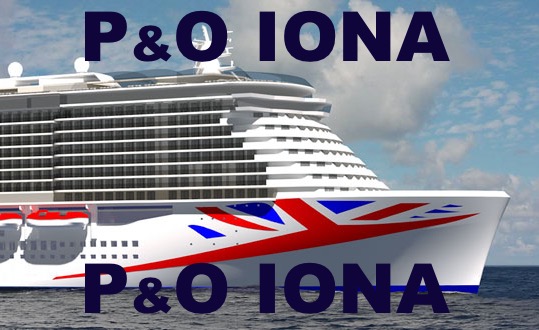 The new ship was named on the Scottish Island of IONA, because the name is IONA.Over 30,000 people entered to name the ship, and the winner was revealed on the beach in IONA. The new ship, one of the first if not the first of the Excellence class of ships will enter service in May 2020 (it appears seven are on order). This new class of upcoming cruise ships have been ordered by Carnival Corporation and will enter service for several Carnival brands in the late 2018s and early 2020s. P&O we know have two, the first is the Iona and news is eagerly awaited as to her Maiden Voyage which we predict will be in the Mediterranean. P&O say it will be their most exciting ship ever. There are traditions with ships, all Fred Olsen ship names start with 'B', all P&O ship names end in 'A'. Iona is also a UK island in the Inner Hebrides off the coast of Scotland that you have to get a boat to. Our Chat Site GUIDELINES
VIDEO OF THE NEW SHIP IONA – HERE – NOW – IONA MOVIE – SEE IT !! Click here to choose a date to see the new ship.
P&O Cruises senior vice-president Paul Ludlow said: "We are an island nation and as Britain's favourite cruise line it seems very fitting to highlight one of our most notable islands and celebrate the geographic diversity of the UK, especially as we can trace back our roots to the Scottish Isles….. Iona played a significant part in shaping the history of our nation and we hope that with this very special name our new ship will shape the future of holidays at sea for generations."
PORT GUIDES – CARIBBEAN MENU OF DESTINATION GUIDES
The Atrium, will be their boldest and brightest yet. Glass walls spanning three decks will let natural light flood in while a grand staircase, gallery and overhead walkways will provide dramatic focal points. At 180,000 tonnes and holding 5,200 guests this is a huge move and you the guests were asked to choose the name and win a place at the naming party.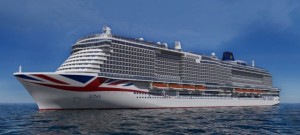 PORT GUIDES – CANARY ISLAND MENU OF DESTINATION GUIDES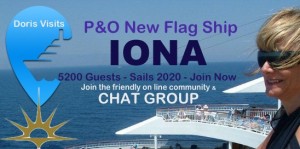 It will be Britain's largest cruise ship, and I know that claim will cause debate as P&O is an American company, just as Marella and TUI and most cruise lines are. But, for us at Doris Visits, a ship that trades in Great British Pounds sterling on board and aims at UK customers – it is a British ship… as are TUI ships and the Norwegian Fred Olsen. Cunard do not pass our test owned by a US company and trading in US dollars.
PORT GUIDES – FJORDS MENU OF DESTINATION GUIDES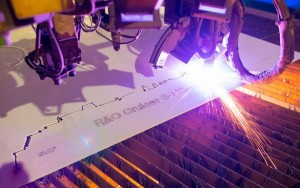 This new ship will offer more choice of accommodation, more places to dine in style, more of everything, more spaces to relax and more entertainment. This is a new step in vertically integrated family cruising where the holiday ship allows multiple generations to cruise together, yet enjoy what they love apart. From card games like Bridge, to splash pools for the kids…. from stages of entertainment, to night clubs and discos, the rumours are beginning to leak out. One is that it will have a similar club to the Limelight as it has been so successful. We have seen great acts there like Eric and Ern, Dean Andrews and Darren Day. Which acts would you like to see on the new ship? Tell us on the chat site. We would like to see Jon Courtenay on the big stage, Manuel Martinez tease the guests in the club, and Dean Friedman in the Limelight as we missed him. Spread the word and the news you hear on this chat site.
P&O IONA Chat site – click here Check P&O own web page for new ship
This exceptional ship was named by a lucky cruiser! This new ship will comply with strict ECO rules – some places are getting more and more strict about the environment. Like ships allowed in Alaskan waters. This will be the most environmentally efficient ship in the P&O history. It therefore needed a name worthy of its size, credentials and the love shown by P&O customers for the Britannia and other ships. What would your choice have been? Maybe you have a funny name like BOGOFF – Buy one get one free, we only suggest that as they are getting TWO NEW SHIPS and her huge sister will be sailing 2022.
Click to join the chat

Over 15 places to eat to suit all appetites and occasions

8 speciality restaurants
More than 10 places to enjoy a drink and take in sea views
18 whirlpools
4 swimming pools (three outside and one inside)
More than 6 places to have breakfast
Plenty of entertainment venues from the theatre to venues for adults only
Our tip is that the name Titanic is a rank outsider. Now, join the chat site, what do you think the sibling, should be called?. TWO NEW SHIPS and her huge sister will be sailing 2020 and 2022.
Join the P&O IONA Chat site – click here
Aurora Ship Tour Azura Ship Tour Britannia Ship Tour Arcadia Ship Tour Oceana Ship Tour
It's interesting that the Britannia, which P&O class as their big ship comes way down the chart of passenger capacity at number 16 and given the spread one cannot call Azura or Ventura large ships anymore. Design innovation is being taken to new levels by collaborations with award-winning architectural and interior design teams:
It will be newer and larger and have learned the lessons from the other ships. Bigger than the £473m Britannia which has 15 passenger decks. The new 180,000-ton vessel will be powered by Liquefied Natural Gas, a clean-burning fossil fuel that meets new maritime rules on harmful emissions. She will hold 5,200 passengers – 1,553 more than Britannia.
New ships have to face new regulations on emissions, like cars. New ships to fleets will be LNG ships. LNG-powered ships will start sailing for Carnival's Costa and AIDA brands over the next five years. The size of ships is changing, and despite the size of the new P&O ships they are unlikely to be in the top 10. You can be assured that within a very short time the Britannia will not make the top thirty chart of large ships, it is barely considered large now at sub 4,000 passengers. MSC Cruises have ships being built in France that hold 5,400 guests and Hurtigruten, Norway's passenger-cruise service, has plans for at least one 5300 guest ship due for delivery in 2018. It could be that by 2022 the top ten cruise ships by passenger size will all be over 5,000.
PORT GUIDES – BRITISH ISLES CRUISING DESTINATION GUIDESPORT GUIDES – NEAR UK + SHORT CRUISE W.EUROPE MENU OF DESTINATION GUIDES
The P&O press release says ….
"We're delighted that the P&O Cruises family is about to get bigger, offering you even more holiday choice. Construction of the latest addition to the fleet will get underway next year at Meyer Werft's Papenburg shipyard in Germany. Cruises on our new ship go on sale autumn 2018 and the ship will enter service in the UK in 2020. At 180,000 tons, it will have a capacity for 5,200 guests, making it the largest cruise ship ever built for the British market."
What a bigger ship offers is choice. Private and quiet areas away from the crowds at a small premium so a large ship becomes small, but you still have a choice of fine dining restaurants, of different entertainment. The same ship can be a totally different experience. You can go with the flow and never spend another penny, or use all the premium facilities and have a better experience way way expanding your basic cruise cost. And, like in any town, we can all live together and meet down the pub. That is what makes cruising so special.
The larger newer ships will offer more choice. P&O say; …"….new levels of entertainment, dining, and relaxation, and features a host of innovative features and cutting-edge technology to wow you with new cruising experiences. The signature heart of the ship, our Atrium, will be the boldest and brightest yet. Glass walls spanning three decks will let natural light flood in while a grand staircase, gallery and overhead walkways will provide dramatic focal points.
The ship will also be the most environmentally efficient ship in the history of P&O Cruises. Powered at sea and in port by liquefied natural gas, exhaust emissions will be significantly reduced to help protect the environment.