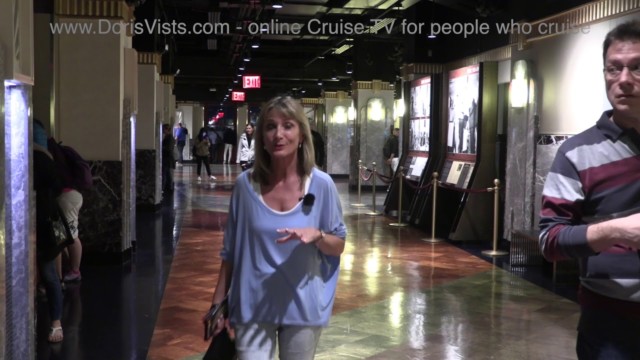 The Empire State Building was built to land air ships on the roof... I kid you not. That didn't work and infact during the depression it was so empty it was nick named the empty state building. The site started to be prepared in January, 1930, with construction starting on March 17—St. Patrick's Day with over 3,400 workers mainly Mohawk Indian iron workers, many from the Kahnawake reserve near Montreal and immigrant workers from all over Europe. Despite working at height without the safety one insists on today, with workers walking out on beams and leaning into the wind for fun, and as we have seen from classic pictures sitting astride beams eating lunch, only 5 workers were reported to have died. The building was opened on May 1, 1931 but it did not become profitable until 1950 and was sold in 1951. You will learn a lot from the story and pictures shown in the exhibition hall near the top. NEW YORK LIBRARY The first time we visited New York we did not go up because it was always in cloud, this time the sky was clear and we decided to go up and night as you will see from the pictures. As you will not know whether it is in cloud or not, the Big Bus Adventure ticket is a good idea because you get any five of a list of attractions, which means you can change you idea to fit location and weather. See below to buy the Big Bus ticket in advance and miss the queue because your QR code will be able to be read by their operators on the street at any bus stop. The Empire State building stands 1250 feet high to the top of the roof, the antennae makes it to 1454 feet. It gets it's name from the nick name of New York, the Empire State. Every state has a nickname, like the sunshine state.
Cruise Doris Visits Subscribe. Thank you
The tallest building in the world stands 2717 feet to the roof, making the Empire State Building look tiny. To see what that looks like and how it makes sky scrapers seem small, click here.Join your favourite ship's CHAT & COMMUNITY on Facebook – click here to see
If you are on a New England Cruise we have many films that might help you plan, or excite you about your forthcoming trip, or if you are undecided they might just sway you to this route. They include, Boston Cheers, Boston Harbour Walk, Boston Clough House, Boston Quincy Market and Freedom Trail, New York Statue of Liberty and Island trip, NY Ellis Island, NY Empire State Building by Night, NY Big Bus Blue Route, NY Big Bus Purple Route, NY Big Bus Red Route, Baltimore Guide, Charleston Guide and Bermuda.
CRUISE INSURANCE THAT EVEN THE CRUISE SHIPS SELL, AND WE ADD NOTHING ON, JUST CLICK HOLIDAY EXTRAS – OR OUR BLOG
BUY YOUR BIG BUS TICKET HERE, TE QR CODE CAN THEN BE USED TO PRINT OUT YOUR TICKET BY ANY OPERATIVE NO QUEUE, NO GOING TO AN OFFICE – TICKET AT BEST PRICE WITH NO HASSLE
SEE THE CRUISE BEFORE YOU CRUISE THE SEA. We show cruise destinations all over the world. From St Lucia to Barcelona, from Tallinn to Tenerife, from Rome to Russia. Please follow us on Facebook and Twitter and share.
Join your favourite ship's CHAT & COMMUNITY on Facebook – click here to see