MARCO PIERRE WHITE The stamp of Marco Pierre White is all across the fleet at P&O because he designs the special Gala Dinners on Black Tie night, for which there is a dress code as the title suggest for you to access and enjoy. However, he only has one restaurant, the Ocean Grill on the Arcadia.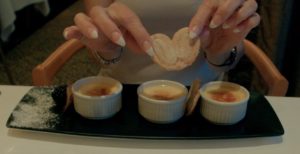 The very first night on board is a great night to celebrate, not least because there is very often a free bottle of wine on offer in the fine dining restaurants. The film here is of Marco's Ocean Grill on the Arcadia which is frequented by officers as well as passengers.
Marco Pierre White is an English chef, restauranteur from Leeds. Marco has many days on board P&O Ships; he is on B817 Fjords 17th June, B818 24th June Baltic, N820 5th Aug Canary Islands, A825 15th Sept Canary Islands, N826 18th Sept Greece, B828 30th Sept Canary Islands for master classes and hosted dinners with Marco, and other events clip here for the listTO BOOK A SHIP ARRANGED MASTER CLASS OR A SPECIAL DINNER ON P&O IF YOU HAVE BOOKED YOUR CRUISE – GO TO YOUR PERSONAL P&O CRUISE PLANNER HERE – THIS AVOIDS QUEUES AT EXCURSION DESK AND RECEPTION DESK AND MAY ENSURE A PLACE ON A LIMITED AND POPULAR EVENT OR TOUR
The Ocean Grill – Whilst the name infers fish, Marco loves to cook with meat and there is a balanced menu that suits all including vegetarians. Doris had the Mushroom starter which came with a welsh rarebit on top. The main course was lobster which did not disappoint. The lobster does appear on the menu in free dining on the 'Marco's menu' night, but then it is just one- half of the lobster. Here in Ocean Grill, you get both halves. You can't have too much of a good thing! That isn't to say you cannot ask for more in free dining, but there the natural choice is now from 3 courses. You can ask for soup and a starter and make the meal longer with cheese after dessert. But here in fine dining, the meal is designed as an experience and there will be a soup, then a starter.
Food Heroes On Board Ship – dates
The food and service are both exceptional in a perfect atmosphere, then off to see a great show or sit in one of the bars and look out to sea. But no one will rush you. The menu changes during your stay, so it will either be menu A or Menu B, check which menu applies to the night you prefer.
Cruise Doris Visits Subscribe. Thank you
The Ocean Grill on the Arcadia is near the atrium on Deck 2. Booking is always advised though if they can they will accept walk-ins. On wonderful clear evenings, a table by the window is a premium though when in Asia or the Caribbean the sun may have set by the time you eat, and on the Baltic and other northern cruises the sun may never set. The only disadvantage of sitting at the window is that people do look to the windows so you will, by default have people glance your way. If you want a private evening, then choose your table during the day and reserve it.
If you love your food, look at the list of FOOD HERO cruises
MARCO PIERRE WHITE Special events on board when he is there include hosted dinners, which is like going to your own private dinner party with Marco. On Britannia you can even watch as Marco prepares your delicious three-course meal before your eyes because this will happen in the cookery club. You then sit with him for food and lively conversation and wine with each course. Booking in advance is highly recommended through Cruise Personaliser for Britannia or book on board for cruises on Azura or Ventura (subject to availability). Marco normally also does Q&A sessions and book signings.CLICK HERE TO GO TO YOUR CRUISE PERSONALISER – TO BOOK A SHIP ARRANGED TOUR OR A SPECIAL DINNER OR CLASS ON P&O IF YOU HAVE BOOKED YOUR CRUISE – GO TO YOUR PERSONAL P&O CRUISE PLANNER HERE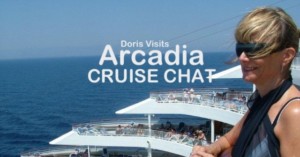 The Arcadia – The only other fine dining restaurant on the Arcadia is the Sindhu which is at the top of the middle lift, opposite East. East is Doris's favourite bar on the Arcadia as she tells you in her tour of the ship. The Sindhu is covered in another film on our channel. A small premium is charged for the fine dining options, but, it is a very special evening out with a high level of personal service. Click here for the Sindhu film without the ship tour.
In the Doris Visits tour of the cruise ship Arcadia, both the Ocean Grill and Sindhu films are included with other dining and entertainment areas. Click here for the tour of the ARCADIA.
The Ocean Grill normally rotates two menus. As we are official affiliates of P&O, you can book your holiday here now or if you have booked already and have your details which, will may have come via the internet, you can book a table at the Ocean Grill as well as excursions via you cruise planner below. The internet is a wonderful thing! It is best to book and reserve and then cancel if things change.
P&O EARLY DEALS Ocean Grill Menu 1 Ocean Grill Menu 2 P&O LATE DEALS
BOOK A TABLE – GO TO YOUR PERSONAL P&O CRUISE PLANNER HERE
Click here to go to the P&O site for further description of the ARCADIA and to book a cruise.
CHAT GROUP – Cruise the Mediterranean Chat – New Group, be one of the first to join and start a thread on your forthcoming or past cruise by number – – CLICK HERE TO SHARE & CHAT

Clicking the DORIS VISITS COMPARE CRUISE DEALS BOX takes you to a variety of deals and explains how they are all found.
Marella Cruises Cruise Chat – share your experiences, reviews, pictures, films and help others with their questions. JOIN THE CHAT GROUP There has yet to be a book written in the Solo Cruiser series that is based around a mediterranean Cruise, but we here that one is being planned and that it takes place on a Strictly Come Dancing Cruise. The 4th book based in Florida and the Caribbean is due out early 2018. For now, if you have not read them, like in 50 Shades you might skim through the raunchy bits, but they are great cruise books with good stories. It never seems to work out the way it should though. Follow author Sally Katz by clicking her name and then on the author page on Amazon, click follow. Then as she releases a new book your are informed.