Fred. Olsen started in this Fjord, at the start of the Baltic cruise. They take immense pride in their boutique fleet of smaller-scaled vessels that retain the style, ambience and understated quality of a country house hotel. The dress code is a little stricter, the atmosphere calmer. Their long-serving staff are carefully chosen for their friendly, caring personalities, and they stay there because the customers tip, which is no different to the goals of any working man or premiership footballer. Their ships cruise from various UK ports, Dover, Edinburgh, Liverpool, Newcastle and Southampton.Fred. Olsen cruising with a caring style – click here to take a look at something differentThe Fred. Olsen cuisine is carefully prepared by chefs who really care about their craft and we have a family heritage that dates back 200 years. So what is that heritage?
Oslofjord – What is Oslofjord famous for?
Yes, what is Oslofjord famous for? Ships beginning with the letter B. It is where the Fred Olsen family come from and where the industry started. But stop, let us get this into prospective, they came from Hvitsen, which is the smallest town to have ever existed in Norway and in 1951 only had 76 inhabitants. It lost its 'town status' on the 1st January, 1964 – the year The Beatles were at number one with 'I Wanna Hold Your Hand'. The town is on the right between Drøbak and Son as you cruise in, north towards Oslo. Google Map here.
Find your ship's chat site + share your pictures + experiences to help others You will cruise the length of the Oslofjord when going to Oslo, the Norwegian capital.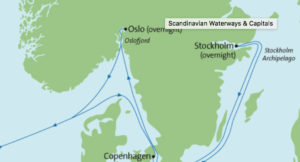 It is a 100 kilometre stretch of water penetrates the southern coast of Norway from Fredrikstad to Oslo, Norway's capital. It is not a fjord in geological terms and doesn't have the dramatic scenes the of the other Norwegian Fjords, there is plenty to see in this charming waterway with attractive islands and waterside towns featuring colourful houses. This fjord can sometimes freeze.
look at the Fred. Olsen all inclusive package – click here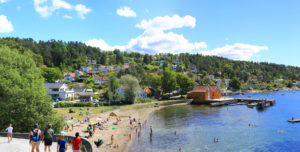 Fred. Olsen started on the sea in the Oslofjord in 1848 when Fredrik Christian Olsen operated a small fleet of ships. Brother Petter joined in 1852 and Andreas in 1860 and it was Petters son, the second Thomas who became the Fred. Olsen. Thomas Fred had commanded one of his father's ships since the age of 23, and his vision bought their first steam ship Bayard in 1896. From that moment on, all family ships would have the tradition of names starting with B. His son Thomas, had attended Cambridge and went on to run the family business despite never having worked on a ship. His son Fred. stepped on the Bruno, a fruit ship in January 1949, just days after his 20th birthday. He laboured on the ship fixing and studying the boats' mechanical systems and observed how cargo was managed. As a radical billionaire at the age of 86 he claimed, "It was better than an MBA, better than an engineering degree."
In 1901 Fred. Olsen moved to the capital, Oslo and acquired the Faerder Steamship company which was the start of the passenger business. The first ships only carried around 100 passengers which seems so odd looking at the size of today's ships. Links were established with Newcastle and Scotland and in 1926 the first of a new generation of vessels was delivered, The Brabant. Half the fleet of 40 ships was lost during WWI however the Black Prince and the Black Watch were introduced in 1938 but both were seized by the Nazis along with the loss of 26 others ships to decimate the Fred. Olsen fleet once again. The story as we know it now started in 1951 with the Blenheim followed by the Braemar. The Black Watch came into service in 1966 followed by a sister ship the Black Prince which was a one ship operation for the company while the Black Watch underwent extensive refurbishment. 2005 they bought the Boudicca and in 2008 the Balmoral came into service.
As you sail in just imagine how you go from the smallest town, with no amenities or facilities to becoming a billionaire. Please share.
Cruise Doris Visits Subscribe. Thank you
What is good about the Fred. Olsen trips to this area, which is between Nordic and Baltic, it is more likely to be on a Baltic Cruise. Their ships often over night here and Copenhagen so you can experience more.
Disaster in the Baltic ! Violet was a passenger and has now found work on the ship in marketing and as an older model. A shock lease of life at her age. The novel that takes place on a Baltic Cruise, life isn't that easy! Action romance on a cruise with adult themes. Follow author Sally Katz by clicking her name and then on the author page on Amazon, click follow. Then as she releases a new book your are informed.Find your ship's chat site + share your pictures + experiences to help others Take a look around Doris Visits and get more out of your cruise research – guides, tours, cabin tours, ship tours, news. AARHUS COPENHAGEN FREDERICIA GDANSK GOTHENBURG HELSINGBORG HELSINKI KALUNDBORG KIELE KLAIPEDA MALMO OSLO RIGA SKAGEN ST PETERSBURG STOCKHOLM TALLINN TRAVEMUNDE VISBY WARNEMUNDE
If you are new to Doris Visits Cruise TV then welcome, please subscribe to our YouTube Channel and like our Facebook Page and share with fellow cruisers. We are at sea every month of the year somewhere and post new films of cruise destinations each week.